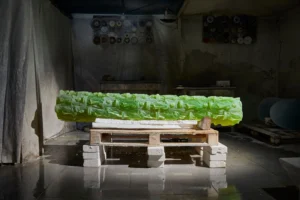 Discover Rony Plesl, Trees Grow from the Sky, 2022
Rony Plesl, Trees Grow from the Sky, 2022
Czech artist Rony Plesl has explored the creative possibilities of glass for more than 40 years. His distinctive aesthetic is inspired by the rhythms of sacred geometry, the Italian Renaissance and the architectural opulence of the Baroque. Plesl comes to Venice with Trees Grow from the Sky, a new installation comprising four large-scale glass sculptures for the church of Santa Maria della Visitazione.

To create the site-specific work, Plesl has used a new technique for casting glass as if it were bronze. Erected vertically in the centre of the space are three pure crystal glass sculptures decorated with the imprint of an 80-year-old oak tree found in the woods of Northern Bohemia. The sculpture placed near the altar is made from glowing uranium glass and covered with bas-reliefs of the body of Christ.

'The overall concept of the exhibition addresses questions of human existence and definition of humanity, touching upon the relation of man and nature, and its multiple layers of meaning,' explains the artist. 'The narrative revolves around a journey; around seeking our path in the world of today.' It's not to be missed if you're visiting the Biennale this week.