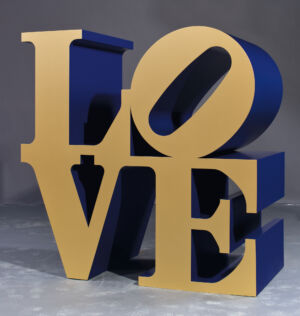 Discover Robert Indiana
Robert Indiana, LOVE, 1966-2002

In the 1960s Robert Indiana conceived his most famous work, LOVE, which came to embody the decade's idealism. The motif was explored in paintings and screenprints before his first major sculptural version in 1970 at the Indianapolis Museum of Art.

The image nods to our hyper commodified culture as well as the complex erotic, religious and autobiographical aspects of the theme. 'LOVE is purely a skeleton of all that word has meant,' Indiana said, 'and to bring it down to the actual structure of calligraphy [is to reduce it] to the bare bone.'

Impressive in scale and instantly recognisable, this 3D stacked edition in gold and blue draws the eye with its powerful physical form. 'It's always been a matter of impact,' the artist said. No wonder it remains one of the most loved images in 20th century art.