Feature Sculptor Ellie Niblock
Championed by Sarah Coulson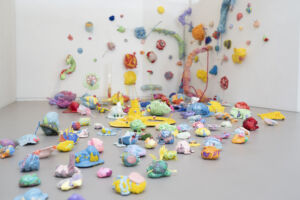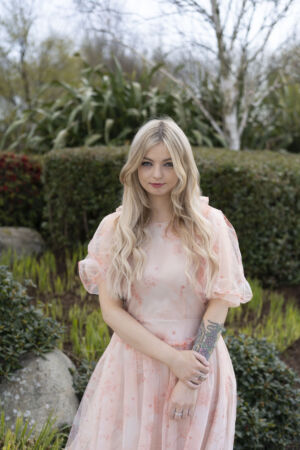 Interview
Ellie Niblock & Sarah Coulson
08 June 2022
Interview
Ellie Niblock & Sarah Coulson
08 June 2022
Committed to supporting artists at every stage of their career, Yorkshire Sculpture Park (YSP) has an exciting line-up of contemporary artists taking up residence this year, including Deborah Rundle from New Zealand, and Jessica Rost and Ellie Niblock from the UK.

Sarah Coulson has worked at YSP since 2000 and now holds the position of curator. She became aware of Ellie Niblock's work when Niblock applied for the UAL Art for the Environment Award hosted by YSP. Coulson says: "Immediately it stood out with its bold, saccharine palette and the enticing tactility of its synthetic materials, which include foams and resin, and often appear to be viscous and dripping like icing."

Multidisciplinary artist Niblock works primarily in sculpture and digital technologies, and is interested in blending the physical and digital. After completing a residency in 2021 at Yorkshire Sculpture Park, she is returning in June 2022 to explore how human activity is detrimental to the wellbeing of the planet using augmented reality.
Coulson says: "Ellie's work is playful and brings instant visual joy, but is also multi-layered and investigates serious and pressing contemporary issues. A fascinating aspect of Ellie's practice is its multidisciplinary nature and her incredibly sharp harnessing of new technologies to explore the intersection of the physical and digital worlds. At YSP she aims to bring particle pollution to our attention, using augmented reality to visualise microscopic pollutants in the atmosphere.

"As tedious as it sounds, storage is a real problem for many sculptors, especially those starting out and with limited space. Sculpture can quickly fill the studio and impact on the process of making of new work. Ellie's repurposing of elements of previous sculptures is a brilliant solution to this issue but, more importantly, it also draws attention to the materials that are wasted when they could be put to new use. This approach mirrors the environmental themes that run throughout her practice."

Niblock, whose mum is a textile artist and dad is an improvised jazz musician, adds: "Playing with materials has been the core of my practice from the beginning at school, through collecting old threads and textiles from my mum's collection and turning them into something new and weird and being encouraged to make art with no boundaries. Hearing my dad play free improvising music every day from his music room has contributed to my approach to making art – being spontaneous and completely open to whatever happens in that moment, trusting your intuition and allowing the medium to lead the way."

'V!sualeyez' by Niblock will combine 3D digital animation and tactile sculpture and will be created on site at YSP. You can also catch her most ambitious installation, created for the Sky Arts Landmark series, which she represented Northern Ireland on in 2021, at FE McWilliams Gallery in Banbridge, Northern Ireland.
About the champion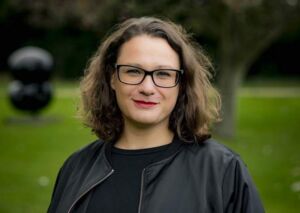 Curator Sarah Coulson is also the publications lead at Yorkshire Sculpture Park and works across all areas of the artistic programme, including digital content. When she is not working closely with artists to curate YSP's exhibitions and produce its publications, she manages the delivery of other large-scale off-site projects, working with Ursula von Rydingsvard at the 2015 Venice Biennale and Borders Sculpture Park at Mellerstain House in the Scottish Borders, where she is a trustee.
"Ellie's work is playful and brings instant visual joy, but is also multi-layered and investigates serious and pressing contemporary issues."