Interview Artist Jessica Carter
Championed by Dylan Jones OBE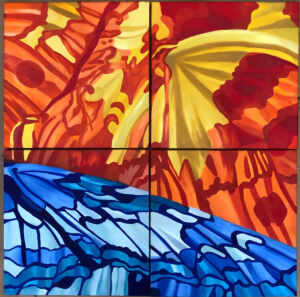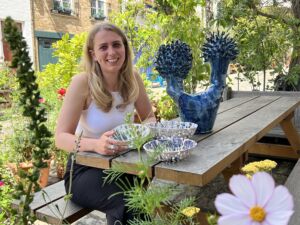 If you spent lockdown perfecting your banana bread recipe, artist Jessica Carter is about to put you to shame – she spent nine months of lockdown painting over 40 abstract butterfly wings in support of the Artist Support Pledge, so she could donate 10% of all profits to Mind, the mental health charity. A cause she felt especially strongly about because of the mental health issues exacerbated by lockdown.

It's not just her generosity that inspires this week's champion, author, editor and family friend Dylan Jones, but her talent that belies her age.

Jones says: "Jessica Carter's work completely confounds her age and experience, as it is rather extraordinary. In fact, I think it's better than that. The first time I saw her work I tried to buy it, and was disappointed – and not a little annoyed – to find it had been bought by someone else (I am currently working out a way to steal it from them without them noticing)."

After studying Fine Art, with a particular focus on photography, at Leeds University, Carter set about developing her own unique visual language using ephemeral phenomena – raw flesh. In her works, the discarded and otherwise wasted meat's existence is captured in a moment of time and promptly given a purpose. She uses a variety of mediums, including ceramics, oil painting, machine embroidery as well as photography, to turn the grotesque into the beautiful and examine the transience of nature, to create abstract pieces with a strong visual impact.

Jones says: "She is developing quickly as an artist, by managing to combine an innate sense of design with genuine artistic flair. Her sculptural works have an organic quality about them, again one that belies her age. It is unusual to see such maturity and sophistication in a young artist, and I for one am fascinated to see how she develops."

You can see Carter's latest creations, a collection of unique butterfly prints, on display at Scarborough Hospital until September. Carter is also currently working on a butterfly painting, which will be hung in The Carter Room at London's Groucho Club once it is ready. In September, she will also be starting an art and business course at Sotheby's.

About the champion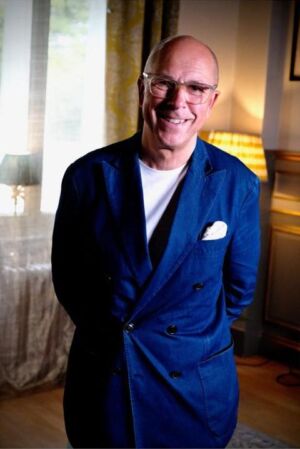 Before stepping down last year, Dylan Jones was the award-winning editor of GQ magazine, and the recipient of the British Society of Magazine Editors "Editor of the Year" award for a record 11 times. He joined the title after roles at i-D and The Face, all which saw him awarded an OBE for services to publishing in 2013. In 2011, Jones also spearheaded the launch of London Fashion Week: Men's, London's first men's fashion week.
"It is unusual to see such maturity and sophistication in a young artist."