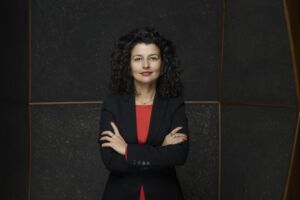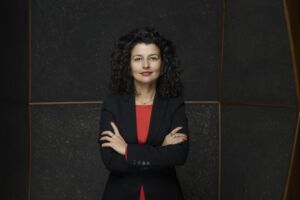 Interview Curator Fatoş Üstek
Photography
Christa Holka
12 December 2022
Photography
Christa Holka
12 December 2022
Last week saw the exciting announcement that Fatoş Üstek will take over from Clare Lilley as the 2023 curator of Frieze Sculpture in Regent's Park. Part of the trinity celebrating London's creativity, together with Frieze London and Frieze Masters, the annual public sculpture exhibition will take place from 20 September to 29 October 2023.

It was a busy week for Üstek, who is also the Chair of Bloomberg New Contemporaries – the latest edition of their annual exhibition returned to the South London Gallery for the fifth consecutive year last Thursday. From an open call submission of over 1,500 entries, 47 of the UK's most exciting emerging artists were selected. This week's Monday Muse Fatoş Üstek chaired the two-stage process.

A curator, writer and leading voice in contemporary art, Üstek has been commissioning in the public realm for over two decades and has worked on a number of large-scale biennials and festivals. She previously ran the Liverpool Biennial and The Roberts Institute of Art in the UK, was a judge for the Turner Prize 2020, and has sat on the selection and award committees for the Scotland and Dutch Pavilions at Venice. She is also a contributing editor of Extra Extra Magazine and writes regularly for academic publications and exhibition catalogues. If that wasn't enough, she is currently working on a new model for art institutions to be published as a book in 2023.
THE WICK: Who is your ultimate Monday Muse?
Fatoş Üstek: I don't think I have an ultimate Monday Muse. I get inspired by so many people and so many things in life. My recent inspiration was from a dear colleague Karina Kottová. I was in Prague for the Jindřich Chalupecký Award, which is led by the Jindřich Chalupecký Society. The award has a similar reputation and recognition to the UK's Turner Prize. Karina has been running this organisation for almost eight years now and she has transformed the whole structure into a collective model with a flat hierarchy where four curators alongside producers and programme assistants are working collaboratively in realising not only an ambitious award show with a production of five new works but also a year-long programme that expands beyond the country, manifesting in New York, Moscow and elsewhere. A collective responsibility model for running and leading institutions is something I have been working on for a while now, and to see that Karina has already put that into reality was ever so inspiring and expansive.
TW: What is your typical Monday?
FU: Mondays are my anchors in the week. I start the week with a plan of action. I outline what I want to do and accomplish, dedicating slots for research and admin. I typically don't take any meetings on a Monday and take the day to set the tone and the pace for the week ahead. Over the last few years, I developed a daily morning self-care ritual that precedes my start of work. Mondays play an important role in keeping up the continuity and furthering my practice of self-care.
TW: Last week saw the opening of the New Contemporaries exhibition. Which artwork is your highlight?
FU: It was a great opening with a wonderful crowd of excited young artists and a thoroughly engaged audience. I chaired the selection process for this year's exhibition, which led me to build a liking for many of the works. Meeting the artists makes a difference for me, especially when I get to see their ambition and curious rigour. Danying Chen's depiction of gods from the traditions and myths of her upbringing and her disbelief in pictorial composition, Velvet Butler Carroll's inspiring performance at the opening, Paola Estrella's intriguing and multi-layered video piece, Gabriel Kidd's sensually composed installation and Lorena Levi's delicately detailed atmospheric paintings are some of the many that stood out to me.
TW: Can you tell us about your new project putting together sculpture and mathematics?
FU: It is my first collaboration with artist Conrad Shawcross. We have been in conversation for a while and when the interest from the Mathematical Institute in Oxford came up, we decided to work together. With a degree in mathematics, I have a soft spot for science and its institutional frameworks. The Mathematical Institute in Oxford, with its inspiring building envisioned by Rafael Viñoly architects, houses all mathematics scholars and students from all colleges of Oxford University. It has been a tremendous joy to imagine Conrad's sculptures expanding onto the floors and common areas of the Institute and evoking responses from field-specialised scholars and students. Conrad works with the geometric form tetrahedron and constructs his pieces into sculptures (i.e. the Paradigm series). His mathematical, geometric and philosophical inquiry manifests into form, where his sculptures (static and kinetic) expose new forms of thinking. The project grew in its conception adding works that employ non-repeating patterns and fractal geometry, becoming the largest survey exhibition of Conrad in the UK. One of the most exciting aspects of this collaboration is its duration, that the exhibition is on for a whole year. Currently, I am working on a four-part symposium series that we will hold in the new year, juxtaposing artistic and scientific thought, and engaging scholars from the disciplines of mathematics and physics with artists.
"We need a major uplift in the sector when it comes to artist fees and conception of artistic labour as well as meeting the needs of the artists."