Interview NFT and Multimedia Artist Saira Jamieson
Championed by Nancy Stannard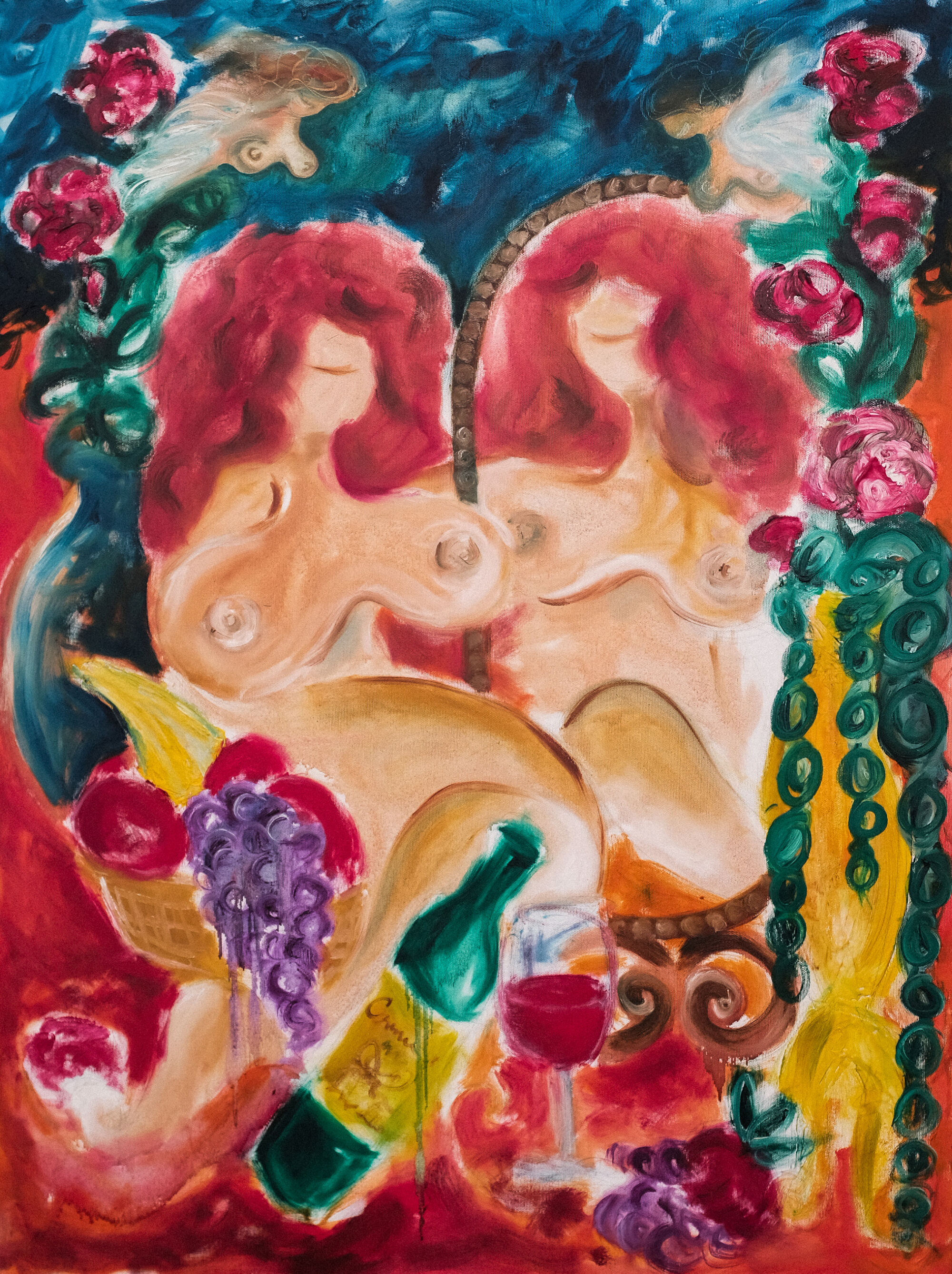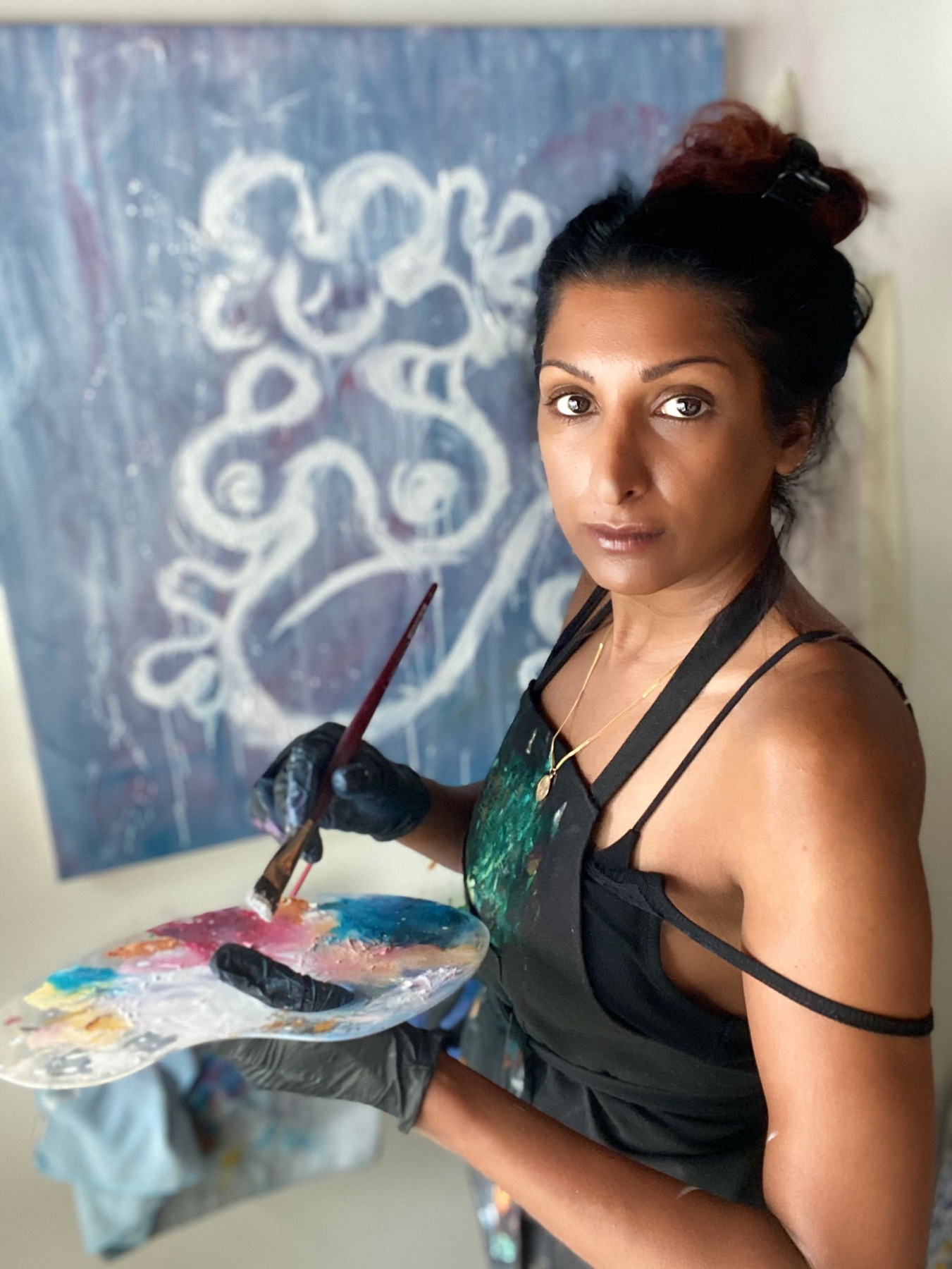 British-born, South Asian multimedia artist Saira Jamieson was raised in a household of both cultural pride as well as religious vigour. Through painting, drawing, and later artistic filmmaking, she found escapism. Art was her personal therapy. It was her artistic work on Martha Fiennes and Salma Hayek's film Yugen, painting Hayek's signature silk Empress gown, which proved the catalyst for her becoming a full-time artist.
Fashion consultant Nancy Stannard first came across Jamieson's work at a friend's home (they'd purchased an oil painting and line drawing) before being invited to also see Yugen at Frieze LA. Stannard says: "I eventually met Saira in person at an exhibition of her work on Portobello Road. She is as interesting and feminine as her work and her story is equally as intriguing. London born in a strict Muslim Pakistani household and community, she has fought the fight across the cultural divide. Meeting her gave me greater understanding of her work and its distinctive style. There are clear influences taken from her culture and her own journey. There is a consistent theme celebrating femininity and freedom throughout her work. Her work, like her, seems to be in a constant state of change, exploring and championing femininity and freedom."  

Jamieson agrees: "I am always interested in the lives of women like me, I purposefully seek them out. These women who fought the same fight and understand the complex often misunderstood nature of our culture. Amidst the oppression we were immersed in colour, dancing, music and beautiful tradition.

"This is reflected in my artistic style, which has a rich undertone of arabesque, movement and noise. Almost like the female forms have unravelled themselves from Arabic scripture. I often paint using vibrant colours; no doubt a genetic influence of my culture. By contrast, I also love to paint using clean, black inked lines on white background, again like the Arabic books I read growing up. Across all my work, the free-flowing female-like cursive style, I call Sarabesque, is a constant."

As well as traditional art mediums, Jamieson is a self-confessed "complete tech geek". She has embraced NFTs and Web3, bringing together the digital with the physical. She loves testing and applying new methods to her work that can add to the layers of storytelling.

Stannard says: "Her love of technology has come to the fore in the rise of NFTs and Web3. Forever curious, she has absorbed this space, long before I'd even heard of it in the art world. She has most recently created a multimedia collection including an NFT series called 'Blockchain Boobies'. It is a diverse and compelling collection of women from the diaspora – as nudes. A brave statement from a modern Muslim artist." 

She adds: "One of the reasons I love Saira's work is because it is more than just an art piece. There is depth and cause to her work. She helps me realise how much more work society must do to fully recognise the work of female artists, particularly those of colour and even more so for Muslim women. Not only does she create beautiful, provocative art, she also champions and gives a voice to female diaspora."

Inspired by Scheherazade's quest to survive through her epic tales, Jamieson's 'Blockchain Boobies' NFT series will comprise 1,001 artworks across a variety of multimedia, and will mint in intermittent drops. In partnership with Kensington & Chelsea Arts Week, the first mini drop is now live. Each piece portrays a woman of the diaspora, and an important goal of the project is to provoke conversation and give exposure to the issue of imbalance of women and marginalised communities in the Web3 space.
About the champion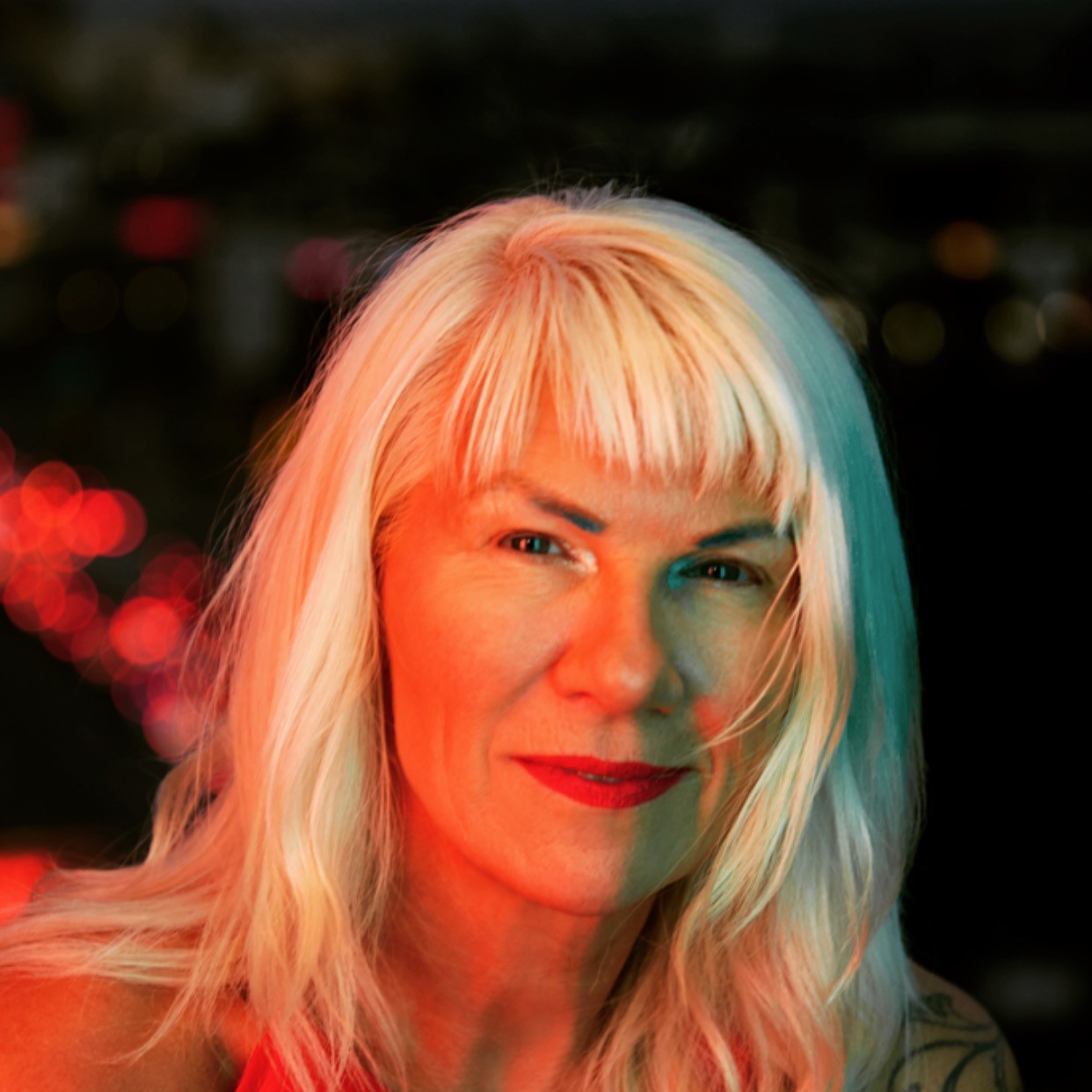 After attending the London College of Fashion, fashion consultant Nancy Stannard earned her stripes working for Jean Paul Gautier, Elio Fiorucci, Y3, Moncler and several other designers in sales and marketing before launching her own agency. In her later role as global liaisons director of Copenhagen International Fashion Fair and Code Art Fair, she also helped to take fashion trade shows to the next level.
"Her work, like her, seems to be in a constant state of change, exploring and championing femininity and freedom."