Interview Portrait artist Lorna May Wadsworth
Championed by Victoria Grant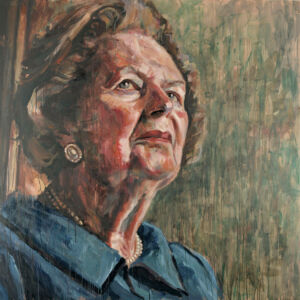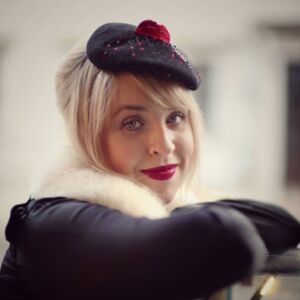 Interview
Lorna May Wadsworth
10 August 2022
Interview
Lorna May Wadsworth
10 August 2022
The relationship between this week's Spotlight artist, Lorna May Wadsworth, and champion, milliner Victoria Grant, is one of mutual adoration. Two fan girls that first connected over a glass of wine, or two.

Victoria Grant says: "Lorna had been buying hats from me but we hadn't met properly until one day she came to a hat salon at my atelier. After the event, we sat on the balcony for hours drinking wine and smoking cigarettes, looking at each other's work, and there our mutual love affair was born!"

She adds: "I love Lorna's work for so many reasons, not only do I find her level of artistry and skill mesmerising to the eye, Lorna's work is deep way beyond the canvas. She puts so much thought, detail and research into her subjects, digging into each person's history and character, making sure that her final composition before she sets to paint them contains every possible fascinating element of their character and life. To be painted by Lorna is like being led through a course of deeper self-discovery – she spots things you may not have even realised about yourself."
Lorna May Wadsworth rose to prominence before she had graduated from Falmouth School of Art, with a series of notable works, including portraits of Lord David Blunkett and the former Archbishop of Canterbury, Dr Rowan Williams. Her portrait of the late Baroness Margaret Thatcher, which was completed from five sittings in 2013, is also considered to be one of the most respected and boldest formal portraits of a modern British prime minister.

Throughout her 25-year career, Wadsworth has also continually challenged the portrait tradition of favouring the female subject through the eyes of male artists. In her Beautiful Boys series, she transfers the power balance, placing her male subjects on display for all to see.

Grant says: "Visually, I am awestruck by Lorna's painting and ability. She paints like an Old Master – her skill level is godly and not of this time. I also love her more contemporary, conceptional driven figurative. Lorna has taught me so much about colour. In fact, Lorna's colour education has inspired and influenced the colour palette I use within my collections – you may notice a recent love affair with baby pinks and soft pastels. People talk about 20/20 vision – Lorna can pick out 1,000 hues within one colour, which most of us would simply call 'yellow'!"

An ardent collector of Grant's work, Wadsworth is as much in awe of her talent. She even created a two-metre-high painting of Grant, set against the wall of hats in her Notting Hill atelier. Wadsworth says: "Victoria Grant creates hats that instantly elevate the wearer to the very best version of themselves. Time and time again in her atelier, I've seen how she will pluck down one of her creations and set it on a prospective client's head, and they start to glow and come alive. Her designs are steeped in her love of British pageantry, yet are always witty and full of mischief and panache. As a portrait painter, I never tire of how her hats enhance the structure of a face and create the most beautiful sculptural shapes."

You can see a collection of affordable pictures and prints by Wadsworth on her website OneHundred.Pictures from 17 September, to raise money for The Trussell Trust and food banks.

About the champion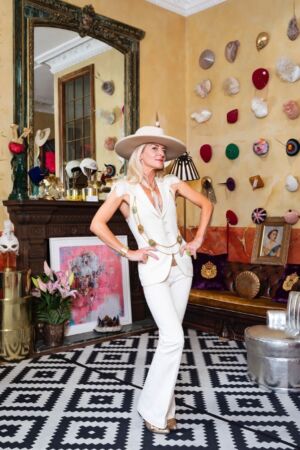 Established in 2011, Victoria Grant is hailed for being a key contributor to the enduring popularity of the British millinery scene. Known for her eccentric take on millinery, Grant's work has graced the pages of Vogue, Tatler and Harper's Bazaar, and heads of Rihanna, Beyoncé and Lady Gaga. All her hats are made by hand in her Notting Hill atelier, using time-old techniques, the finest silks, feathers and jewels all ethically sourced within the UK.
"To be painted by Lorna is like being led through a course of deeper self-discovery – she spots things you may not have even realised about yourself."