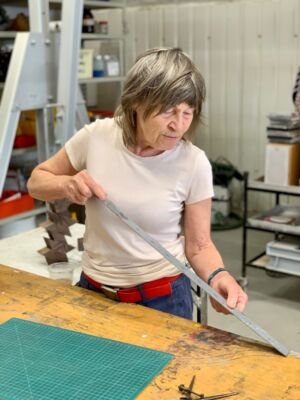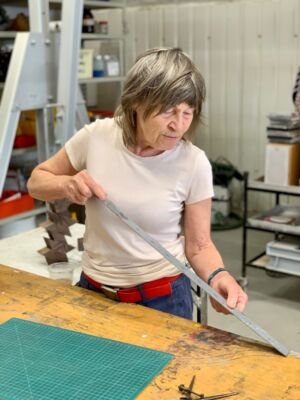 Interview Sculptor and Summer Exhibition Coordinator Alison Wilding
After two years in winter, the world's most joyful art exhibition is returning to its intended season. Run without interruption since 1769, the Summer Exhibition at the Royal Academy (RA) showcases art in all forms, from prints, to film, to photography and sculpture, and will open to the public on 21 June.

Celebrated British sculptor Alison Wilding is the coordinator for the 254th edition and has chosen the urgent theme of 'Climate' for this year. Wilding's committee is comprised of fellow RAs Rana Begum, Stephen Chambers, David Mach, Farshid Moussavi, Níall McLaughlin, Grayson Perry, Conrad Shawcross and Bill Woodrow. 

Wilding was elected a Royal Academician in 1999. She rose to prominence in the 1980s as part of the New British Sculpture, a group that also included Richard Deacon, Tony Cragg and Anish Kapoor and was known for combining traditional and new industrial materials with both figurative and abstract imagery. In 1988 and 1992 she was nominated for the Turner Prize.
THE WICK: Talk us through a typical Monday.
Alison Wilding: I get up and feed my cat, Gus, at my home in Stepney Green. This is the only Monday routine I have, as every Monday differs from the last for me. Lately, I've been going to the RA first thing for the installation of the Summer Exhibition. On other Mondays, I spend the time in either my sculpture studio or my drawing studio.

TW: What has been your highlight of coordinating the 2022 Summer Exhibition at the RA?
AW: My highlight of the Summer Exhibition is how spacious it all feels, and how every gallery has a different dynamic.
TW: Which artists should we be keeping an eye out for in the exhibition?
AW: I would encourage viewers to keep an eye on everyone exhibiting at this year's Summer Exhibition; however, one highlight is Gavin Turk's Looking Glass, which is in gallery ix – often a difficult gallery, being the last room before the RA shop. It's a massive cube of vitriolic glass full of rubbish – it sounds nothing, but it both dominates the room and yet simultaneously fades into the background allowing everything else to be seen.

Another favourite is Uta Kogelsberger's Cull. This is a multi-screened video work describing the aftermath of the devastating California wildfires in 2020. The sound and sight of dead trees being felled is mesmerising. This is the only work in the small western gallery.

And finally, a small painting of a polar bear giving the finger in gallery vi. One of several polar bear paintings in the exhibition. This is an iconic image by Scott Brooker, an artist unknown to me, and embodies the accusation that climate change is our fault.

TW: The theme you chose for this year's Summer Exhibition is 'Climate'. What message do you hope this will convey?
AW: The theme of 'Climate' has been interpreted in as many ways as I hoped it would be, it's angry, dystopian but also as celebratory as the Summer Exhibition always is.