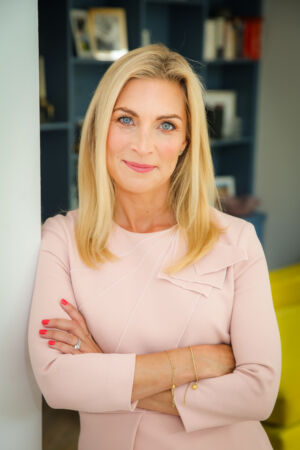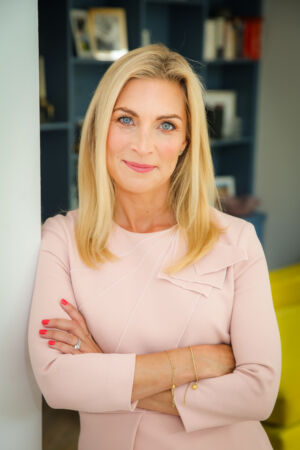 Interview TalkTV Royal Editor Sarah Hewson
Photography
Damian Bailey
29 May 2022
Photography
Damian Bailey
29 May 2022
Earlier this year, the Queen became the first British monarch to celebrate a Platinum Jubilee after 70 years of service. In the run-up to this week's four-day bank holiday in celebration of Her Majesty's historic reign, we couldn't think of a better Monday Muse than one of television's most respected broadcasters and expert on the royal family, Sarah Hewson.

Hewson joined TalkTV as royal editor in April and is a regular commentator on stories about the royal family on the station's flagship evening news and current affairs programme. She draws on more than 20 years of experience as a journalist and broadcaster, where she spent most of her career at Sky News anchoring some of the biggest national and international news stories.

No stranger to big occasions, during her time as Sky's royal correspondent she headed up the coverage of two royal weddings, royal births, the Diamond Jubilee and the funeral of the Duke of Edinburgh last year. Sarah has also interviewed six senior members of the royal family, the last five UK prime ministers, and other high-profile figures from the worlds of business, sport and entertainment.
THE WICK: Talk us through your typical Monday.
Sarah Hewson: I can honestly say that there is no such thing as a typical day. I tend to wake up sometime between 5-6am – a legacy of many years of shift work I guess – and listen to Times Radio's early breakfast show and then the Today programme to ensure I am across the news agenda for the day.

After that, it's less predictable. Sometimes we're aware of upcoming events, like the Platinum Jubilee or the State Opening of Parliament, but more often than not news happens unexpectedly and I have to be ready to react.

When things are quieter on the work front, I'll be found running around after my three young children. Between school drop-offs and pick-ups, swimming, football, rugby, ballet, parties etc, they keep me pretty busy – I'm sure their social lives are better than mine these days.

TW: What does your role at TalkTV entail?
SH: The new role is something of a return to my roots – I was royal correspondent for Sky News for many years before I moved into the studio as a news presenter. It's a great time to be back covering royal news – I can barely remember such a busy time, what with the Jubilee, concerns over the Queen's health, the ongoing fallout from Megxit, and Prince Andrew and the Jeffrey Epstein scandal.

It's really exciting to be part of a launch and while TalkTV might be a brand-new channel, it's part of the News UK stable, which includes The Times, The Sunday Times and The Sun with long-established journalistic credentials.

As well as TalkTV, I'll also be providing royal analysis and commentary for other outlets, both in the UK but also the US and Australia.

TW: How did you get in to broadcast journalism?
SH: I knew I wanted to be a journalist from a really young age. I used to record my own bulletins at home on an old VHS camera (showing my age). I had a weekly column for a local newspaper in Kent and then worked on student radio. After university I worked for a small business channel in London before moving to Sky News. My first job there was as a junior producer in the early days of what we would now call digital news. It was a great introduction to a 24-hour newsroom and enabled me to climb the ranks, becoming a news reporter, royal correspondent and then presenter.
TW: What was the most exciting moment in your time as a Sky News royal correspondent?
SH: Working in journalism is a huge privilege because it gives you a front row seat to history. Being at Buckingham Palace for the marriage of William and Kate and inside the grounds of Windsor Castle for Prince Philip's funeral are two such occasions I will never forget.

I've travelled to far flung corners of the world with the royal family – to Lesotho with Prince Harry, Uganda with the Queen and the Galápagos Islands with Prince Charles. I've broadcast live from the White House lawn, from Sydney Opera House and from the Amazon rainforest. The schedules on royal tours are crazy and they are far less glamorous than they might sound – but they provide memories to last a lifetime.
"Working in journalism is a huge privilege because it gives you a front row seat to history."