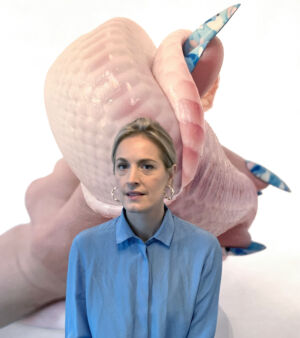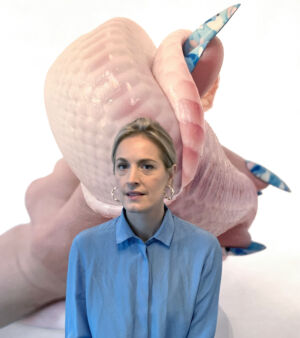 Interview British Sculptor and Artist Polly Morgan
Armed with a DIY book, Polly Morgan originally took up taxidermy as a hobby and a way to furnish her London flat. After studying with the Scottish taxidermist George Jamieson in Edinburgh, whom she found online, she's since become a full-fledged member of the UK Guild of Taxidermists.

Thought to be one of the most collectable artists of her generation, Morgan also works in concrete and polyurethane. She is interested in creating deceptions, with sculptural facsimiles made from painted casts and skin, as a way of exploring false narratives in our increasingly polarised and digitised society. Since receiving her first commission by the East London restaurant Bistrotheque, her work has been snapped up by notable collectors and curators around the world and displayed in the likes of Haunch of Venison, New Art Gallery Walsall and Pallant House Gallery. In April 2021 Morgan was awarded the First Plinth Public Art Award from the Royal Society of Sculptors and is preparing for an upcoming group show called 5th Edition at Contemporary Sculpture Fulmer, opening 15 May 2021.

Dismantling taxidermy traditions, Morgan creates unsettling still lives where animals are observed in death rather than life. Her recent abstract sculptures – a series of coiled taxidermy snakes – draw on the pandemic and social media, examining our need to contain, control and conceal in a digital world, and the disparity between surface and reality. Quoted by iconic writer Waldemar Januszczak from The Sunday Times, he says of Polly's work, 'strikingly independent… her art says something genuinely insightful about the modern world.'
THE WICK: Talk us through a typical Monday.
Polly Morgan: I wake, often quite peacefully, at 7am and within minutes have two tiny boys screaming at each other over my head. There's no time for reflection. The next hour and 20 minutes are taken up resolving one fight after the next – who goes down the stairs first, who turns on the TV, who gets dressed first, who has what for breakfast, before – as if they were friends – they kiss and cuddle each other goodbye. I take the youngest to nursery and my boyfriend Mat takes the eldest to school. On my return, I run five miles on the treadmill and it feels like a cool breeze after part one of my day. I'm at work by 9.30 and tend to spend the morning catching up with emails and planning the week. We often lunch together, along with anyone else knocking around the house, but Mondays are the exception and I grab anything from the fridge and eat it on the way down the stairs to my studio. This, with a brief interlude collecting my son from school, is where I spend the afternoon usually, moulding, casting or painting. I finish around 5pm and cook for my kids, get them to bed then crack open a bottle of Medoc and cook again, only with a lot more salt and chilli.
TW: You were recently awarded the First Plinth from the Royal Sculpture Society. Tell us about your work for this award and its significance in your wider body of work.
PM: I so rarely enter prizes, but I strongly felt this one was the right one, at the right time for me. In preparing Understand Your Audience, a large sculpture for How to Behave at Home, my exhibition at The Bomb Factory last year, I developed new painting techniques that involved using iridescent transfers and top coats more commonly used in nail bars. It was summer so I would put the casts outside, so the UV rays from the sun would activate the top coat, and I noticed how much stronger the iridescence was in the sunshine than under artificial lights. I then resolved to make an outdoor sculpture using the same technique. Until recently, I used only the skins of animals stretched over a form, but since deciding to sometimes discard the skin altogether and paint directly onto the cast, I am no longer limited by its perishable nature and can exhibit work outdoors. The final piece will be a variation on Understand Your Audience, with the juxtaposition of the almost artificial-looking gloss iridescence of the snake and the matte grit of concrete.
TW: What's your favourite culturally curious spot?
PM: Modern Art gallery in London. I always come away inspired by everything, from the art down to the flooring and office chairs.
TW: How has the nature of your work and perceptions of taxidermy as an artistic practice changed?
PM: While my current work is almost unrecognisable to my early work, there are common threads, which are my interest in deceptions, skins and veneers. Taxidermy is a visual trick, just as casting an object is, both are designed to mimic something that they're not. I have also been interested in containment since the start; one of my earliest works, Rest a Little on the Lap of Life, is a rat curled up in a champagne bowl glass. I wasn't trying to make it look asleep, as some would describe it, but packed in. I was using the body of the rat to take on the form of the glass. I chose glass as it's transparent and thus we could see the distortion of the body. This is something I am still doing with my snakes, that more broadly represent to me flesh and the ornamentation of our bodies. I always saw taxidermy as just another material; just as clay or embroidery can be considered craft, so too can they be used in contemporary art. Taxidermy seems to be shrugging off notions of Victoriana and hunting trophies and, even the more traditional mounts are being made with a more modern aesthetic by some of the best young practitioners.
"Taxidermy seems to be shrugging off notions of Victoriana and hunting trophies"