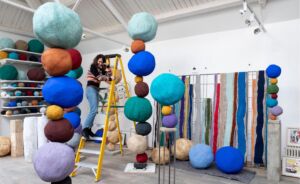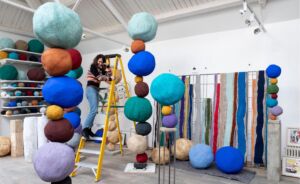 Interview Annie Morris, Artist
London-based artist Annie Morris is undoubtedly having a busy year. Following a lockdown spent nestled in the countryside with her husband — fellow artist Idris Khan — and their children, Morris' intense, idiosyncratic sculptures, tapestries and more are popping up across the country, from Claridge's new bar to Yorkshire Sculpture Park.

Morris' multi-disciplinary practice draws on both her personal experiences and her studies at the École Nationale Supérieure des Beaux-Arts, Paris and the Slade School of Fine Art in London. After first working with painting and drawing, Morris began creating her now famous sculptures of stacked irregular spheres in 2014 following her experience of a stillbirth. An expression of grief and an exploration of trying to grasp the fragile and vulnerable, Morris' 'Stack' series feature precariously arranged columns of spheres in plaster or cast in bronze, painted with vivid, raw pigments in Ultramarine, Viridian and Ochre. These deep, intense colours continue to appear across Morris' work, which now includes tapestries and a stained glass window in The Painter's Room bar in Claridge's.

With one of her 'Stack' sculptures included in this year's Frieze Sculpture at Regent's Park, her Claridge's commission unveiled and her first UK solo museum exhibition on show at the Yorkshire Sculpture Park, Morris tells us how she's managing to get it all done…
THE WICK: Talk us through a typical Monday.
Annie Morris: On Thursdays and Fridays I'm alone in the studio, so a typical Monday involves picking up work with the team that's come in — it's always a busy day, with plenty to catch up on. I always start the day doing a drawing. That's a nice thing to start with, especially since the beginning of the week is always hard for everyone. I have this little space at the top of my studio and I normally start there, where I draw and then sew, and when that's done I'll start thinking about sculpture and meeting with the team and planning out the week ahead.
TW: Your work is preoccupied with themes of womanhood. Who is your favourite heroine, in fiction or real life?
AM: Most of the artists I gravitate towards are women artists, and I particularly love Louise Bourgeois. I was lucky enough to be able to spend a lot of time with her in her studio, chatting with her about work. She had salons where you could go and draw and she'd give you a mark out of 10, then we'd have whisky and hangout and chat. You had to bring her these special chocolates that she liked. I was so glad I was able to do that. I remember someone showing her a landscape work and her response was simply, "I detest vert!" She was opinionated in the most wonderful way. I've also become close friends with Rose Wylie, and I think she's incredible, both in the sense of her work and her personality. She has a twinkle in her eye and she's exciting to be around.
TW: Where does your passion for intense, pigmented colours come from?
AM: When I was a student at the École Nationale Supérieure des Beaux-Arts, I was always obsessed with pigment and I wanted to make canvas paintings that explored the shape of the owl. I was interested in the simplicity of the shape, which is so beautiful, and so I made these giant owl paintings. I created this system of painting linseed oil onto the canvas and mixing it with ground graphite pencil dust to make a deep, dark background. Then I would literally throw pigment on the canvas in this very immediate way. I was trying to work out how I could use pigment in its rawest form, not to make paint but to make the surface have that same velvety, fragile surface that you find when you open a jar of pigment. I would scratch into these paintings, creating something between drawing and paintings.

Years later, after going through the experience of having our stillborn baby and all the things Idris and I went through during that long period of shock and grief, I found myself looking back to what I'd done then. Often with my work, I like to try things, try materials and mess around with different combinations, and leave things unresolved in my head. When I was making my sculptures, I revisited those owl paintings, because I was interested in creating that same raw, fragile quality.
TW: One of your vibrant sculptures is included in this year's Frieze Sculpture. How does seeing your work in this public outdoor space impact how you understand it?
AM: It was so exciting to have that work outside. First of all, I have made works in bronze before but they've always gone to collectors' houses so I've never really seen them once in situ. It was amazing to be there and see it go up amongst the trees, and now to see it as those trees around it change colour and as people react to them is wonderful. I've walked through the park a few times and seen children sitting around it, people coming to it as a meeting spot — it's so lovely to see it with energy surrounding it. It also helps me understand more about scale, and has got me thinking about the possibilities of what could happen next and where these sculptures could go. It feels so enormous when you're creating Stack sculptures in the studio, but then you put them in these outdoor spaces and it completely changes your perspective.
"I would love to see one of my sculptures installed outside near a body of water. There would be something really beautiful about seeing it interact with that environment and reflecting back at you."