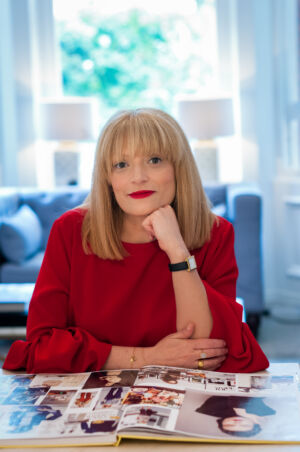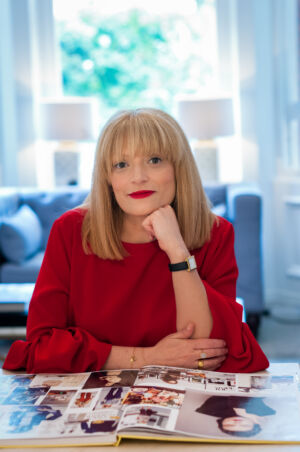 Interview Film Producer and Art Collector Gisele Phillips
Interview
Gisele M. Phillips
02 May 2022
Interview
Gisele M. Phillips
02 May 2022
Having worked across media and within a variety of arts sectors for more than 15 years, developing a deep understanding of creative content conceptualisation, diversification, production and monetisation, Gisele Phillips founded Art Cinema in 2017. The female-led collective of visual media producers is dedicated to the conception and delivery of interdisciplinary productions in visual and performing arts, film and publishing, and celebrating the female lens and its significant contribution.

Through her recently launched artist residency programme in the South of France, Phillips is also championing emerging and mid-career artists from all cultural backgrounds, providing them with a space to live and work, and to take part in a discourse about creative thinking and interdisciplinary approach to art making.

We're not sure how she finds the time, but she has also curated and staged more than 30 art exhibitions in the UK, the US and across Europe, and published her third book, The Photograph That Changed My Life, in September 2021.

This year looks like it will be just as busy with her most recent art house film, Hamlet Within, which was written and directed by Ken McMullen and features Sir Ian McKellen, scheduled to be released at the upcoming Cannes Film Festival in a limited number of NFTs.
Here, she shares some of the many other projects we can expect.

THE WICK: Talk us through a typical Monday.
Gisele Phillips: I do not have typical days in my diary but Mondays are generally speaking about execution. Having spent Sunday afternoon reviewing the previous week, and planning the next, I like to start the week knowing what I am doing, where and with whom, avoiding those typical Monday morning anxiety attacks some of us know all too well. The day starts early (never the same time, but around 7:30am), sipping delicious French brew with a cloud of milk, listening to BBC Three or Radio 4 and glancing over the news of the day. This is followed by my daily diary entry, which, on Monday mornings, is particularly light, bright and full of excitement about what lies ahead. The rest of the day then unfolds with what work engagements entail, from team meetings, in person or online, client pitches to brainstorming sessions or script read-throughs. My evening schedule is equally atypical, either catching up with a friend, a hot yoga class, or simply a quiet dinner at home with my husband. The great thing about Mondays is that they are always about new beginnings, renewals and even second chances. And that is most rewarding.
TW: Who is your ultimate Monday Muse?
GP: The extraordinary diarist, essayist, novelist and writer of short stories Anaïs Nin. She began what became her lifelong work of art in 1914 at the age of 11 and kept writing until her death 63 years later in 1977. Her diaries focused on her interior life and became the chronicle of her search for fulfilment in what was often for women a painfully restrictive culture. She was an oddity in her lifetime. For one thing, she was a woman who wrote explicitly about sex from a female point of view. Her work included frank portrayals of illegal abortions, extramarital affairs and incest, all of which she wrote about without judging her female characters. That's brave today but in 1940, it was suicidal. Even more polarising, though, was Nin's insistence that she was by far her most fascinating character, and that her diaries ought to be treated as a major work of literature. A postmodernist at heart and a true visionary of what the 21st century is going to be about. She is known for having said: "I don't really want to become normal, average, standard. I want merely to gain in strength, in the courage to live out my life more fully, enjoy more, experience more. I want to develop even more original and more unconventional traits." I could not agree more!
TW: What do you look for in your creative collaborations?
GP: Being a female collective of producers, our aim is to fashion storytelling from a female perspective, which usually means a more holistic and overarching approach to converting concepts into reality – something which has been lacking in our western society where most of the cultural output is produced by 50% of the population (often male and white). We look for originality, quality and meaning. We retain ideas and concepts which involve interdisciplinary execution and delivery, both in content and form. Generally, this means that we favour projects focused on a collaborative process and on bringing together people who would not necessarily meet or collaborate.
TW: If you could add one piece to your personal collection what would it be?
GP: I have recently started a new art collection dedicated to the study of mystical phenomena and their interaction with the unconscious. Conceptual art movements of the 20th centuries have taken a real interest in such matters and I have recently discovered the work of Hungarian born, American-based artist Agnes Denes, a pioneer of conceptual and land art movements, whose work, in my view, stands at the frontier of the mystical. Excerpts of her Manifesto highlight her interest in working with paradox, defining the elusive, visualising the invisible and communicating the uncommunicable. I came across this work at Frieze Masters last year and it's definitely on my list.
"We felt that since [Hamlet] is one of the oldest stories ever told, it would be appropriate to tell it through the folds of the most innovative channels, the crypto world."