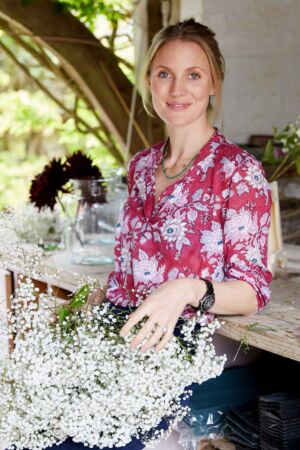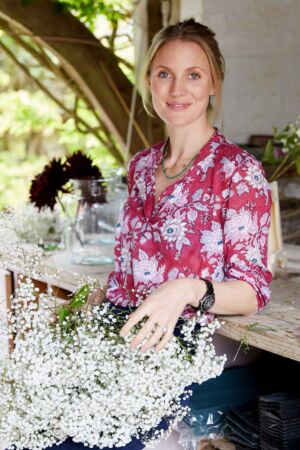 Interview Floral Stylist Willow Crossley
Interview
Willow Crossley
20 September 2021
Interview
Willow Crossley
20 September 2021
The world's greatest flower show, the RHS Chelsea Flower Show, returns this Tuesday. It will be the first time the show, which attracts more than 150,000 visitors including the Queen each year, will be held in autumn in its 108-year history.

Welcoming its return is celebrated floral stylist and writer Willow Crossley who will be transforming the facade of Chelsea's Ralph Lauren store to mark the occasion. After starting out as a fashion journalist, Crossley turned her focus to lifestyle books and interiors before settling on flowers. Her wild and whimsical arrangements have since seen her work with British brands including Jo Malone and OKA. As well as writing four books and regularly contributing to House & Garden among other publications, she advocates a sustainable and inclusive approach to floristry, working with locally grown stems where possible and encouraging everyone to enjoy the emotional benefits that flowers can offer. As this week's Monday Muse, she shares her inspirations and upcoming projects.
THE WICK: Talk us through a typical Monday.
Willow Crossley: I love a Monday. I love the fresh start, the peace of having the house to myself again as well as the anticipation of the week ahead. My work is so varied that there isn't really a typical day. Mondays are mostly for sorting. I work from home and frustratingly can't concentrate unless everything's clean and tidy and after a weekend with everyone at home – we have three sons – there's always lots of sorting before I can start to do anything productive. I'm working on a big installation for Chelsea In Bloom at the moment and the mechanics of how I'm going to make one specific part of it work are taking up every waking second I have.
TW: You began your career in fashion journalism. What prompted you to start working with flowers?
WC: My fashion career – if you can even call it that – was pretty short-lived. Jobs in that world were always far and few between and when Charlie, my then boyfriend and now my husband, moved to the South of France, leaving it all behind wasn't hard. I started again in France, rummaging around at brocantes and flea markets collecting antique fabrics and treasures, which I turned into a little business making and selling homewares. I started blogging about my life in France, which in turn became my first book, The Art of Handmade Living. The direction slowly merged into decorating and interiors – something I've also always loved – and would always be filled with and inspired by flowers. When I was writing my second book, Inspire: The Art of Living with Nature, I wrote a whole chapter on flowers and just absolutely adored it. I felt like I'd found my thing. I had got to a point where I was spreading myself so thinly workwise – personal shopping, styling, writing, flowering and decorating – I made the decision to stop everything else and just focus on the flowers. And I've never looked back.
TW: What drives your passion and what is it about flowers that brings such joy?
WC: I think very simply, their beauty. Being surrounded by such exquisite, beautiful things every day is so magical. Properly life enhancing.
TW: Since founding your eponymous brand in 2014, Willow Crossley has gone from strength to strength. Why do you think it connects with consumers?
WC: I think people enjoy what we're offering because they realise it's accessible to everyone. Floristry has often been something that people have found intimidating. We've tried to demonstrate that it really shouldn't be and is the most wonderful thing to embrace. Both for fun and as a way of improving our emotional wellbeing.
"Being surrounded by such exquisite, beautiful things every day is so magical. Properly life enhancing."
TW: There has been a resurgence in floristry and other traditional crafts. Have you got your eye on any up-and-coming talents?
WC: I'm crazy about willow weaving. I had a lesson a few years ago and was pretty terrible at it but would love to learn more. Jay Davey is my go-to for inspiration. Learning to make paper flowers has been top of my to-learn list for years and I still haven't found the time. When I was younger they were pretty bog-standard – you could definitely tell they were made from paper – but nowadays, you have to properly study them to work out if they're real or not. The Green Vase's creations are off-the-chart incredible.
TW: What exciting projects do you have lined up?
WC: We are developing our webshop in a big way, introducing lots of gorgeous new products. More vases, florist sundries, planters, the best secateurs and garden tools – anything gardeny and flower-related – so there are lots of trade fairs and buying trips ahead. I'm working on my first clothing line with an English brand I've loved for as long as I can remember, which I'm very excited about. That launches next spring but I'm afraid I can't share who it's with yet.
TW: The RHS Chelsea Flower Show returns this week. What would be your dream display?
WC: I'm working on a big display with my friend Angus Buchanan for Ralph Lauren. The theme this year is 'Extraordinary Voyages' and we are transforming the whole facade of its new Sloane Square shop for the competition. We installed through the night on Sunday, and it will stay up for a whole week.
TW: Desert island quarantine – what album, artwork and book do you take with you?
WC: Cat Stevens's Tea for the Tillerman would be my album. My artwork would be 'Insects on Hogweeds' by Mary Newcomb and the book would be Where the Crawdads Sing by Delia Owens.
TW: Who is your ultimate Monday Muse?
WC: Anna Spiro. She's an Australian interior designer whose use of colour and pattern is so inspiring. I'm yet to find one of her projects that doesn't make me gasp with joy.