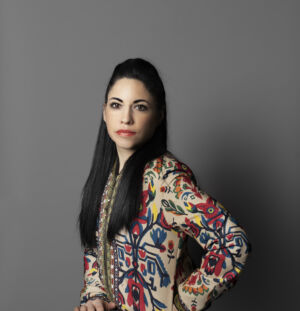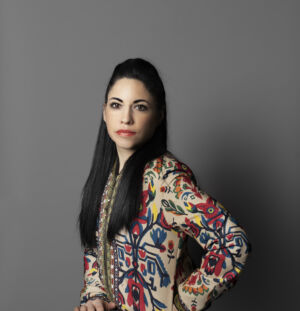 Interview Jarman Award winner Jasmina Cibic
Slovenian artist Jasmina Cibic ended 2021 on a high note by joining the ranks of Heather Phillipson and Monster Chetwynd as the winner of the Jarman Award, which celebrates UK-based moving image makers working in experimental filmmaking and innovation.

Realised in films and installation, Cibic's works explore how political rhetoric is deployed through art and architecture – sometimes incorporating transcripts of real political debates and speeches to form the dialogue. Inspired by the European identity crises of the 20th century, her latest film, The Gift, which saw her collect the £10,000 prize, presents an allegorical story of a competition between an artist, a diplomat and an engineer to determine which of the arts would be the most likely to heal a divided society.

It's the latest in a long line of achievements by the artist – Cibic has represented Slovenia at the 55th Venice Biennale, had her work shown at the Baltic Centre for Contemporary Art, MoCA, Belgrade, MoMA in New York and recently had a major solo show at the Musée d'art contemporain de Lyon. Here, she shares what drives her and what we can expect next.
THE WICK: Talk us through a typical Monday.
Jasmina Cibic: I love Mondays. It's an early start to the day as my daughter leaves for school early. I just love that first coffee in the studio, with a full day ahead when I can pick up where the mad Friday left off. If it's not a too-chaotic week ahead, I take my dog Bobby for a walk in Stoke Newington's Abney Park Cemetery, which is an oasis of all kinds of birds and the closest I can come to overgrown wilderness.
TW: Who is your Monday Muse?
JC: It would definitely be one that signals beginnings of greatness I suppose. I can think of so many women artists that fought patriarchal power verticals, so it would be an amalgam of their fierceness.
JC: I have a vast amount of projects in development, but as they are all so reliant on location access, the right partners and, more recently, political conditions in countries where I want to realise them – I am on constant alert to which one might have the right 'environmental' conditions for its fulfilment. Some projects take years, some might happen swiftly. But I nurture them all with the same dedication and attention to detail.
TW: Your practice spans various mediums. How do you decide which medium to use to explore a particular subject?
JC: I do think of my projects as organisms as they span from something very small – it might be a trace, debris from an archive – to something on a much bigger and more complex scale, like a lost choreography, or an abandoned government palace. From that core conceptual thought, the choice of the medium evolves organically – this is the space of my personal poetic, that always centres on the ethics of the archive I am interacting with and the interlocutors I gather within each chapter of my practice. I always try hard to have a publication present also, where we can expand on much of the primary documents the projects reach for – and from which the larger body of work grows – film, installation and performance.
"We must create new engaged forms of relationships between ourselves and develop projects in unison to help protect the cultural capital under attack."