Objects of Desire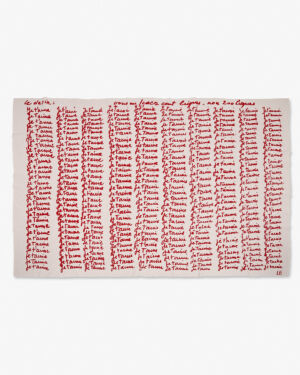 Object Louise Bourgeois Cashmere Blanket
Louise Bourgeois Cashmere Blanket
£1,083

Surprise a loved one this Valentine's Day with this sumptuous Louise Bourgeois blanket, made from 100% cashmere and emblazoned with a repeating 'Je t'aime' design. Throw it over the sofa — or the bed — and cosy up with a good read or delicious glass of red.

Need convincing? By purchasing this blanket you'll be supporting local heritage and artisan enterprises. Hauser & Wirth's Artist Blanket series is the result of an annual collaboration between the gallery's artists and ROAM, a small textile and knitwear studio based in the heart of the Scottish cashmere and fine woollens industry. Could there be a more heartfelt gift on a day that celebrates love?