Spotlight Art with Heart: Ukraine
Championed by The Wick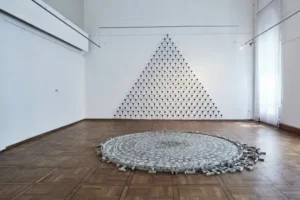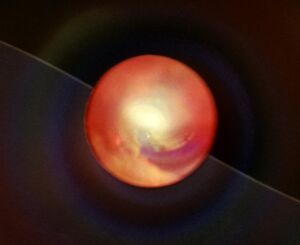 This week we're turning the Spotlight on Ukraine.

Every week The Wick highlights an up-and-coming artist that deserves recognition on a wider scale, supported by a Champion from the art world that we know and love. The Wick believes in the power of art to heal and help, which is why this week, in response to the ongoing situation in Ukraine we are highlighting initiatives to support Ukrainian artists.

March brought with it a flurry of art fundraisers to support Ukraine, from Idris Khan's print sale to Art4Ukraine photo sales, but there are still many ways to get involved if you missed the first round of crowdfunding.
The Naked Room
The Naked Room is a Kyiv-based gallery responsible for producing the Ukraine pavilion at this year's Venice Biennale. It was announced at the beginning of March that the pavilion would continue to show at the Biennale, with artist Pavlo Makov presenting his kinetic sculpture "The Fountain of Exhaustion. Acqua Alta (1995–2022)". Acqua Alta refers to the phenomenon of regular flooding Venice experiences several times a year when the Adriatic Sea tide rises above 90 cm – at the last Biennale in 2019, sirens would ring out in August to warn of the encroaching tide, as floods forced the Biennale to close. Highlighting themes of cultural erasure, climate collapse, and war, the focal installation shows water slowly trickling through a wall of steel funnels, depleting in volume as the reserves reach the bottom. The work draws parallels between the exhaustion of environmental change and human impact.

"The display symbolizes exhaustion on many levels. Besides the obvious – depletion of humanity's resources and credit with the environment – it's about psychological exhaustion due to social media abuse, the pandemic and economic recession" – Pavlov Makov

Makov was sheltering in a bomb shelter in Kharkiv but has since left the city to seek shelter abroad – along with his artwork. The Fountain of Exhaustion has travelled across the border to Romania in pieces and is set to arrive in Venice a refugee, ready to be reassembled. In response to the fractures the invasion is causing across Ukraine to all sectors, the Naked Room gallery have been spearheading a major fundraising campaign called the Ukrainian Emergency Art Fund, administrated by the (MOCA) Museum of Contemporary Art NGO. They've been compiling emergency resources for artists and those working in the arts, from residencies to stipends for those in exile. Their mission statement as a gallery has shifted slightly since the outbreak of war:

"Today, the world needs free, strong and alive voices of Ukrainian cultural actors more than ever. Our task is to ensure the continuity and development of the Ukrainian cultural process during the war."

Bettter Community
Another initiative aimed at sustaining the Ukrainian creative scene through the unprecedented destruction of war, Bettter Community (that's three Ts!) is a platform to showcase the top artists and creatives, from photography to graphic design, stylists to artists. Bettter Community functions as a portal to commission artists in need but also allows grants of up to 3000 euros to cover legal expenses incurred by relocation and disruption. Artists, like all citizens in Ukraine, have been forced to abandon studios and materials,working if they can at all from sub-par conditions on the road and in unfamiliar spaces.

"Kyiv has the most amazing creative scene and culture, everything from music, to fashion, to art. People have long called it 'the new Berlin'. The young creatives that call the city home need help and support, whether they've left Ukraine or stayed in the country and continue in with their work." Says ormer Vogue Ukraine editor-in-chief Julie Pelipas, founder of Bettter Community. "It's important to me that the world doesn't see Ukraine's people as victims," she explains. "I am so proud of our creative scene and the people that are part of it, and I want the world to see that too."
"Today, the world needs free, strong and alive voices of Ukrainian cultural actors more than ever. Our task is to ensure the continuity and development of the Ukrainian cultural process during the war."
The Naked Room, organisers of the Ukraine pavilion at Venice Biennale