Spotlight British-Nigerian artist Sola Olulode
Championed by Angeliki Kim Perfetti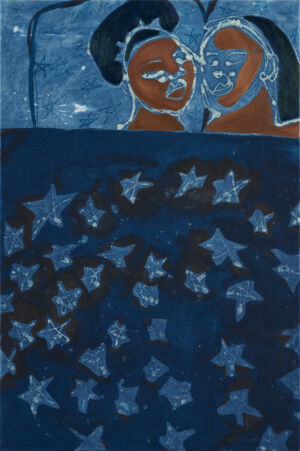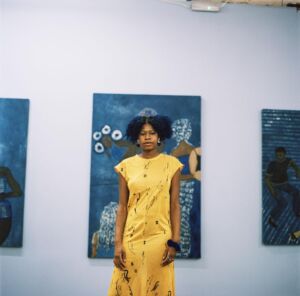 Founder of Dynamisk Independent Curating and Art Advisory, Angeliki Kim Perfetti travels the globe to discover, acquire, support, and promote art and artists. Fortunately, she only had to log into Instagram to come across British-Nigerian artist Sola Olulode and her dreamy visions of British Black womxn and non-binary folx.
Perfetti says: "I first came across Sola in December 2020 via Instagram where she was promoting a print sale. I immediately fell in love with these 'hugs'. I absolutely loved the intimacy and the variety of her work that came in a range of colours, from bright yellows, vibrant greens, passionate reds and deep blues. What I enjoy the most with Sola's work is the intimacy and storytelling behind them. It really feels like she's captured a personal moment in time, and they come with a statement: love is universal. I really liked that, so I had to get one of these for myself and I did."

Drawing inspiration from her own experiences, and those of her friends, Olulode's scenes celebrate relationships that transcend crude notions of queer sexuality, instead giving prominence to tenderness and romanticised acts.

She says: "Whenever I see a particularly good love scene on screen, I always think about how it might look as a painting. I'm also influenced by my own relationships, the love, joy and connections I experience and those that I witness around me."

Working with various mediums of natural dyeing, batik, wax, ink, pastel, oil bar, and impasto, her multidisciplinary practice helps to create multifaceted complex individuals and essential representation and visibility of Black Queer lived experiences.

Despite lockdown and Covid-19 restrictions preventing Angeliki Kim Perfetti from visiting Sola Olulode in the studio, she has been able to follow her work online and around the world over the past two years.

Perfetti adds: "In July 2021, I came across Sola's work again via Berntson Bhattacharjee's pop-up location in the south of Sweden. The exhibition hosted the artist's 'Bed Series', which depicts couples in bed together and follows the couples at different stages in their blossoming relationships. Now, I cannot wait to see Sola's presentation with the gallery at this year's 1-54 Art Fair. I'm sure it will be one full of love and colours!"

The leading international art fair dedicated to contemporary art from Africa and its diaspora, 1-54 returns to London's Somerset House for its tenth anniversary this week, running from October 13-16. You can catch Olulode's work there or in her first solo exhibition in New York City, with Sapar Contemporary, in November.

Olulode says: "I'm really excited because I've never exhibited my paintings in NYC and I'm always eager to share my work with a new audience."

About the champion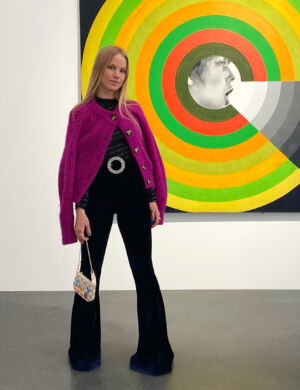 An independent curator and art advisor, Angeliki Kim Perfetti has worked on a multitude of projects, studio visits, workshops, art talks and tours, and developed relationships with leading galleries, museums, auction houses, collectors, and fellow curators. Many of which she features in her Give Me A Break: Dynamisk "In Conversation with…" series, which asks influential members of the art world their takes on things. And if all that wasn't enough, she's currently co-writing her first book.
"What I enjoy the most with Sola's work is the intimacy and storytelling behind them. It really feels like she's captured a personal moment in time."