Feature Contemporary painter Tomo Campbell
Championed by Victoria Williams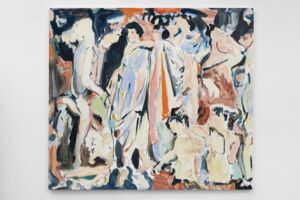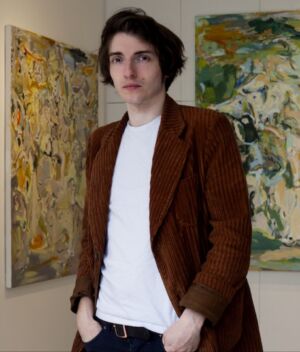 Photography
Courtesy of Cob Gallery
01 December 2021
Photography
Courtesy of Cob Gallery
01 December 2021
Since graduating from Central St Martins, London-based contemporary painter Tomo Campbell has gone from strength to strength, exhibiting his energetic, layered canvases across the UK, America and Australia, and even earning an artist residency at the English National Ballet. Through it all, Victoria Williams, co-founder of Cob Gallery, the Camden gallery renowned for its focus on emerging creative talent, has served as a real-life champion and supporter.
What started as a chance meeting at an exhibition opening at White Cube Gallery in 2012 has developed into a close personal and professional relationship, allowing Williams to witness firsthand the evolution of Campbell's work. Williams says: "I first encountered Tomo's painting whilst he was appointed the first Artist in Residence for the English National Ballet. Shortly afterwards, he graduated from Central Saint Martins. The work at that time was more monochrome and abstracted, inspired by the movement of the dancers — it was captivating. The origins of the style that he has developed since were certainly bubbling under the surface then. Visiting his studio in those early days, I became fascinated by the processes he adopted when composing his large scale canvases."

For his part, Campbell is far more reserved in bestowing praise upon himself. He says: "I'm not very good at being proud about stuff, I'm just always looking to make more and better work, whatever that means. I don't tend to think too much outside of that."

Williams, however, is more than willing to live up to the title of Champion with her praise of his work. "He is so energetic as a person it seems only natural that this is reflected in his dynamic painting style. His abstracted depictions of 'traditional' subjects such as hunting, parades and explorers are, as he puts it, 'never quite solid or whole', yet they exude an extraordinarily rich sense of vision."

On his approach to his energetic, Rococo-reminiscent large canvases, Campbell explains: "While I don't really have huge influences or inspirations, I do look a lot at art history and weave together different elements of painting throughout history into my own, so that they are almost like a collage. Those motifs or source materials are more like a tool to make the painting rather than a direct inspiration. I start painting , and the early patches of colour or forms that a brush makes might start to dictate where the painting could go, and that's enough for me to get momentum to carry on. It's like a call and response — what it might look like doesn't exist before I start. And once I start painting, the next one kind of follows on from each other, so that every new painting is an extension of the last."

Williams offered Campbell his first solo exhibition at Cob, titled 'There,' in 2018 and, since then he has come to be the gallery's artist. Williams adds: "His career has been going from strength to strength, with international exhibitions and worldwide collectors of note. Tomo continues to push the conventions of painting in numerous ways, including the application of new techniques and incorporation of new media to enhance his exploration of layering and texture."

As the year wraps up, Campbell continues to have a busy season ahead. In addition to presenting his work at UNTITLED Art, Miami Beach with Cob, he currently has a solo show at County Gallery, Palm Beach in Florida. Next year also shows no sign of slowing down, with the artist's first show in Asia kicking off in March 2022 at Q Contemporary, Hong Kong, and Williams and Cob Gallery lining up a number of exhibitions both nationally and internationally.

About the champion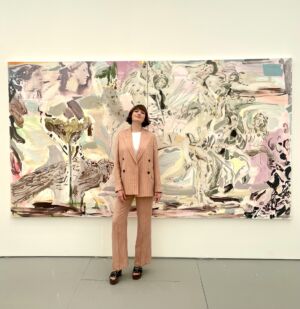 Cob Gallery Co-Founder and Director, Victoria Williams worked for several years for Sunday Times Art Critic Waldemar Janusczcak, researching his art documentaries for the BBC and Channel 4, before going on to launch Cob Gallery with friend and business partner Polly Stenham in 2011. Created in the pursuit of supporting new and emerging talent in the visual arts, Cob has developed an international reputation for its commitment to artists — especially female artists — at the emergent stage of their careers. Their exhibition and international fair programme is committed to highlighting distinctive voices in traditional fields of inquiry and mediums, with a particular focus on London-based artists working in drawing and painting.
"I start painting, and the early patches of colour or forms that a brush makes might start to dictate where the painting could go, and that's enough for me to get momentum to carry on."