Feature Figurative Painter Benjamin Spiers
Championed by Phoebe Saatchi Yates and Arthur Yates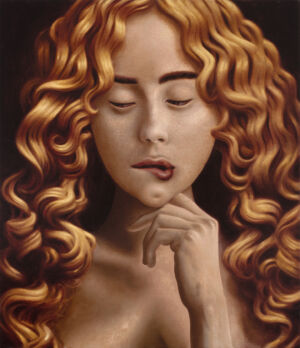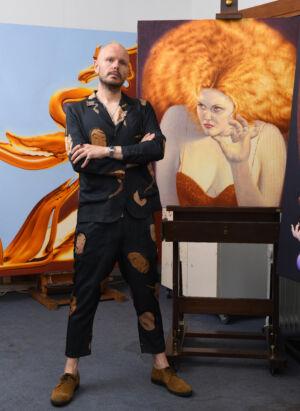 Interview
Benjamin Spiers, Phoebe Saatchi Yates and Arthur Yates
22 September 2021
Interview
Benjamin Spiers, Phoebe Saatchi Yates and Arthur Yates
22 September 2021
Phoebe Saatchi Yates and her husband Arthur Yates opened their eagerly anticipated gallery on Mayfair's Cork Street in London in October 2020. Their vision was clear: to break brand new stars into the market who are doing something different. This autumn, Saatchi Yates presents a solo exhibition of new paintings by British figurative painter Benjamin Spiers. In a series of fantastical new portraits, Spiers demonstrates his mastery of styles spanning from Surrealism to Cubism.

"Ben Spiers's paintings immediately grabbed us as they carry the same intensity of the great Baroque and Renaissance paintings while feeling completely fresh and of our generation," Phoebe Saatchi Yates and Arthur Yates told us.
They added: "Spiers spent 25 years studying the mastery of old Renaissance and Baroque painting and creating works compete with the high drama, passion and subtle intrigue achieved by those European masters. They match the satisfying realism of Baroque painting, rousing the same intensity while painting with the hindsight of Cubism and Surrealism, distorting and contorting figures. Spiers's paintings are in no way conventional. They delve deep into the darker corners of the human psyche, hauling twisted figures up to the surface of the canvas. The most exciting thing about the work is seeing the artist challenge himself and learning how Spiers feels comfortable where others don't."

From Tarantino and Hitchcock to Velázquez, Rubens, Rembrandt and Bernini, Spiers draws on an eclectic set of influences. He says: "I see myself as a truffle pig of the visual. A disembodied nose constantly sniffing in search of that which it desires. I try not to let my conscious thought processes get in the way of that 'talent'. It means that there is a great deal of variety in the ingredients that go into my work. And it's taken a long time to work out what combinations of influences work together."

His latest show at Saatchi Yates is his largest scale presentation in London and what he considers his biggest achievement to date. It follows solo exhibitions at London's Carl Kostyál, James Hyman Fine Art, James Coleman and Hales Gallery and the Museum of the Benemérita Universidad Autónoma de Puebla in Mexico.

Spiers plans to follow his latest exhibition, 'Benjamin Spiers: Desire Lines', with a month of luxurious relaxation and pampering. He adds: "I have no plans beyond that just now. But whatever I do next, I'm determined to move onward and upward – the best is to come, and I'm utterly determined to develop and expand my work and to make the most astonishing images that are only now beginning to take shape in my imagination. I'm very ambitious and optimistic for the future."
About the champion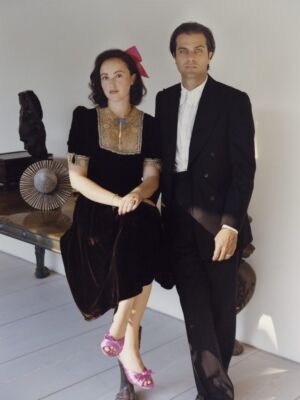 Phoebe Saatchi Yates, the daughter of renowned gallerist Charles Saatchi, is following in her father's footsteps along with her husband Arthur Yates by nurturing budding talent. Three years in the making, their Saatchi Yates gallery brought some much-needed hope when it opened mid-pandemic in an impressive, 10,000 square-foot space in Mayfair. It will show artists at the start of their careers in full-scale presentations and continue to work and represent them throughout their careers.
"Spiers's paintings are in no way conventional. They delve deep into the darker corners of the human psyche."
Phoebe Saatchi Yates and Arthur Yates