Feature Jasmine Pradissitto's Vision of Science and Sustainability
Championed by Elli Jason Foster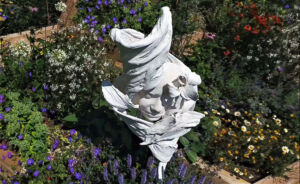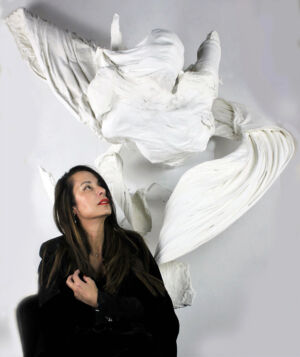 Interview
Jasmine Pradissitto and Elli Jason Foster
26 May 2021
Interview
Jasmine Pradissitto and Elli Jason Foster
26 May 2021
Gillian Jason founded her eponymous London gallery in 1982 to champion the work of world-renowned artists. Fast forward 40 years and Jason's daughter, Elli Jason Foster, and granddaughter, Millie Foster, manage the gallery's UK and international operations. Building on Jason's impressive legacy, the gallery is now considered a world-leading specialist in modern and contemporary art by women and is always on the lookout for female and non-binary artists with impactful ways of seeing, thinking and creating. This is how they came across London-based artist and physicist Jasmine Pradissitto PhD and her inspiring sculptures.

After working at Christie's Auction House, managing director Elli Jason Foster took the reins at her mother's gallery introducing a renewed focus on championing art by women.

"Revaluing art by women has been at the forefront of our mind," she told The Wick. "All too often a woman's career between the age of say 35 and 70 seems to have been cast into the shadows, overlooked, only to re-emerge as newly 'found' once they reach a grand old age. This re-evaluation in the twilight years of a career, speaks volumes about how as a society we malign the importance of women in many areas of business."

She added: "We were immediately inspired by Pradissitto's art and the way in which her message about the importance of conserving the environment is presented through extraordinarily beautiful and cutting-edge work."

Pradissitto's work addresses the concerns of the environment and sustainability. Many of her pieces are made from acrylics and plastic waste. She is also the only artist in the world creating sculpture using NoxTek, a geopolymer that absorbs nitrogen dioxide pollution from the air.

After her son had a major asthma attack five years ago, Pradissitto started thinking about the nature of the things we overlook. She says: "We can only live for three minutes without air, three days without water, and three weeks without food. Art is there to make things personal and hopefully find a resonance in another person's story."

She added: "NoxTek was not intended for art, but I felt so inspired by its properties, not simply in its impact but in what it represented that I was compelled to find a way to use it. The cutting edge and how it engenders change has always inspired me, especially as art and science have often been at the forefront of any enlightenment, revolutionary period. As a scientist, my world centres around 'what would happen if' and I will experiment with everything and anything from ideas to the connections I make, to new and traditional materials."

You can see Jasmine Pradissitto's NoxTek creation, the award-winning sculpture titled Flower Girl, in the bee garden at Horniman Museum and Gardens. As NoxTek™ material can absorb up to 15% of its own weight in nitrogen dioxide molecules, which can mask the smell of flowers and prevent bees from finding food, the aim of this artwork is to help clear a "scent path" so bees can thrive alongside one of London's busiest roads, the South Circular.

She has also been commissioned by Camden People's Theatre to install a piece above its doorway in the most polluted borough in London.

"Pollution doesn't just affect human beings but plants, animals, and insects; for us to overlook the natural world as a stakeholder is a mistake," she concluded.

"When I saw Flower Girl in the garden it was the most moving thing for me. The horticulture, the wildlife… the sculpture was encouraging and impacting this."
About the champion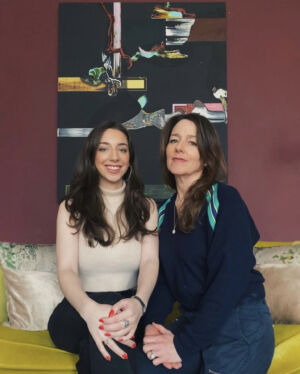 Gillian Jason Gallery's managing director, Elli Jason Foster, took the helm of her mother's gallery after stints at Christie's Auction House and as an independent TV producer. Together, with her daughter and Gallery director, Millie Foster, who previously worked in investment banking at JP Morgan Chase, they support emerging female and non-binary artists to guide their careers from the ground up.
"The importance of conserving the environment is presented through extraordinarily beautiful and cutting-edge work."
Elli Jason Foster