Feature Painter and Poet Martin Gayford
Championed by Henry Ward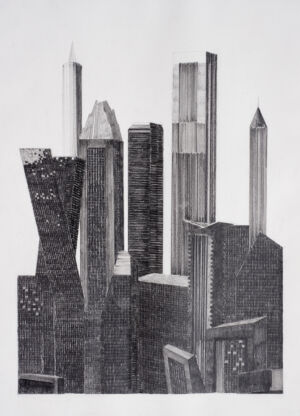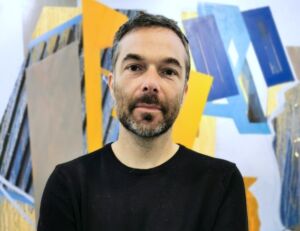 Interview
Martin Gayford & Henry Ward
27 July 2021
Interview
Martin Gayford & Henry Ward
27 July 2021
When he's not exploring the threshold between abstraction and representation through his own paintings, artist Henry Ward writes and lectures widely on the arts and education. He's a visiting lecturer at art schools including Bath Spa University, University of Brighton, Manchester School of Art, Plymouth College of Art and Wimbledon College of Arts. He's also the creative director of Freelands Foundation, which seeks to empower individuals and organisations across all levels of the art scene.
He first met fellow artist Martin Gayford more than 30 years ago when they were both on the other side of the classroom. Ward says: "We studied painting together at Winchester School of Art and found ourselves next door neighbours at our halls of residence in the first year. Martin was someone that I immediately recognised I wanted to get to know. I recently came across a letter I'd written to my parents at the time in which I was telling them about the people I had met. Of Martin I said, 'he has interesting music taste and a dry wit'. He does. But he was also, and has remained, a terrific painter."

Since their university days, Gayford has had residencies at Florence Trust Studios and solo and group exhibitions at Fawe Street Studios, Thames-Side Studios, Whitechapel Gallery and Tate Modern among many others. He considers the latter to be one of his biggest achievements. Architecture is one of his key influences that can be seen throughout his work. He says: "Recently, I've been interested in contrasting images of tall buildings with household objects like a cardboard box; this seems to create a dialogue in the work, as well as some degree of humour. Occasionally, I find an older work of mine and this can prompt a new element in my current work. I can see new avenues I didn't go down in the past, which I enjoy. I imagine most artists are influenced by themselves though."

Ward adds: "There is a confidence to the space that Martin operates in. He has a peculiarly distinctive palette. I remember when we were fellow undergraduates he used a lot of browns, the tertiary colours, and that's something he has continued to explore in his mature work. Utilising a colour range reminiscent of the mid-century British modernists."

Alongside painting, Gayford is a poet and Ward believes there is a poetic sensibility to his paintings and collages too, where he often juxtaposes contradictory elements in a playful manner. Ward says: "In an art world increasingly dominated by the political and the increasingly important issues we all face as a society, it is rewarding to see an artist focusing on quieter subjects and formal concerns. It's refreshing looking at good paintings."

Following on from his most recent show, 'Start Of / End Of' at Star Brewery Gallery, Lewes, Gayford is excited to present his next solo show in London in 2022.
About the champion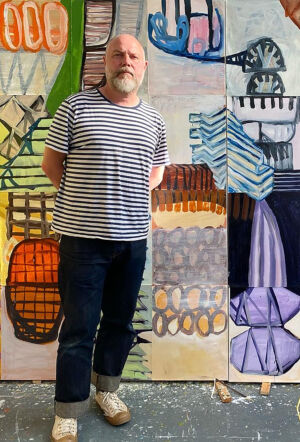 A triple threat, Henry Ward is an artist, writer and educator who has lectured internationally and is widely published. He was shortlisted for the Trinity Buoy Wharf Drawing Prize in 2018 and 2019 and the Drawing Room Biennale 2021. Also, this year, the first substantial publication on his Shed paintings was published and he had a solo exhibition, 'Baffle', at Aleph Contemporary, London.
"It is rewarding to see an artist focusing on quieter subjects and formal concerns."
Henry Ward