Spotlight Multidisciplinary artist Lauren Baker
Championed by Noelle Reno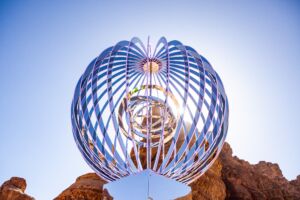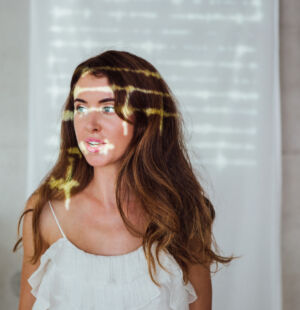 British contemporary artist Lauren Baker's new exhibition will be unveiled this week at Box Galleries. Running until 24 November, her work in 'Aglow' explores metaphysics and raising levels of consciousness, mixing neon sculptures and digital ink painting, using the colours of the aurora borealis. It's the latest exhibition from London-based Baker who started her art career in 2012 after discovering a mosaic street-art project in Brazil. She's been exploring human connection and the expansiveness of the universe ever since across multiple disciplines and mediums.

Passionate about innovation and a leading voice in the Web3 space, this week's champion Noelle Reno was introduced to Baker's work by a mutual friend.

Reno says: "I met Lauren a few years back at an exhibit she did in Shoreditch at a pop-up gallery run by my friend Jacqui Pittack. Jacqui is awesome at spotting super cool contemporary artists at her gallery Imitate Modern. Lauren's art struck me immediately. I absolutely love how she has taken mantras and turned them into really cool even socially acceptable pieces of work. The way she works with lighting to express messaging I find so relevant. Her art is really about how it makes you feel. I love how her work is something that can integrate with a home environment, which makes it so accessible. "

Baker's visual style is often built around either emitting or reflecting light to express the 'secrets of the universe', and connecting with something beyond or much bigger than our own immediate world. Many of her pieces directly reference the frequencies emitted by astronomical bodies, as well as those attributed to plants, human organs and chakras.

Baker says: "I'm deeply inspired by the immensity of the universe, so there are a lot of cosmic works inspired by metaphysics. This recent series tunes into my revelations during silence. I never try to think of a theme. The art is a natural expression of my essence in the moment of creation. I keep my practice very open, intuitive, free flowing, and experimental – it's fun that way."

She has created installations at the V&A, Tate Britain and Tate Modern and her work is held in collections worldwide. Her large-scale celestial public art installations have been commissioned in the UK and as far as the Middle East.

Recent works include The Opening (Lenticular), 2022 – four abstract paintings that encourage the viewer to step into the unknown and surrender themselves to a higher self. She says: "I love working in lenticular form as the art becomes kinetic and interactive. I wanted to explore the feeling of nothingness and transcendence through meditation. The Opening moves through light and colour with cosmic deep energy in an ever-evolving diamond form. It brings me a lot of joy to play with technology and art to convey this feeling of stillness and movement simultaneously."

Letters To Nature has also seen her burnt scribbles recently transformed into hand-sewn sound-wave letters to nature, to portray the emotional impact of climate change. Baker adds: "During my 10 days of silence, I wrote and wrote. Pondering on existence and considering that which is beyond the self, climate change was on my mind. The letters were love letters, to earth, to the wilderness, to the sky and the ocean. The loss, the hopes and the dreams, all released, all let go in the process of writing and burning letters. I spoke the letters out loud and used software to translate them into sound waves. Once photographed, I burned each letter. I used unique threads to hand sew the sound waves to immortalise the energy of each letter. My work explores the fragility of life and new beginnings born from chaos and destruction. The letters weren't meant to be sent. The energy of the writing was enough to express and let go. To let the ripples of the thoughts be free."

In addition to presenting her new light art at London's Box Galleries, Baker's work is also currently being exhibited in Drang Gallery's Padstow, Salcombe and Burford spaces. She is also preparing for an upcoming solo exhibition with Reem Gallery in London.

About the champion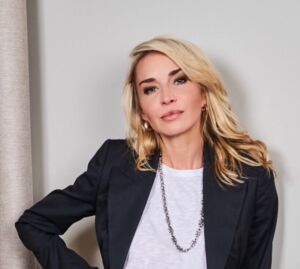 An experienced marketeer and business development strategist, Noelle Reno followed up working with leading brands including Four Seasons, Peroni, BBC World, Rosewood Hotels, and the Bicester Village Shopping Collection by becoming marketing director of Europe for Smart Media Labs. A leading voice within the crypto and NFT space, she regularly advises on Web2, Web2.5, and Web3 projects. She also recently received a First in blockchain strategy from Oxford University.
"Her art is really about how it makes you feel. I love how her work is something that can integrate with a home environment, which makes it so accessible"