Feature Tyga Helme brings the outside in
Championed by Ocki Magill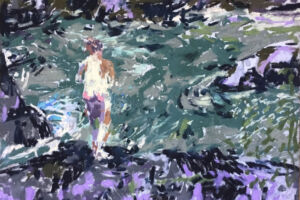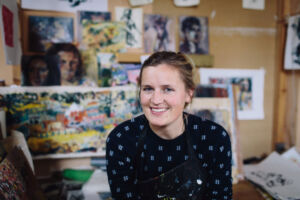 Interview
Tyga Helme and Ocki Magill
17 March 2021
Interview
Tyga Helme and Ocki Magill
17 March 2021
In 2016, designer/art director Ocki Magill converted an old shop in Camberwell into her home and gallery space. The Blue Shop Cottage – a gallery with artists at its very centre – was the result. It's Ocki's belief that by supporting and helping artists grow, not only do you build lifelong enriching relationships but that emotional investment in them helps them on their creative and professional career path. The gallery hosts week-long exhibitions with mass attendance and fantastic sales and is a creative hub for artists and collectors alike. In September 2020, the Blue Shop Cottage hosted painter and printmaker Tyga Helme's solo show 'Sky So Close'.
Magill says: "Tyga's work speaks to our memories of a place, those moments when we're alone in nature – when you've recently recovered from a sadness or fallen in love. It's those moments you have around water and under trees with loved ones that flood back when you see Tyga's work. She is a modern impressionist making so much of her work outside under pines, by the sea, under mountains. She creates large works by tiling smaller pages together into huge, detailed symphonies of marks on a page – starting from the inside and working out. Her practice is original, carefully considered and yet raw and deeply kinetic to the eye. She captures the energy of the wind and the sea, the vastness of trees and skies like no other young contemporary artist and I'm immensely proud to know her and have hosted her first solo show."

After studying Fine Art and History of Art at The University of Edinburgh and being awarded a scholarship to study at the Royal Drawing School, Helme has been granted artist residencies at Dumfries House in Ayrshire and Borgo Pignano in Italy and exhibited widely, including at the Fleming Collection in London and at Christie's in New York.

Drawing lies at the heart of her practice and most of her work comes directly from a place she has spent a lot of time in, walking and drawing. She's interested in an emotional response to landscape and the feeling of being overwhelmed and immersed in nature, finding her subjects in movement and in the sublime. She couples the spontaneity of the moment with returning to places again and again, allowing memory and imagination to permeate.

Magill adds: "The movement she captures with pastels on the page, the light that glistens, a dart of colour that draws you in – Tyga is a master of her material and her career as an artist has only just begun. While the subject matter is often traditional, a landscape, a figure in a landscape – her work is unique and immediately recognisable. When other artists come to see her work, their noses practically hit the glass and the gallery chatter subsides. She's a wonderful person and a delight to sit aside while putting on a show together and her work is a glorious addition to any collection."

About the champion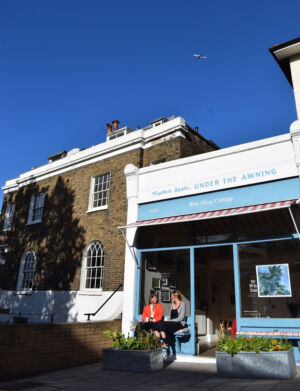 In 2016, Ocki Magill converted an old shop in Camberwell into her home and gallery space and, after naming the building, Blue Shop Cottage was born: a gallery with artists at its very centre. Blue Shop is proud to exhibit artists from all over the globe either online or in physical shows and we have collectors from New York to Hong Kong, Sydney to LA. In 2020 Kate Bryan purchased 19 works of art by 12 artists for the Soho House Permanent Collection through Blue Shop Cottage.
"When other artists come to see her work, their noses practically hit the glass and the gallery chatter subsides."
Ocki Magill