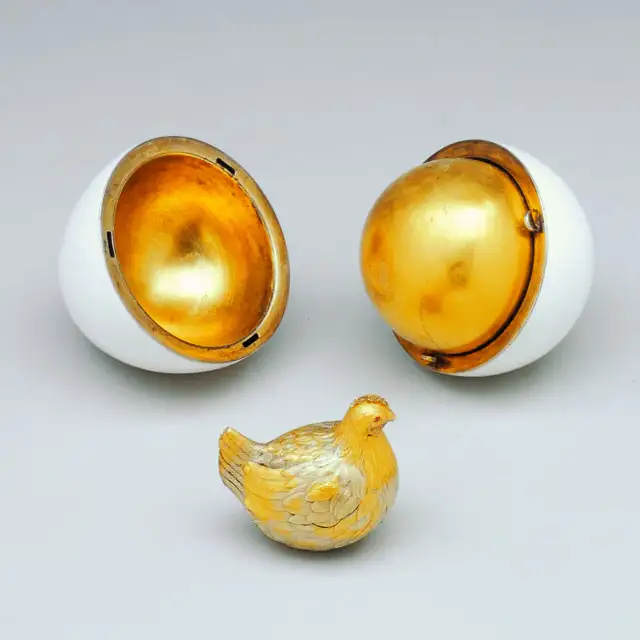 Discover Fabergé's Hen Egg
The Hen Egg,
1885, Peter Carl Fabergé
Few works of art are as famous as the celebrated series of 50 Fabergé Easter Eggs created for the Russian Imperial family from 1885 to 1916. These dazzling masterpieces, 43 of which are accounted for today, are widely considered the ultimate achievement of the renowned Russian jewellery house. Today, they are highly sought after by collectors around the world and command multi-million-dollar sums at auction.

The series began in 1885 when Tsar Alexander III of Russia commissioned Peter Carl Fabergé to create a jewelled egg as an Easter gift for his wife, Empress Maria Feodorovna. The result was the Hen Egg, which features an opaque white enamelled outer 'shell' that opens to reveal a yellow gold yolk. This in turn opens to reveal a golden hen sitting on golden straw.

Inside the hen was a miniature diamond replica of the Imperial crown and a precious ruby pendant, both of which are sadly now lost. The egg was meant to be a one-off gift, but the Tsarina was so entranced by it that her husband commissioned another the following year. This annual tradition was adopted by the Tsar's son, Nicholas II, and would continue until the outbreak of the Russian Revolution in 1917. The historical Hen Egg is now housed in the Fabergé Museum in Saint Petersburg.