Feature Artist and former fashion designer Sara Berman
Championed by Sigrid Kirk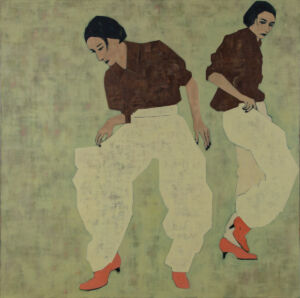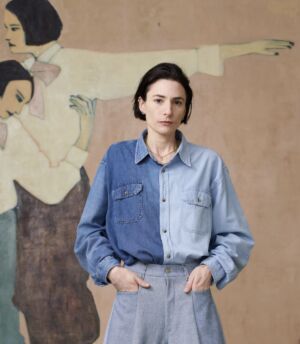 Photography
Courtesy of Sara Berman
25 January 2022
Photography
Courtesy of Sara Berman
25 January 2022
Curator and art adviser Sigrid Kirk first came across and fell for Sara Berman's creations many years ago when Berman was working as a fashion designer. Kirk bought a lot from her eponymous womenswear label, which was sold at Selfridges, Harvey Nichols and Harrods, and which Berman ran for 15 years before completing an MFA in Painting at the Slade School of Fine Art in 2016.
Clothing continues to be a large part of the British artist's visual language. She says: "I am very influenced by the way in which the female body is held by clothing both as a space to occupy and as a societal construct. My love and understanding of clothing and textiles, as well as my fascination with clothing as an inhabited space, is very much embedded in my practice, both in my painting and in my weaving and textile sculptures."

Kirk, who recently commissioned Berman to make a site-specific work for Maison Estelle, a private members' club in Mayfair, agrees: "Her art focuses specifically on the female experience and is deeply informed by this intimate understanding of fashion and textiles in terms of how we wear, understand and perceive clothes and the female body. The gargantuan woman she created for Maison Estelle appears suspended, falling through space and time equally she could be or caught mid dance in a twisted acrobatic movement."

Berman has made a harlequin character a recurring motif in her work to explore feminine identity and how our perspective of self and others might be impacted by external appearances.

Kirk says: "Typically, Sara uses soft coloured, bruised-looking backgrounds, which she layers, scrapes, wipes and pushes in vertical and horizontal movements repetitively. The base layer of the painting is almost always a diamond pattern, referencing a harlequin's costume which becomes 'the map' or 'the soul' of the composition. Increasingly, I have come to realise that her paintings are about pushing back, of exerting or discovering a power or inner strength. They are often self-portraits and one can feel Sara unlocking and examining her own self, the self that might have been contained or controlled, through the act of painting. The process when she describes it sounds cathartic, and the illuminated light which filters through the layers redemptive."

In addition to preparing for an upcoming show at Kristin Hjellegjerde Gallery in London in May, Berman is also working with clothing again to make textile sculptures and experimenting with a new video piece. She says: "This is a new area for me and there is so much about the process that I am learning. I am working with a choreographer and am soon to have dance factored into my daily schedule – not something I expected!"
About the champion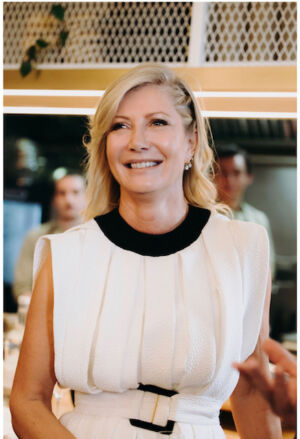 New Zealander Sigrid Kirk moved to the UK 20 years ago to pursue a career in contemporary art. Now an independent curator, cultural strategist and art adviser, she has since co-founded the cultural production agency Arts Co, the Association of Women in the Arts (AWITA) and is a trustee of London's Drawing Room nonprofit gallery. Kirk also recently completed the curation of private members' club Maison Estelle and was the curator for the Royal Society of Sculptors 2021 Summer Show.
"Her paintings are about pushing back, of exerting or discovering a power or inner strength."
Place of Birth
London, UK.
Education
BA in Fashion Design at Central Saint Martins and MFA in Painting at the Slade School of Fine Art, UCL.
Awards, Accolades
On graduation, I received the Audrey Wykeham prize for painting and my work was shown at the Royal Academy of Arts Summer Exhibition.
Totam rem aperiam
Upcoming exhibitions
A show at Kristin Hjellegjerde Gallery, London in May.
Spiritual guides, Mentors
My sister, Amiee, is a therapeutic coach and her route to where she is has involved tapping into her abilities as a crystal healer and tarot reader. She is crazy accurate, and I use her mercilessly. If things get really tough, you will find me on her couch with lumps of rock balanced on my belly and a spread of cards at my elbow.
Advice
Head down. Work hard.