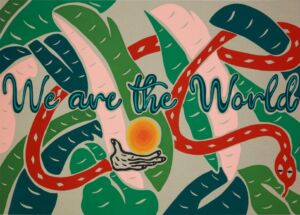 Discover Joel Mesler
Joel Mesler was a successful art dealer before becoming a painter. He ran galleries in both Los Angeles and New York and championed African-American artists like Henry Taylor and Rashid Johnson early in their careers. Having left the city for the Hamptons, he now spends much of his time painting. He finds inspiration in everything from childhood memories to addiction and attributes his recent success to his knack for locating what he calls 'the story beneath the work'.
His most recognisable paintings combine verdant flora that evokes both Eden and the wallpaper of the Beverly Hills Hotel, a letter formed by a slithering snake and short phrases that call to mind the work of artists like Ed Ruscha and Christopher Wool. Johnson thinks Mesler's 'palette is beautiful' and that 'he's at that point where he's finding his voice.' With recent solo shows around the world and works such as We are the World (2019) selling for six figure sums at auction, it seems Johnson's right on the money. Watch this space.
Share