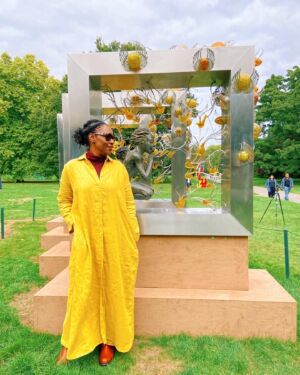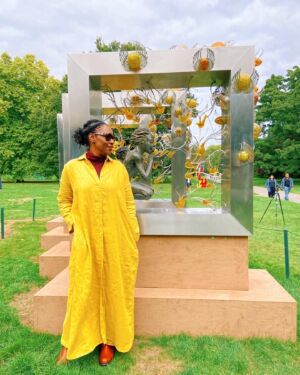 Interview Artist, Architect and Storyteller Péju Alatise
Frieze Sculpture has opened its tenth edition in Regent's Park. Curated by Yorkshire Sculpture Park director Clare Lilley, the show features 19 international artists including Beverly Pepper, Jordy Kerwick, Robert Indiana and this week's Monday Muse, Péju Alatise.

Lagos-born interdisciplinary artist Alatise has become a leading voice in contemporary art on the African continent after starting her professional career as an architect while running a private art studio. Her experimental and labour-intensive practice spans a variety of mediums, techniques and materials, including paintings, film, installations and sculptures. If that wasn't enough, she's also an author of two novels.

Her work asks damning questions of socio-political issues such as exploitative labour practices in Nigeria, state-sanctioned violence against citizens, migration and the policies that ensure that many die at sea, seeking a better life. It has also been recognised worldwide – she was selected as an exhibiting artist for the 2020 Venice Architecture Biennale and as one of the exhibiting artists at Nigeria's debut pavilion at the Venice Art Biennial in 2017. Her work has also been collected by the Smithsonian Institute and her debut novel, Orita Meta, chronicling the interwoven path of three women, was nominated for the ANA/Flora Nwapa Prize for Women's Writing in 2006.

THE WICK: Who is your ultimate Monday Muse?
Péju Alatise: I used to rely on my dreams for ideas and to get me in a mental state of creativity but after too many sleepless nights and struggles with insomnia in recent times, Remi Vaughan-Richards, my filmmaker friend and "sister", has become my third eye. For some magical reason, talking my ideas through her unravels any blockages in my receptors. The right music also keeps my mind calm.
TW: Can you tell us about your first sculpture at Frieze Sculpture?
PA: My installation at Frieze Sculpture is called "Sim and the Yellow Glass Birds". The protagonist in my story called the "Flying Girls", Sim is a nine-year-old girl who was rented out as a domestic servant in the city of Lagos (a practice not uncommon in Nigeria). To escape from her harsh reality, Sim creates an alternative – an imaginary world that allows me (the artist) to design and experiment with words and materials, Yoruba folklore, and mythology. The installation is made of four square steel panels. Inside each panel are granite cast sculptures of Sim surrounded by a chaotic display of yellow birds. Three of the panels are finished in the natural state of the materials used while the last one is painted in the brightest metallic golden yellow.
TW: How does the Yoruba tradition of ancient storytelling inspire your work?
PA: Yoruba folklore, cosmology and other narratives form a substantial part of my work. It's amazing how very early childhood experiences influence the rest of our lives. I grew up in a large family surrounded by relatives – grandmothers, older siblings, aunts, uncle, cousins, and nannies. There were many stories told and I still remember quite a few of them. These stories have really influenced my narratives and artistic practice. I like to describe my works as visual representations of stories from the present day and from history – often a mix of both. As Tyrion in Game of Thrones said, "There's nothing in the world more powerful than a good story!".
TW: How does motherhood play into your practice?
PA: I wasn't aware of the influence of motherhood on my work until Remi Vaughan-Richards pointed it out to me. My work became very political and aggressive between 2010 and 2020. There was so much anger and frustration with my country's political and social situation. My discourse on the girl-child was with undisguised protestations. With the birth of my son in 2019, my anger fizzled away as I did not have enough energy for love and care and anger at the same time. My stories have become more whimsical and colourful as I am becoming more vulnerable and empathetic and less judgmental.
"I would like to see an African city as a respectable destination for arts and culture, appreciated as any other Western city."
TW: You described having a moment of realisation after seeing David Dale's artworks – that your calling was in the visual arts. What was your light bulb moment when it all came together for you?
PA: There was no light bulb moment, there was no doubt that I would be in the path of creativity as a child. I excelled in all my creative courses and never stopped practising obsessively. It dawned on me that a professional arts career was attainable in university while studying architecture. This was because I was able to meet people like Nike Davies-Okundaye and the late David Dale who mentored me. I graduated with a BTECH in architecture, practised with a firm for a year before quitting to set up an arts studio in my bedroom. It felt like the right thing to do.
TW: You are also an architect, poet and author. How do you balance your creative output and do you have any exciting projects coming up?
PA: There are several exhibition projects in the pipeline, but I'd rather not discuss projects that are not fully manifested. Somehow, I feel I'll lose the energy to create if I start talking about them. The ideas need to be left in the pressure cooker of my mind until they are ready to be shared.
TW: Since the advent of the Black Lives Matter movement, the conversation around art and the African diaspora has changed drastically. What further changes would you like to see?
PA: Humans cannot help but categorise and label everything. A key disadvantage of this instinct is the illusion of divisions. It determines whose voice is amplified whether meritorious or otherwise. What I would like to see is more change on the African continent. I would like to see more facilities being created on the continent to serve the people and its children. I would like to see an African city as a respectable destination for arts and culture, appreciated as any other Western city.
TW: Which artist, designers, or makers should be on our radar from Lagos?
PA: The art scene in Lagos is so vibrant these days. Visit the Kó Art Space and Rele Gallery to see what contemporary artists are up to. The Universal Studios in Iganmu has a collective of very talented artists. Ade Shokunbi designed the amazing Abijo Mosque in Ibeju Lekki, which is definitely worth a visit. For fashion, you must go to Folake Coker, fashion designer and creative director of Tiffany Amber.
TW: What's the best piece of advice you've received and would like to pass on?
PA: My friend Dapo said to me, "Do not let anyone determine your value, you determine and dictate your value". I have applied this principle to my self-worth and even in my artistic practice. At another very critical juncture in my life, my coach Habiba also said to me, "You haven't come all the way here to be a shrinking violet!".
TW: Where do you go to feel inspired in London?
PA: I actually don't visit museums as much as you'd think. I tend to get very emotional and even flustered in the presence of masterpieces, especially those I'd been studying since childhood. Personally, exhibitions are more for research purposes. In terms of being culturally curious, I do go to Portobello Market a lot because of its energy and positive vibe.