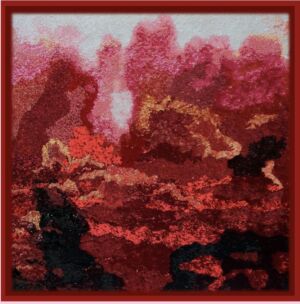 Discover Tia-Thuy Nguyen, Shimmering surrounds (Muôn nơi lấp lánh) 2022.
Embellishment on canvas, 150 x 150 cm, unique
Discover a world seen through the sequinned canvases of Hanoi-born multidisciplinary artist Tia-Thuy Nguyen. Local traditions, folklore, rituals and beliefs from Vietnam punctuate her contemporary artistic practice to create visually arresting works of art that have shaped her distinctive ethereal aesthetic.

In this new series of work entitled Floating into Nothingness, which are now on display in her first solo exhibition in Europe at Château La Coste, she has transformed the canvas into a visual diary that documents sights from the sky during numerous trips between Asian and Europe. Clouds – once ephemeral and delicate – have become tangible and textured through the intricate practice of sewing beads and sequins directly onto the canvas, offering a unique perspective on an all too familiar view.