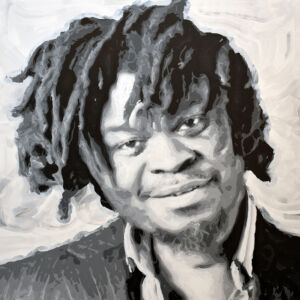 Discover Rob and Nick Carter, Yinka Shonibare, Robot Painting
Yinka Shonibare, Robot Painting,
2020, Royal Academy Summer Exhibition
This AI portrait of Royal Academy Summer Exhibition curator Yinka Shonibare was painted by a bright orange robotic arm called Heidi. Programmed by artists Rob and Nick Carter, the six-axis Kuka Robot 'feels very life like as she moves,' they said. 'Our robot has no eyes and the idea that she can paint so beautifully without seeing anything is remarkable.' It took Heidi just over 46 hours to complete the work, with 11,404 strokes of acrylic paint.

The work, which is part of the artists' Dark Factory Portraits series, is inspired by the rise of 'lights-out manufacturing' where factories can operate in darkness as robotic systems don't require light to function. 'We would like people to embrace robotics and not be afraid,' the artists added. 'We are proud to have managed to bring this technology into the context of the art world.'

Yinka Shonibare, Robot Painting is currently on display at the Royal Academy, and is the first painting by a robot in the Summer Exhibition's more than 250-year history.