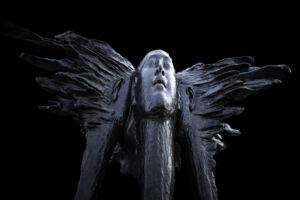 Discover Wallace Chan
Titans I,
1 Canada Square
If you've ever had the chance to handle a bejewelled Wallace Chan creation, you'll know that they entrance and intrigue in equal measure. Usually crafted from titanium and the world's finest gemstones, his daring high jewellery designs are inspired by everything from nature and Greek mythology to auspicious Chinese motifs. The same can be said of his sculptures.

Currently on display at One Canada Square in Canary Wharf are 10 of Chan's large-scale titanium and iron sculptures that explore the dialogue between materials, space and time.

'These sculptures come from a lifetime of memories and experiences, including my early years creating carvings and sculptures inspired by Greek mythology,' says Chan. 'TITANS, named after a group of super-strong giants, connects my present to my past. The series also acts as a passage to the future; carved and sculpted with a material as strong and resistant as titanium, my sculptures act as time capsules.'

The central motif of many of these works, including Titans I shown here, is an elongated head whose facial features are serene yet strong. With its extensively carved and modelled surfaces that can be viewed from multiple angles, the large freestanding sculpture calls to mind Chan's innovative 'Wallace Cut', an illusionary three-dimensional carving process applied to gemstones which he developed in 1987.

Like Chan's majestic, mysterious jewellery, this new body of work reveals his ingenuity, confidence and experimental impulses to dazzling effect. It's a joy to see his accomplishments in sculpture being celebrated in London.