Feature Star of Ceramics Lindsey Mendick
Championed by Marcelle Joseph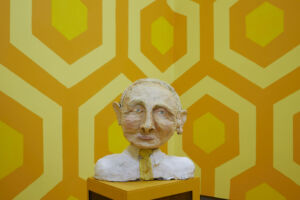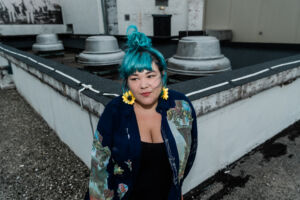 Interview
Lindsey Mendick & Marcelle Joseph
14 July 2021
Interview
Lindsey Mendick & Marcelle Joseph
14 July 2021
As a female-founded business, elevating the work and stories of female artists is a cause that's close to our hearts at The Wick. It's also one we share with American London-based curator and collector, and this week's Spotlight champion, Marcelle Joseph. In addition to supporting emerging female-identifying and non-binary artists through her namesake curatorial platform, which she founded in 2011 and has produced 39 exhibitions featuring more than 200 international artists, she is also a specialist in feminist art practice after completing an MA in art history from Birkbeck, University of London.

Joseph first met sculpture artist Lindsey Mendick at her Royal College of Art (RCA) degree show in 2017. Ever since, she's been her biggest fan.
"She is one of the most hard-working artists I have ever worked with as a curator, and she works in one of my favourite mediums – ceramics," says Joseph. "But most of all, I love her bravery as an artist, as a storyteller, as a feminist and as a woman. Lindsey's artistic practice explores everything from the Gothic to Greek mythology and horror flicks to the autobiographical, mining her own brushes with depression, heartbreak, hirsutism and polycystic ovary syndrome, and making the personal political but with a humorous spin."

Since receiving an MA in sculpture from the RCA, Mendick has subverted the historic connotations of clay as a medium associated with decoration and the domestic to create elaborate installations that celebrate the contemporary female experience.

Mendick told us: "Much of my work takes its inspiration from the anxieties of everyday life.

"I feel that my autobiographical work offers a form of catharsis, encouraging the viewer to explore their own personal history through the revisionist lens of the artist. I want the work to challenge the male gaze, promoting instead an unapologetic, humorous and, at times, grotesque femininity."

It's put her on the radar of not only Joseph but curators around the world and the judging panels of the Henry Moore Foundation artist award, which she won in 2020, and the Alexandra Reinhardt Memorial Award, which she won in 2018. In addition to being selected for the $100,000 2021 Future Generation Art Prize, Mendick has also been included in solo and duo exhibitions across the world at London's Cooke Latham Gallery and Goldsmiths Centre for Contemporary Art, VITRINE Gallery in Basel and Visual Arts Center in Texas among many others.

Joseph says: "Lindsey works in such a generous and collaborative way with other artists, having collaborated with fellow friend and artist Paloma Proudfoot as the artistic duo PROUDICK for several years now. I curated their first solo exhibition at Hannah Barry Gallery, London in 2019 and included their work in another group show I curated in 2020 in Rome at the Sara Zanin Gallery. Lindsey has now set up a project space with her partner Guy Oliver in Margate called Quench Gallery where she and Guy champion other artists by giving them the space to experiment in exhibitions hosted in their studio space, which also includes a purpose-built exhibition space."

Generous with her time and talent, Mendick will next be working on the Future Generation Art Prize in Kiev and Venice before showing in New York for the first time with Jeffrey Deitch. She will also be creating artworks inspired by Beano for an exhibition at Somerset House curated by Andy Holden and another duo show with Paloma Proudfoot at Hannah Barry Gallery.
About the champion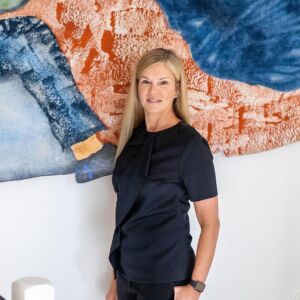 In addition to championing artists through her own curatorial platform and exhibitions around the UK and Europe, Marcelle Joseph is a member of the advisory board of Procreate Project and on the selection panel of PLOP Residency in London. She also helped to nurture emerging voices and promote equal representation as a member of the jury of the 2017-2019 Max Mara Art Prize for Women and the Mother Art Prize 2018.
"I love her bravery as an artist, as a storyteller, as a feminist and as a woman."
Marcelle Joseph