Feature Tech Fashion House Auroboros
Championed by Elena Soboleva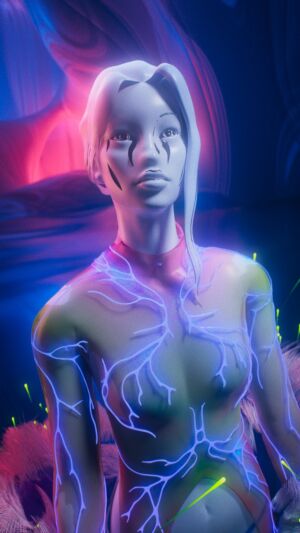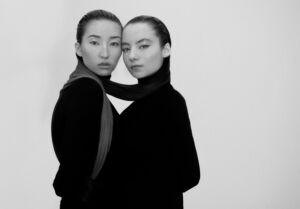 Interview
Paula Sello and Alissa Aulbekova
18 May 2022
Interview
Paula Sello and Alissa Aulbekova
18 May 2022
Elena Soboleva joined David Zwirner in 2018 as the gallery's first online sales director. She leads the programming, curation and strategy for the gallery's digital sales channels, which include more than 20 online viewing rooms a year and 25 art-fair previews. What she considers to be great art extends well beyond (virtual) gallery walls though. Soboleva says: "I have always been drawn to fashion as curation of the self and ultimately a radical opportunity for self-expression. Great art, extending into all creative manifestations, becomes a medium to channel the metamorphosis of our time. Paula [Sello] and Alissa [Aulbekova]'s synthesis of science, technology and art creates the mythology and vision of Auroboros, which is the next frontier of fashion."

Auroboros is the first fashion house to merge science and technology with physical couture, and made fashion history when it debuted a purely digital ready-to-wear line at London Fashion Week in 2021 – it later showcased at the Victoria & Albert Museum with a physical couture display of a real-time growing gown worn by the robot Ai-Da. Founded by creative directors Paula Sello and Alissa Aulbekova, Auroboros started off in residence at the Sarabande Foundation, founded by Lee Alexander McQueen, and was inspired by the concept of biomimicry, creating garments that imitate nature and crystalise and metamorphosise over time.
They say: "Our work stands for innovation, sustainability and immersive design. We seek to evolve the luxury industry into deeper dimensions – redefining how we imagine, design and affect clothing consumption. With this, we are shaping new discussions around the idea of a utopian future and its relationship to the human body."

Soboleva agrees: "They are simultaneously freed from the limitations of physical forms, while also in reverence of the organic structures that underpin them — evolving nature rather than replacing it with mechanical visions. Drawing a bridge between the organic and digital worlds, they usher in a hybrid reality of biomimicry and illustrate a vision for the future of haute couture and ready-to-wear. One where sustainability is not at odds with production methods; where constant consumption and waste are replaced with excess in creativity and wonder."

"As the world shifts into a next iteration of the self, we are able to dream and augment our existence. A more porous and manifold reality unfolds with the advent of Web3. One where coexistence of concepts previously held in parallel can collapse into a singular space. Auroboros springs from this synthesis of flora and fashion, entwined with the limitless potential of innovation, sustainability and immersive design."

Auroboros launched its Vault community, where luxury fashion bridges the Web3 space, during the first Metaverse Fashion Week earlier this year, together with partner UNXD.

To join, fashion enthusiasts can login as a guest or via their crypto wallet to begin purchasing wearables and NFTs, and gain access to exclusive drops.

Auroboros add: "We are looking forward to releasing the new chapter of Auroboros, which will be groundbreaking to the industry, both in fashion, art and in the digital sphere, presenting an entirely new vision, world and more. This will be part of our upcoming genesis NFT sale and the launch of our 'Vault' membership, which will allow our Auroboros community exclusive releases and insider access to Auroboros and beyond."

You can discover more about Auroboros Vault and its community at www.auroboros.co.uk.

About the champion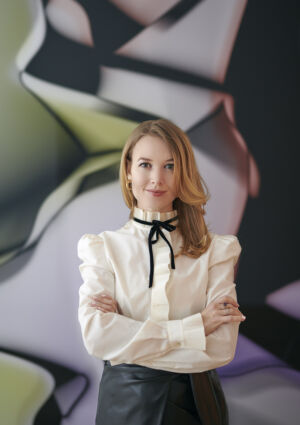 Elena Soboleva has more than a decade of experience in the art and technology space, and has been recognised for her influence in Artnet's "10 Art Influencers You Need to Follow", Artinfo's "30 Under 30", and W Magazine's "Who's Who of Internet Art". Before joining David Zwirner in the newly created position of online sales director, she was the lead curator at Artsy, working on early collector growth and curating commissions, performances and site-specific installations for brand partners including Gucci, Dior and Snapchat.
"Auroboros springs from this synthesis of flora and fashion, entwined with the limitless potential of innovation, sustainability and immersive design."