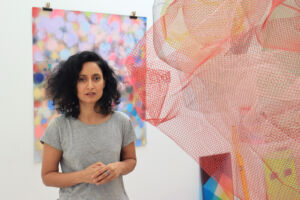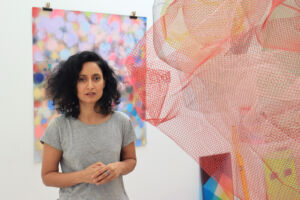 Interview Anglo-Bangladeshi contemporary artist Rana Begum
Pitzhanger Manor & Gallery's new exhibition by Rana Begum, 'Dappled Light', explores the perception of light, colour and form across sculpture, painting and installation. It is Begum's first solo show in a London public gallery in six years.

Born in Bangladesh in 1977, Begum moved to the UK aged eight and graduated with a BA in Fine Art from the Chelsea College of Arts in 1999, and gained an MFA in Painting from Slade School of Fine Art in 2002. While she continues to live and practice in London, her work draws inspiration from childhood memories of the rhythmic repetition of daily recitals of the Quran, as well as geometric patterns from traditional Islamic art and architecture.

A stroll along The Line, London's first public art walk, which runs from Queen Elizabeth Olympic Park to The O2, will also reveal a new site-specific, outdoor public sculpture by Begum, developed in response to the architecture and landscape of London City Island. Catching Colour features 'clouds' of suspended coloured mesh, appearing to float above the central pathway of Botanic Square.

As this week's Monday Muse, Begum shares why she thinks art in public outdoor spaces is so important and her favourite spots to appreciate the changing light in London.
THE WICK: Who is your ultimate Monday Muse?
Rana Begum: Tess Jaray is a massive inspiration to me. I worked for her as an assistant for five years at the beginning of my career. She taught me so much when I was starting to develop my own practice and learning to navigate the art world. I am still in awe of her drive, passion and energy. To this day, she continues to push her work and still has something new to say. I can hope to be like that.
TW: What's the best piece of advice you've ever been given?
RB: Self-doubt is something that is always there and it is a positive thing. Look at it as a series of questions, it forces you to think about what you are doing and why.
TW: How did growing up in Bangladesh inform your practice?
RB: Growing up in Bangladesh has informed so much of my practice – I can see the influence of its landscape, culture and light in all my work.

As a child, we would go to the mosque and recite the Quran. In these recitations, there was a feeling of rhythm and repetition that filled me with a sense of calm. There was a feeling of meditation that accompanied the collective recitation. I can see this childhood experience playing out in much of my work, the use of repetition, of order, and the resulting feeling of calm.

Visually, the landscape and light in Bangladesh permeates through my work and influences the way I see the world. There were rice fields all around the farm where I grew up and I used to be captivated by the way light fell on the water. The light in Bangladesh is so different from the light in the UK, and I think this difference has always given me a heightened awareness of light in all its variations. When I travel now, I am sensitive to the changing quality of light in different countries and the way it interacts with a surface. These observations still inform and push my practice.

I think it is only recently that I have been able to see these connections between my childhood in Bangladesh and my work. I spent much of my career trying to separate my work from my identity as a Bangladeshi, female artist from the fear of being pigeon-holed – I wanted my work to be experienced and appreciated for itself and not categorised or defined by my background or gender. However, in the last years I have been able to see and value these connections that have influenced me and my work.
TW: Much of your work is multi-sensory, which is your favourite sense?
RB: It has to be sight ¬– this is the sense that I work within and through which I find inspiration. However, there is an interesting connection with touch – with the way a material feels and the texture of a surface. When making a work I am always aware of its tactility, the experience it creates and the way light interacts with it. So, the sense of touch feels inseparable from sight, producing a sensory experience without the need to physically touch the object.
"The last two years of the pandemic have really made us aware of the importance of public, outdoor spaces as a means to interact, think and connect."