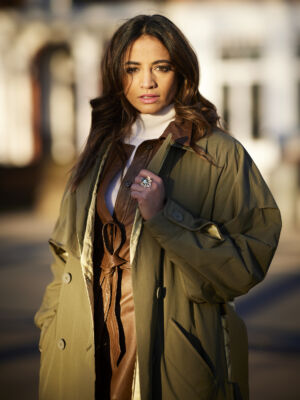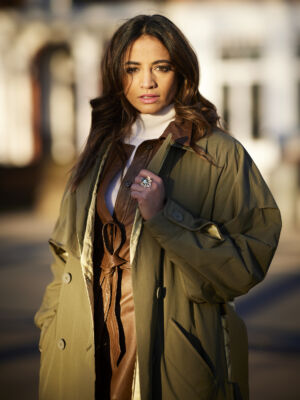 Interview Katy Wickremesinghe, The Wick Founder
Interview
Katy Wickremesinghe
Photography
Shaun James Cox
23 May 2022
Interview
Katy Wickremesinghe
Photography
Shaun James Cox
23 May 2022
Our fearless leader, British-Sri Lankan entrepreneur Katy Wickremesinghe formed her strategic communications agency, KTW, in 2014, following a decade at global PR agency freuds – where she rose the ranks to become the head of luxury and lifestyle. A passionate cultural patron and advocate, she followed up with content platform, The Wick, in 2021, to create a bridge between business, the creative industries and art world. On a mission to connect the culturally curious, it champions and unites leading voices with new dynamic talent across its website, social platforms and strategic partnerships.

When she's not inspiring everyone at KTW and The Wick with her boundless enthusiasm and energy, you'll also find Katy Wickremesinghe regularly moderating industry talks and panels. She is the youngest ever trustee of Dulwich Picture Gallery, board advisor for The Line, London's first dedicated public art walk, a mentor for the Association of Women in the Arts, and has been named in the top 10 Luxury Leaders PR Week Powerbook List for the past three years. Here she shares what you can expect next from The Wick.

THE WICK: Talk us through your typical Monday.
Katy Wickremesinghe: My Monday morning, like every morning, is always very busy. I am an early bird, which I would love to say is because I am organised but in part is because I suffer badly from insomnia. It's something I am working on. Usually, I wake up between 5-6am and I try to plot out the week ahead. When I am in full working order (without the ski injury I have now), I head for a run around Battersea Park, which I love as my journey takes me along the river and across my favourite Albert Bridge. Then I have an Arbonne shake for breakfast – I fill it with lots of vitamin-rich ingredients such as chia seeds, hemp seeds and goji berries, which really sets me up for the week.

If I'm heading to the office, I take the boat from Battersea to Embankment and head to 180 Strand, which I love as it's a petri dish of cultural talent. My friends, LionHeart (the poet) and Julian Knoxx (the artist), also work there along with lots of others, so I get to bounce ideas off them or have a laugh between the madness.

Every Monday morning, we have a meeting with the KTW collective of PR consultants and writing contributors to talk about our priorities and client needs. I enjoy seeing the team and everyone together. Monday tends to be a process day for the business, so I have all my finance and operational meetings as well as an editorial meeting for The Wick. I love these meetings as we explore upcoming exhibitions and artists we might want to feature on Spotlight or Muses we feel are doing a great job.

I finish our finance meeting at 6pm and I do coaching until 7:30pm. I recently moved to Battersea Power Station, so I'll always head for a swim and sauna on a Monday night to think about the week ahead and decompress.
I'm trying to get back into reading, so I'll read a book or catch up on The Art Newspaper before then trying to sleep.
TW: Has the communications industry changed since you started out?
KW: The communications industry has changed irrevocably in the last decade, especially in the last two. In part due to technology and other nuanced socio-economic factors such as environmental issues, diversity concerns and, of course, Covid.

Previously, PR and communications agencies were expected to be seen and not heard. They were the middle men. Now all businesses are required to have an open ethos, value and point of view. New technologies have meant that the emphasis on traditional media has been reduced and the role of the founder or CEO is more exposed, so our job is to help build the business from within before communicating it out. While media is still vital as a positioning tool, the sales revenues of businesses have started to come via digital channels and have now moved into the hyper extension of that – Web3 and the metaverse. In the first few years of my career, I worked on the launch of new products and premieres in retail, luxury and news, and the consumers were being sold picture perfect advertising dreams. With the birth of user-generated content, everyone is seeking something more relatable – human connection. In the gallery world, we've seen the challenges of getting physical footfall into galleries, so I love having to think differently about how to create impactful messages and experiences that reach more people.
TW: What inspired you to launch The Wick?
KW: The Wick is a 360 B2B2C platform with a dedicated team working to create content in the form of a rich dynamic community of conversations and connections for those invested in culture. Through the website, Instagram (our handle is @thewickculture), cultural programming, strategic partnerships and development programmes, we forge much-needed connections between business and the arts. It was a natural next step as I could see we had a fast-growing community keen to hear our distinct point of view.

If you imagine KTW as a body, KTW is the analytical-thinking brain, and The Wick is the mouth and the heart. The Wick includes people in an art world that can often feel hard to reach and intimidating. I've been lucky – after a decade in this sector – to find myself in the heart of the art world, having not come from a traditionally trained art historian background. I educated myself on the market and am a natural historian. The Wick gives me an opportunity to help to tell the dynamic human journeys and stories of this world. I really wanted to share my access with people that wanted to learn and explore it. I know when I started KTW, I would have hoped to have The Wick as one of my guides.

At The Wick, alongside my brilliant editorial team, we champion the new generation of artists and raw, grassroots talent, while still honouring the knowledge and expertise of those who have been in the industry for many years. We've built up compelling strands including our weekly 'Monday Muse' feature, celebrating female cultural leaders, and 'The Wick List', our top pick of viewings and doings. We love being creators and navigators of content which truly enriches your brain and soul, enabling people to see the importance of arts and culture in their own lives. I want people to discover the human journeys behind big businesses and artists.
TW: What's on your cultural radar right now?
KW: All of our Spotlights. These are artists put forward by champions. I'm loving Shaq Whyte, one of the newest Slade graduates. Kristy Chan is also an artist on my wish list. I love the initiative of Art on a Postcard, created in conjunction with The Bomb Factory. I also loved David Remfry's exhibition in conjunction with the Royal Watercolour Society.

I'm a huge fan of Reframed: The Woman in the Window at Dulwich Village, curated by Jennifer Slivka. It's the first exhibition to explore the enigmatic motif of the 'woman in the window', and brings together more than 50 works by artists including Rembrandt Harmensz van Rijn, Louise Bourgeois, Cindy Sherman, Wolfgang Tillmans and Rachel Whiteread.
Check out 'The Wick List' on The Wick for my regular recommendations and dates for your diary.
"We love being creators and navigators of content which truly enriches your brain and soul."