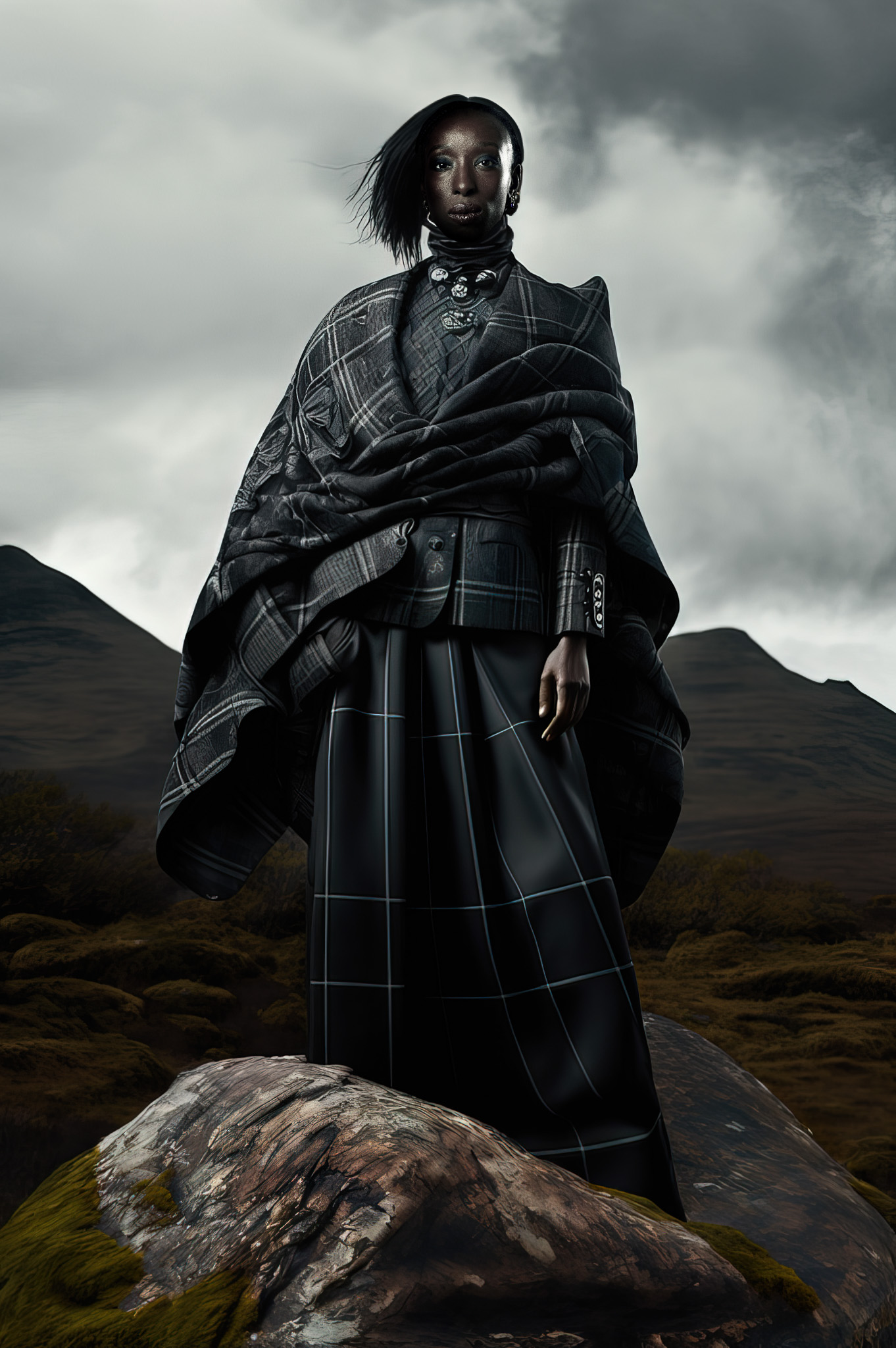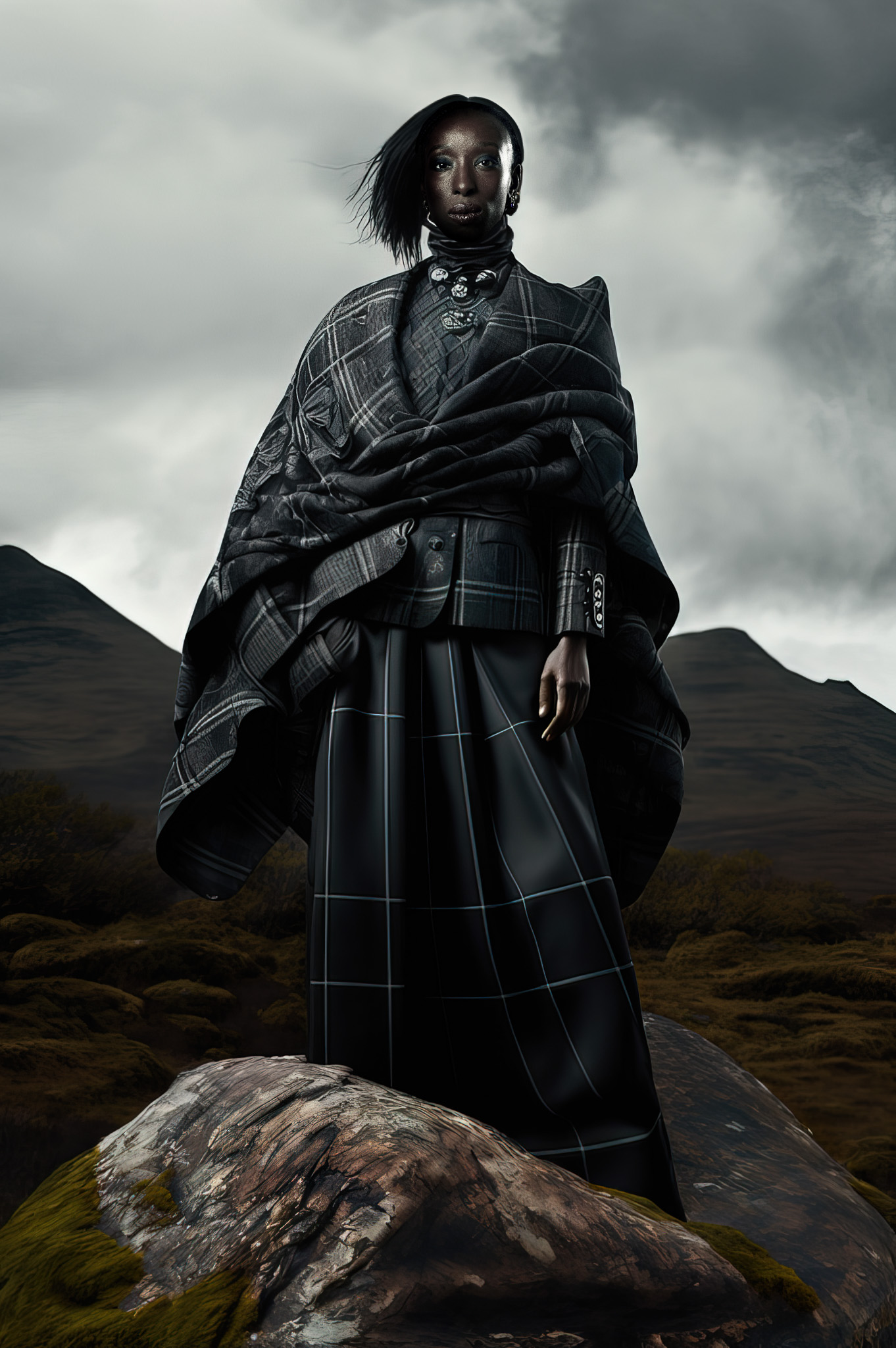 Interview Model, Activist, Gallerist, Eunice Olumide
AI Technology
Alexis Duku @ Olumide Gallery
03 April 2023
AI Technology
Alexis Duku @ Olumide Gallery
03 April 2023
Scotland's most extensive celebration of tartan has been unveiled at V&A Dundee with the help of Edinburgh-born supermodel and art gallery founder Eunice Olumide. A passionate advocate for Scotland's design heritage and its young designers, Olumide was named a V&A Design Champion in 2018 in recognition of her contribution to design and fashion.

In order to support the most innovative and cutting-edge talent of our time as well as providing greater access to art, Eunice Olumide also founded her Olumide Gallery in 2015, and has worked with artists such as Richard Wilson, Anne Samat, Schoony and Ian Berry. At the heart of the gallery's work is equality and revolution.

A passionate activist and campaigner, Eunice Olumide has also worked with the Centre for Social Justice and spoken at the House of Parliament on the impacts of fast fashion on the environment. Much of her career has been spent fundraising for charities including Climate Revolution, Fuel Poverty Action and Children's Hospice Scotland, too. In 2017, she was also awarded an MBE for her services to broadcasting and the arts, and extensive charity work mentoring young Scots.

THE WICK: Who is your ultimate Monday Muse?
Eunice Olumide: It's got to be aunty V. One of my first-ever bookings as a young teenage model was with Vivienne Westwood. She was so kind, bold and courageous. I think as a woman she stood for so many of the things that I think are almost lacking in society today. Sometimes we don't support true rebels as much as we should.

When I opened my art gallery, she dubbed me a maverick. She was original, unapologetic and she was in a constant battle to ensure that fashion has integrity. I also worked for many years with her as part of Climate Revolution, which was something that touched my heart. It went further than a campaign, it was about saving the world. I remember organising a protest with over 70,000 people, and legends such as Emma Thompson came to support us. The best was when we took a tank to Westminster.

TW: As the face of the Tartan exhibition, which runs until January 2024, you describe the well-known textile as a 'movement of power, rebellion and authenticity'. Why do you think tartan is still relevant today?
EO: For me, it is the epitome of not only human innovation in textile but the fibres weave a story of our shared history and culture. It is diverse, rich in colour and texture, and has a unique ability to actually tell specific stories, almost like an archive of who a person, or family is and where they are from. I've been campaigning in the area for sustainability for over a decade. Speaking at Westminster, it was important to me to do work that led to the first inquiries into how textile in the UK impacts the environment as well as what we can do to reverse our current landfill rate. I'm very proud of that. Climate change is what made me fall in love with tartan because of its truly sustainable nature. It is as powerful as it is comforting and functional. I think that is why it is still as relevant today as it has been throughout the ages. It has inspired some of the most inimitable designers in the world from Vivienne Westwood to Alexander McQueen.

I've been working with the V&A for many years and was part of the campaign to bring it to Scotland as well as ensuring true community engagement and diversity. It has been an incredible journey and I have been able to curate a number of symposiums, exhibitions and masterclasses. In 2018, I was awarded the prestigious title of V&A Design Champion for my collaborations with brands such as Topshop and The Common Weal, so it was my honour to be named the Official Ambassador for the Tartan exhibition.

TW: As a sustainability consultant in the fashion industry, you state your aim is to reconnect fashion to the earth. In what ways would you like to see this?


EO: It's very simple, we need to go back to making clothing not only within our own countries but from textile that is biodegradable. We cannot continue to use poisonous chemicals and plastics. Microfibres created when we wash our clothes are not only killing animals but entering the food chain, and we have no idea how that will affect human life. It's about reusing, rewearing and recycling. Making garments that are better designed and last longer, especially in a world where the majority of people barely have enough to survive day-to-day.
TW: As an ambassador for Zero Waste Scotland and Climate Revolution, supporting sustainability, renewable energy, and the circular economy is key to your work. What do you think the role of creativity in fashion plays?
EO: Creativity is at the heart of true innovation. What I learned through my work was the importance of finding people from all walks of life and bringing them together to create truly lasting change. We are currently landfilling 1.2 million tonnes of clothing and 360,000 tonnes of textile is just being thrown away. This is heart-breaking and completely unsustainable to human life. We must change, and that type of change takes the whole 'village' working together. This is a key role and where we should focus. Imagine if instead of having world leaders at COP, we had a room full of engineers, designers, scientists and artists. That's how we change the future. I made a film about this, which was shown at COP26, called Climate Action Needs Culture produced by Picture Zero. In it I negotiate this topic further.
"Imagine if instead of having world leaders at COP, we had a room full of engineers, designers, scientists and artists."