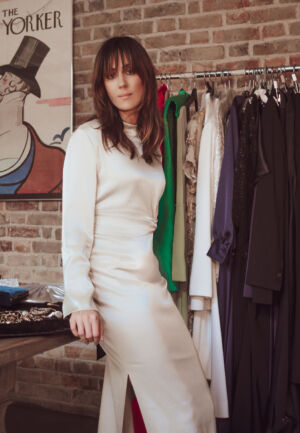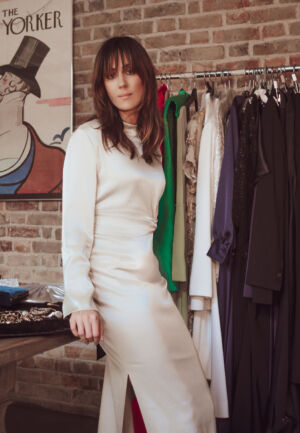 Interview Stylist and Sustainability Consultant Mary Fellowes
Ahead of this season's shows across New York, London, Milan, and Paris, we've enlisted London-based stylist Mary Fellowes to share the designers we should be looking out for this Fashion Month.

After studying at Central Saint Martins, Fellowes began her career assisting Isabella Blow before going on to operate in the top echelons of fashion and media for two decades. She has worked for 11 international editions of Vogue, spearheading its first-ever in a Muslim country (Turkey), and was the first and only fashion editor ever at The Economist.

In more recent years, she has been increasingly focused on integrating sustainability into her work, creating wardrobes that are as sustainable as possible for Hollywood's leading talent, and consulting luxury brands on being responsible, ethical and transparent through her disruptive, solutions-driven consultancy GreenWith Studio.

THE WICK: Who is your ultimate Monday Muse?
Mary Fellowes: At the risk of sounding wanky, Mother Nature is the ultimate Monday Muse. All the answers lie there. Whenever I am stuck, or even before I get stuck, I go and do some grounding/wild swimming/gardening/walk the dog. Or just pop on a documentary like My Octopus Teacher while I am cooking.
TW: What is your typical Monday?
MF: I wake up at 7am, walk the dog, make Ayurvedic coffee (adding in a custom spice mix my Indian doctors gave me) and tune into CNN. I meditate or do some sort of morning practice and get to the office by 9.30am ¬¬– we work at The Mills Fabrica, a state-of-the-art sustainability accelerator hub in King's Cross. Mondays and Fridays we focus on internal business matters, admin and getting up to speed, so I might be strategising the voice and tone for a sustainable denim brand, benchmarking/developing a luxury brand's ESG policy, or dealing with legal contracts (yawn!).

In the evening, I'd normally try and be virtuous – a group session with Nicholas Berwin, a genius spiritual philosopher who I met in India, followed by a salt bath and early bed. This is all making me sound awfully smug. I am also sometimes found scoffing pasta and watching Netflix garbage.

TW: When working with a new client, how do you build an individual's visual aesthetic?
MF: It depends on the client. If it's an actress, it's harder these days to combine the level of glamour they need with finding a good variety of sustainable options. But I did prove it was possible last year with Elizabeth McGovern for her Downton Abbey tour.

If it's a B2C facing brand or retailer, the first thing I say is to drop the expected 'sustainability' image for their aesthetic. Too much sustainable fashion has echoes of wellness and the sort of 'suburban yoga mum' aesthetic. I advise people to go the other way, to turn sustainability on its head and just be directional and badass. To challenge the viewer.

TW: What was the driving force behind GreenWith Studio?
MF: The driving force was no one single thing. Firstly, I grew up in a very rural and agricultural world, so land conservation and animal welfare were just things that surrounded us at home all the time. Secondly, I have always rejected trends for myself and only mainly shopped at flea markets or vintage stores (apart from the odd illicit sample sale splurge). So, as and when the issue started to really emerge as a key threat to the industry, and moreover the planet and people, I asked myself what I should be doing as someone with a powerful network and two decades of skills in nearly every aspect of the industry. When I wanted to make Olivia Colman's Oscar wardrobe for The Favourite as sustainable as possible, I was confronted with way too much pushback from key decision-makers with brands. I managed it as best I could, but it flagged a huge niche in the market and challenge to solve. How to make sustainability cool and aspirational? What could be my mandate? How could I build on my skills to drive it?
"When I wanted to make Olivia Colman's Oscar wardrobe for The Favourite as sustainable as possible, I was confronted with way too much pushback."