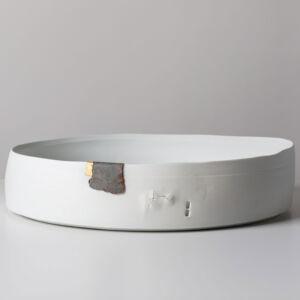 Objects Winter pot, Edmund de Waal
Minimal and monochrome, Edmund de Waal's latest ceramics emit a meditative calm. Made during the lockdown of 2020, each one captures the silent introspection that characterised the maker's experience of that period. De Waal was inspired by two Chinese bowls from the Song Dynasty in his studio, both of which had been mended using the Japanese art of Kintsugi – the art of marking loss and repair – reflected herein the use of lead, gold, and red pigment.

This work was exhibited recently as part of De Waal's 'some winter pots' show at Gagosian Davies Street. Though only viewable through a window from the street, their tactility still resonated at a distance.