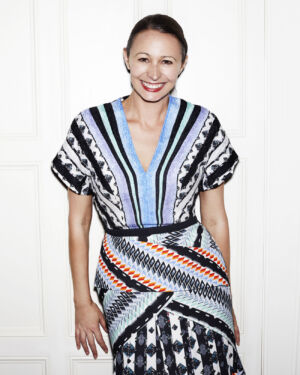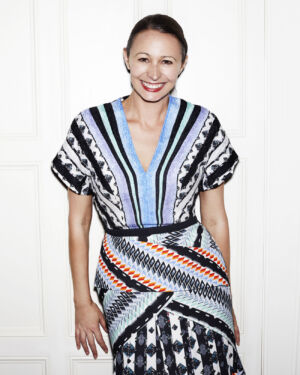 Interview British fashion's biggest champion, Caroline Rush CBE
For more than a decade Caroline Rush has been the chief executive of the British Fashion Council and the force behind London Fashion Week. During her time in charge, LFW welcomed the likes of Burberry, Mulberry and Preen back to the schedule, launched the BFC/Vogue Designer Fashion Fund and expanded its international showroom initiative to help establish British fashion as a serious player on the global stage.

Following one of its hardest years when designers faced studio and store closures and the industry was challenged to tackle racism and its impact on climate change, we caught up with Rush to discuss the future of fashion.
THE WICK: Who is your ultimate Monday Muse?
Caroline Rush: Christy Turlington. For me, she is the supermodel that always seemed understated, and today is very much driven by causes that are important to her.
TW: If money was no object, what one photograph or artwork would you buy?
CR: Terry O'Neill's Faye Dunaway 'Morning After' photograph. It fills me with joy, the love of LA, the feeling after a great night as well as a glamorous icon.
TW: What's the book you would pass on as a gift?
CR: This is a tough one as there are so many great books. My favourite that I go back to for inspiration is Great Women Artists – it was a gift from Georgina Cohen at Gagosian.
TW: How has the pandemic changed fashion, and do you think the move to digital has made fashion more accessible?
CR: The move to digital has definitely made fashion more accessible. Since launching our digital platform londonfashionweek.co.uk back in June, we have seen hundreds of thousands of views on the schedule, from people all over the world. LFW usually attracts around 5,000 visitors and now, with the digital platform being open to all, we're able to reach so many more. The pandemic has, of course, also changed how our designers do business and we have seen a lot of brands taking this time to reset and reflect, putting sustainability and creativity at the core of their businesses, while showing how fashion can be so much more than the traditional shows
"I see this year as the beginning of a decade of change and we have a responsibility to act now."
Caroline Rush
TW: What content has been best received following the move online?
CR: This February was our third season hosting content on the digital platform and I am incredibly impressed with the level of creativity that we have seen over the last five days of LFW. What we noticed again this season is that innovative content with meaning resonated and performed really well and the most successful content was the most authentic, creative or simply informative. There's also a strong appetite from tech companies to support fashion and I believe that this is one of the biggest opportunities this pandemic has brought to our industry.
TW: What are your hopes for fashion beyond 2021 in terms of sustainability and inclusivity?
CR: In terms of sustainability, there is a long way to go but what we have here in the UK is a wealth of young creative talent and communities that value sustainable manufacturing practices as much as every other part of the business. They are creating new ways to enjoy fashion and maintain the joy and the creativity that surrounds it without sacrificing their environmental responsibilities. With this as a backdrop, I am hopeful that we can be more circular. I see this year as the beginning of a decade of change and we have a responsibility to act now.

In terms of inclusivity, there are still a lot of barriers to entry that we need to overcome. In London, we have become a lot more inclusive and diverse when it comes to designers and models walking the catwalks of LFW, reflecting our amazing multicultural city. However, we also need to make sure that diversity of different types – race, gender, age, sexual orientation – is present at all levels and that we educate the industry on barriers to entry and how to overcome them. The British fashion industry needs to be open for all.
TW: Name something you are grateful for in lockdown.
CR: Ruby. I got a puppy at the beginning of lockdown. As well as adoring her, it means I get out at least twice every day, that everyone speaks to you when you are out on walks and she is brilliant company.
TW: Is there anything else you would like to share with us?
CR: Any opportunity to thank my team, my family, my friends. The BFC team I have so much love for, they are incredible, are so focused on making a difference in this industry. My family are simply the best, I love them all and they are the best support network I could have. My friends, for always being there, for making me laugh out loud almost every day – I love you and can't wait until we can get back to seeing each other in person.