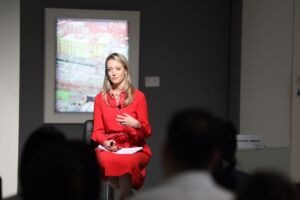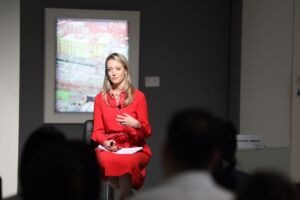 Interview Christie's Katharine Arnold
Interview
Katharine Arnold
13 February 2022
Interview
Katharine Arnold
13 February 2022
After studying at Oxford University, the London School of Economics and The Courtauld Institute of Art, and a stint at Merrill Lynch, Katharine Arnold joined Christie's in 2010.

Twelve years and 18 auction seasons later, she is now the head of post-war and contemporary art for Europe and behind some of the auction house's most successful and famous sales. In March 2021, Katharine was responsible for Banksy's Game Changer which raised over £16million for NHS charities. Later that year, a rediscovered painting by Hurvin Anderson achieved a record price during the seminal Frieze Week Evening Sale.

Arnold's experience in research and scholarly writing has also seen her author and design many of the catalogues that have accompanied record-breaking sales in London, including the 200-page book that accompanied the sale of 'Three Studies of Lucian Freud' (1969) by Francis Bacon in 2013. It sold for $142million, making it the most expensive work of art ever sold at auction at the time.

Ahead of Christie's upcoming 20th / 21st Century: London Evening Sale on 1 March, we caught up with Arnold to discuss the lots we should look out for, what she's adding to her personal collection and her wider culturally curious interests.
THE WICK: Talk us through a typical Monday.
Katharine Arnold: One of the beauties of my job is that no two days are ever the same — it's a large part of why I've been in this job for more than a decade. It entirely depends on whether there is an auction taking place somewhere in the world, or if I am travelling to visit a client. Thankfully, we are now able to visit our client's homes and collections in person once again. There is nothing that can replace the experience of seeing works of art in their homes, to learn and discuss their histories with their owners. When it comes to handling works, they're basically in my custody and I get to spend in-depth time with them for a short period – I take care of them on behalf of my clients. In my role, there's also a huge emphasis on my work as a dealmaker, too — you have to be able to combine a financially savvy, business mind with a deep passion for art. So, if I am at King Street, a Monday is spent exchanging ideas with my colleagues and friends, discussing strategy and evaluating wonderful works of art in our warehouse.
TW: Who is your Monday Muse?
KA: Sadie Coles, Daniella Luxembourg and Bridget Riley. I know I should pick one but I can't help choosing three. These three great women are pioneers, having cut through the glass ceiling in the art world. Sadie Coles has defined the career of so many important contemporary artists, Daniella has a wealth of expertise, which makes her one of the most significant dealers working today, and Bridget Riley is arguably the most important living female painter. I have always admired her painting and clarity of conviction.
TW: What works in the upcoming 20th / 21st Century: London Evening Sale are you most excited about?
KA: On 1 March, we will be offering two magnificent paintings by two British masters. Both made in 1986-1987, we are uniting 'Girl with Closed Eyes' by Lucian Freud and 'Triptych 1986-7' by Francis Bacon for the first time. Freud has captured the serenity and beauty of his sitter, Janey Longman, demonstrating the complicity and trust that existed between them, while Bacon lays bare his innermost feelings and reflects on momentous turning points in 20th century history.

I think what's so amazing about Bacon is that when you see his paintings in real life — which you can do at the current Royal Academy retrospective — you see how much they relate to the very visceral human experiences. He captures very strong feelings in paint and they have such an impact when you see them in person. There's a generational shift going on when it comes to Bacon — it's not just new markets buying Bacon, but the relevance of this artist is really starting to grow with younger, millennial audiences. The 'Triptych 1986-7' is so special because it's him looking back over the course of the 20th century, and looking at the decisions that were either made in European history or in his own personal life, that then defined what was to come. It's interesting because Bacon and Freud were friends and rivals throughout their careers, and these two works were painted at the same time, so it's fascinating to have the chance to see them together. Both are masterpieces and handling them is one of the great highlights of my career.
TW: How has interest and understanding of post-war and contemporary European art evolved?
KA: I've now been at Christie's for 12 years, and during that time we've continued to see growing interest in the contemporary art field (1945 onwards). There is an incredible wealth of international artists who are creating works that constantly push the dial. We've seen a resurgence recently in the market for figurative painting. There has also been a reassessment of artists late on in their career, Etel Adnam for example or Frank Bowling. This focus has contributed to a spotlight on female artists who had previously been overshadowed. We have been collaborating with 1-54 Art Fair since 2020 and over the last decade they have provided a vital platform for contemporary African artists with editions in London, Paris and Marrakesh. The response to the fair and the artists that they work with from our clients is incredible and in 2021, we offered NFTs by Osinachi, a pioneering Nigerian crypto artist, in our first art fair booth at Somerset House in London. One thing I think has been really interesting is that over the past two years, since the pandemic began, is that the accelerated rate of change has been really dramatic. I think we're in a fundamentally different place now than we were pre-pandemic, our business model has pivoted to offer live and livestreamed auctions which connect us to our clients via our global salerooms. The way we have been able to approach our collectors digitally, and the fact that so much has moved online has also been accompanied by a changing attitudes to prices. If the pandemic hadn't happened, maybe some of those evolutions might have taken longer, and that extends to crypto and NFTs too.
"There is nothing that can replace the experience of seeing works of art in their homes, to learn and discuss their histories with their owners."