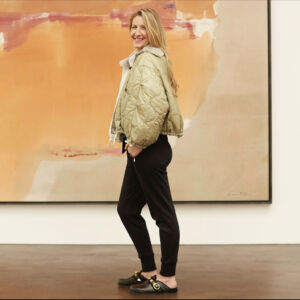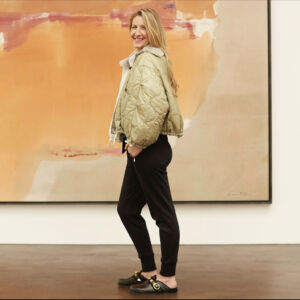 Interview Gagosian director Georgina Cohen
Photography
Zak Frakelton
31 October 2021
Photography
Zak Frakelton
31 October 2021
We're not quite sure how Georgina Cohen does it all. During her impressive career, she's notched up years working in television, fashion, publishing, PR and events. It was while working in PR, back in 2006, that she caught the eye of contemporary art gallery Gagosian and was asked to head up its PR and Events division by founder Larry Gagosian. Today, her main focus is in helping her clients build their collections. It appears time flies when you're surrounded by incredible art and clients that consider you a friend.

While the art world may be Cohen's priority these days, she hasn't forgotten about fashion either. When she's not travelling to art fairs and cultural hubs around the world, introducing the gallery to a wider audience, the former contributing editor at PORTER is now editor-at-large at FAD Magazine and contributes to Maybourne Magazine and Baby London. She is also the cultural director for 3:1 Phillip Lim and has several other ambassadorial roles. 

We're not sure how she found the time to be this week's Monday Muse, but we're so glad she did. She shares why her mother inspires her every day and the artists that should be on your radar.
THE WICK: Talk us through a typical Monday.
Georgina Cohen: Monday is usually a quiet day at the gallery as it is closed to the public, so it is a great opportunity to catch up on lots of admin and set myself up for the week ahead. I start the day with the school drop-off and a catch-up coffee with a friend close by, then into the gallery. I always try to make every moment count, as being a full-time working mum, it's hard to be able to fit everything in. The juggle is real.
TW: How did you come to be an art dealer for Gagosian?
GC: As soon as I graduated from university, I knew that I wanted to work in television. I managed to get work experience at ITV Granada, which led to me being offered a full-time position. I remained working in television for a number of years before moving on to produce television commercials, which brought me to London. Here, I was offered a number of jobs before deciding to take one in PR, working for Purple. I was still passionate about television, but the idea of doing events and PR excited me because I was new to the city and thought it would be a great way to connect with, and meet, new people. I did that for a number of years, during which time the role also expanded into celebrity management and special events. That was when Gagosian approached me to set up a PR and Events division in their London gallery. That was almost 15 years ago now, and I've been here ever since.

My role as Director usually involves lots of things across all aspects of the gallery. Predominantly, it is focused around helping clients build their collections. I travel to art fairs, work closely with my colleagues who represent the artists we work with to place works in public and institutional collections. I continue to work on some Special Projects and Events , I also work on business development and try to think of innovative ways to help expand and expose the gallery to a wider audience through collaborations and partnerships. The day to day is never the same and I love that I work in a place where I can continue to learn and grow.
TW: How have approaches to purchasing art shifted following the events of the past year?
GC: I think that the past few years accelerated bringing so much more online. There was no other option and gallery leaders like Gagosian and Hauser & Wirth went one step further by creating content that was unrivalled – that's how the Artist Spotlight was created. I think there was online fatigue by the end of lockdown and people were excited to be back seeing art IRL. A balance of the two is OK, but nothing compares to the feeling you get standing in front of a painting, something you just don't get through a computer screen, and I think this will always be a person's preference when acquiring a work of art.
TW: You're also the cultural director of 3.1 Philip Lim. How do you think fashion and art feed off one another?
GC: I think practitioners from the world of art and fashion appear to be exploring one another's territory more than ever before. Large and iconic fashion brands are presumably more than a little aware that designer fashion is aspirational, fine art even more so, and any association only serves to heighten the outside world's perception of a brand's status and power – look at Louis Vuitton and Prada as examples.
"Nothing compares to the feeling you get standing in front of a painting."