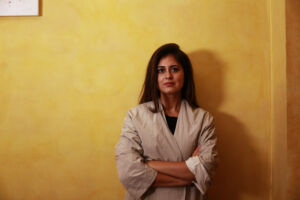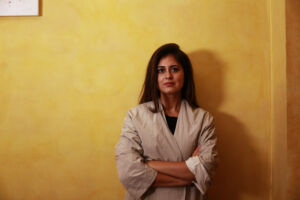 Interview Google's Suhair Khan
A long-time Googler, Suhair Khan has been with the tech giant for more than ten years, spending time in Mountain View, California and Singapore, before leading on global initiatives and partnerships at Google Arts & Culture in London.

Before the pandemic, she was focused on combining art, culture, storytelling and technology, and making important art and cultural institutions and works accessible to all online. When the world shuttered, it was thanks to Google Arts & Culture's website and app and their important work that many could still access the archives of the likes of the Dulwich Picture Gallery, Tate Britain & The Museum of Modern Art.

When she is not writing extensively on fashion, design and culture for publications including Vogue, Condé Nast Traveller and Architectural Digest, Khan is creating positive change in the world through technology. To hear more about her perspective on what the future of technology holds for the art world, tune in on Wednesday 16 June to hear Khan on a CogX Festival panel: 'New Ways of Seeing: Cultural Pathways For The Next 10 Years'. For further information and tickets, follow the link: https://cogx.live/tickets/
THE WICK: Talk us through a typical Monday.
Suhair Khan : Like many of us, I have not had a typical Monday for a very long time. I am currently in New York, so it involves waking up at 5:30am to get on London time, and spending a lot of time scrolling unhealthily through emails from bed. Monday is always a reset day and I try to keep meetings minimal. I try to do a couple of video calls before heading to La Colombe on Lafayette Street for a coffee with a friend. 

New York is all about the people. Everyone is intense and brilliant. I have been spending my afternoons meeting friends and people I admire in fashion, culture, human rights, technology and international development. We are talking about sustainability and climate change a lot.
 

TW: The pandemic has accelerated the relationship between art and tech. As the physical world comes back to life, how do you see this playing out?
SK: We all know that culture and art will be accessible online more than ever – this is amazing as it allows for access for people around the world, in different languages and hopefully also for those who are differently abled or might have felt intimidated or unable to go to a museum or gallery in the past.

But pure online experiences do not work for all institutions or for all forms of art, and I think continuing to be thoughtful about how we connect technology to culture and creative experiences will be important. Technology can supplement cultural experiences, but it cannot be seen as a replacement. 

I imagine a lot more art will be bought online or via social messaging, which is a big shift. I know that many more people are exploring art collections and cultural sites on the internet – scrolling through high-resolution photography or pausing to experience an immersive reality journey through an archaeological site or a cultural artefact. 

Finally, we will be engaging with digital art in very different ways, and the recent news on NFT sales is a great example of a trend that has kicked off in part because of how we assign value to intangible digital art – a shift which will possibly change how all digital art (and artefacts) are valued, collected and shared going forward.

TW: How does Google plan to further enrich our lives with arts and culture?
SK: Google Arts & Culture is a platform which creates access to 2,000+ museums and cultural institutions around the world online or via an immersive app. And Google overall as an organisation has a number of amazing initiatives that bring together art, artists and technology (machine learning, immersive reality, and more) – these will continue to hopefully build and thrive, in partnership with artists, composers, curators, choreographers, designers and architects from around the world. Artists, creative coders and technologists push each other's boundaries and are able to create incredible new creative experiences often simply by spending time together. YouTube is also an amazing platform for cultural storytelling, education and the voices of creators of all demographics from around the world. 

TW: What excites you most about art and culture harnessing the power of technology?

SK: Access and innovation. Technology opens up culture to new audiences and opens doors between very siloed worlds. When technology and culture are brought together in a thoughtful and quiet way, the outcomes help to push creativity in new and unexpected directions.
 
A beautiful example is this new app from Google Arts & Culture, a take on how machine learning can help with the preservation of lost languages. And right now at the London Design Biennale, the Antarctica pavilion has been conceptualised and designed by artist Ben Cullen Williams who has partnered with a couple of creative coders from Google. He uses artificial intelligence to extend and bring new creative direction to hundreds of hours of footage of the Larsen-B Ice Shelf in Antarctica. He has used technology to create an artwork, which is beautiful, but also one which drives home the impact of climate change. 

"Technology opens up culture to new audiences and opens doors between very siloed worlds."

Suhair Khan