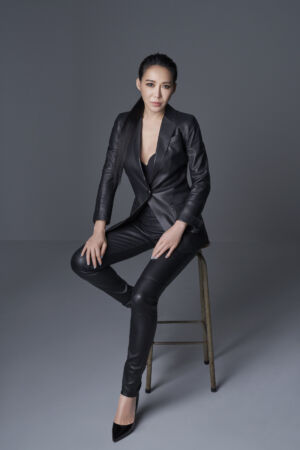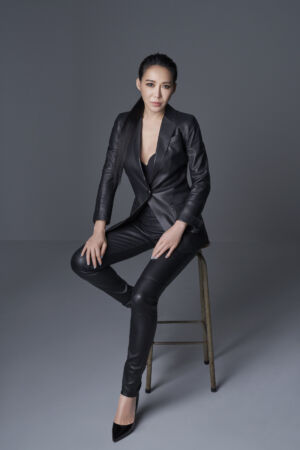 Interview Jewellery designer Cindy Chao
Last week, jeweller Cindy Chao was inducted in France's Order of Arts and Letters in Paris. It's the latest in a long line of accolades that she's earned since launching her eponymous luxury brand in 2004. The granddaughter of an architect and the daughter of a sculptor, she's turned her vibrant, creative upbringing into one-of-a-kind masterpieces that showcase rare, coloured gemstones and bring the 18th-century lost wax carving technique, initiated by royal jewellery craftsmen, into the 21st century. 

Her pieces can take years to complete and are so sought-after they can have lengthy waitlists. She also made history by having three gem-encrusted brooches inducted into the permanent collections of the Victoria & Albert Museum, Musée des Arts Décoratifs and becoming the first Taiwanese jewellery artist to have work inducted into the Smithsonian Institution National Museum of Natural History's gem collection. Here, she shares the inspirations behind her collections and the culturally curious spots that fascinate her.
THE WICK: Talk us through a typical Monday.
Cindy Chao: On Mondays, I am usually firing on all cylinders after the weekend break and having taken quality time to recharge my batteries and liberate my creativity through drawing, sculpting or painting. Some people don't like Mondays, but I most certainly do.

I start the day with yoga, giving thanks and in prayer. This is a special moment of connection, blessing, sharing and opening oneself. I like to start the week connecting with my different teams around the world. Therefore, Mondays are always a very full day. The day starts with my creative team where we review our future art jewels – we look at new drawings, review the progress of my craftsmen, looking at the pieces from all angles to ensure the movement, curves, setting are exactly how I envisioned. Next, I meet my marketing team and commercial team for sales and marketing updates. I usually connect with counterparts in the luxury, art and jewellery world for lunch. At the end of the day, I have my workout session with my personal trainer as health and wellbeing are fundamental for my creativity. I love to read before going to bed too – I am very curious by nature and love to learn new things. Books, documentaries of famous artists and people always inspire and fascinate me.
TW: How did your upbringing influence your creative outlook?
CC: Creating art jewels is a continuation of my family heritage. I spent most of my childhood with two masters – my father and grandfather. My grandfather was a noted architect specialising in Chinese-style palaces. His many works are now considered heritage sites and historical monuments. My 'playground' was his studio and construction sites. In his studio he showed me his blueprints, and at his construction sites he explained to me the architectural concepts. This process has gradually formed my three-dimensional perspective to look at the world. My grandfather shaped my mindset but also trained my eyes. I am particularly sensitive to colour gradations, and I find it indispensable to create visual impact. Back in the days when technology couldn't be relied on, he showed me the art of toning to create a palette of colours with subtle nuances at his construction sites. I couldn't tell any difference with my bare eyes at the beginning, but he insisted so much and tried repeatedly until he found the correct colour that he was going to use on a specific column.

My father was a celebrated sculptor, and I was his first apprentice. He taught me to consider each angle, form, expression of what I observe, and to transform observations into well-rounded creations. I learnt various techniques and skills of sculpting from him. When I was staying with my father in his workshop, he would give me clay to play with while he was focusing on his works. I would create different things and he would then tell me what I could do to improve my "creation". These precious moments set a solid foundation to my sculpture skills, which eventually helped me develop my style when I later learned about ancient wax sculpting for jewellery during my studies in New York.

Architecture for me is a mindset. It is about the art of arranging colour, light and shades in a space governed by its structure. This architectural mindset has a great influence on my jewellery creative process. When I design my art jewels, I think about how my "blueprint" can be best planned to orchestrate the hues and the fire brilliance of gemstone in a layered, organic construction.

With the mind of an architect and hands of a sculptor, I am confident to create art jewel pieces which are organic in nature, fused with architectural concept and finished by the sculptural craftsmanship.
TW: What were your aspirations for your jewellery line and how has your vision evolved?
CC: I established Cindy Chao, The Art Jewel by opening the first showroom in 2004. Seventeen years later, I uphold the same vision – to become the world's top international art jewel brand representing the forefront of Asian luxury culture.

I'm determined to break boundaries and redefine high jewellery. Every piece of my jewellery should be a miniature work of art. As a creator, I am dedicated to using the classic 18th-century artisan technique of crafting designs in wax (cire perdue) before completing these intricate one-of-a-kind sculptures with precious metal and gemstones.

While I have been upholding the same vision, my design has been progressing along my creation journey. In recent years, my style has turned towards Essentialism as inspired by Michelangelo, who described himself as freeing the soul of the marble. Instead of making complicated designs, I now have more conversations with myself and spend much more time contemplating on how to reduce the unnecessary when I wax-sculpt to create an art jewel. Interestingly, this creative mindset of preserving the true essence helps to render my creations more impactful.
TW: Where do you look for inspiration, and how does traditional craftsmanship influence your approach?
CC: I believe that inspiration is an accumulation of one's life experience, sensibility and passion. As an artist and a global traveller, I believe that art is something powerful that can break down the barriers of religion, race, nationality, age, culture, etc. The energies I invest in my artworks can be said to originate from my accumulation of travel and cultural experiences.

Instead of finding inspiration purposely, I let inspiration come to me. Serendipities come at every corner of my life. They fulfil my mind and motivate my design in unexpected moments.

The natural world is the root for many of my works. I am always fascinated by the natural creations from God – the coexistence of different life, the perfect combination of colours, the spectacular mountains, waterfalls, oceans. The natural world has never stopped fusing me with different inspirations on my creations.
"I'm determined to break boundaries and redefine high jewellery."