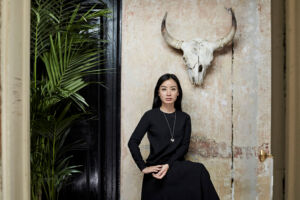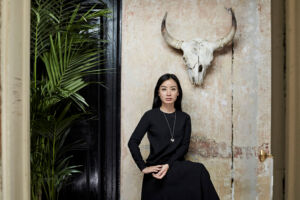 Interview London Fashion Week favourite Edeline Lee
Portrait and Lookbook
Mr Wash, (c) Ne-o, Jake Knight & Ryoko Tanaka
29 March 2021
Portrait and Lookbook
Mr Wash, (c) Ne-o, Jake Knight & Ryoko Tanaka
29 March 2021
Canadian-British, London-based designer Edeline Lee launched her eponymous label in 2014 after graduating from the world-renowned Central Saint Martins. Her immersive shows and sophisticated modern aesthetic have since become a highlight on the London Fashion Week schedule and loved by the likes of Alicia Vikander, Taylor Swift, Livia Firth and Solange Knowles. Designed with quality and meaning, her pieces are tailored to fit a wide range of body types and made by hand with love and care in England – something that has enabled her to continue creating and innovating throughout the pandemic.
THE WICK: Talk us through a typical lockdown Monday.
Edeline Lee: We have now started testing every Monday morning, so my studio starts the day with a nice Covid test. As British manufacturers, we have continued working through the lockdown, albeit in a reduced manner. We just try to keep our chins up, keep making beautiful things, keep each other safe, keep the company going, and look forward to a better time.
TW: You are a mother and a designer. What would be your tip for those looking to find balance in this brave new world?
EL: By the time that we are out of this latest lockdown, I will have been a full-time home-schooling mother and a full-time businesswoman for a year – and what a year it has been. Each day I stay up later and later, just to have some time alone in the evening. I think the most important thing for me has been stealing that time for myself. In this time of isolation, for those who have more responsibilities than ever, it's important not to forget that solitude is necessary too.
"We just try to keep our chins up, keep making beautiful things, keep each other safe, keep the company going, and look forward to a better time."