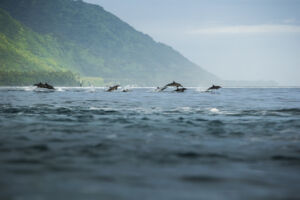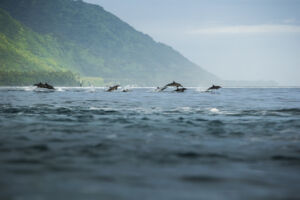 Interview Michele Clarke's Plan to Save the Oceans
As ambitious and worthwhile projects go, saving the oceans is up there. Fortunately, Michele Clarke, CEO and founder of Project Zero, is up for the challenge. With around 2 per cent of the ocean protected, Project Zero aims to get that number closer to 30 per cent – the minimum amount science has determined we need – by raising awareness and funds to secure a global network of ocean conservation projects. Like aquatic national parks, each ocean sanctuary is a place where no one can drill, mine, fish or pollute, places where the ocean can restore itself.

A huge task needs huge support. Fortunately, Clarke, former president at Manifesto NYC, a commercial production company, and Project Zero's board of trustees have enlisted an impressive line-up of ambassadors including Georgia May Jagger, (her brother James is on the board of trustees), Cara and Poppy Delevingne, Sienna Miller, Princess Eugenie, Laird Hamilton, Jordan Barrett, Georgia Fowler and Liv Tyler.

Project Zero's latest campaign encouraged supporters to "claim their coordinate" by adopting a 1, 10 or 100 km2 piece of big blue in the Atlantic, Pacific, Arctic or Indian ocean. In return, supporters received an Official Certificate with their unique coordinates that they can share on social media to encourage others to join in to do the same. These symbolic adoptions are one way that the organisation raises funds to protect and restore the ocean.

We caught up with Clarke ahead of this week's World Oceans Day and Project Zero turning 10 next year to discuss her hopes and highlights, and lockdown learnings. To adopt your own coordinate, head to weareprojectzero.org.
THE WICK: Talk us through your typical Monday.
Michele Clarke: Every day is Monday for us here at Project Zero, and by that, I mean that we're always full steam ahead. Project Zero works to bring global awareness to the vital role of the ocean in our lives – from climate change to food and jobs – as well as opening up new revenue streams to secure a network of ocean sanctuaries that run from the Arctic to Antarctica to create a sustainable future for life on Earth.
TW: Your background is across media, film and music production. What prompted you to launch Project Zero back in 2012?
MC: I love the ocean. I spent my childhood at the beach, and in the ocean, swimming or surfing, and then scuba diving. I am a dive master. I found out that the ocean was in trouble and took a couple of years to research what was going on and if there was anything I could do to help. Those two years revealed two primary insights: awareness that the ocean is in terrible trouble – is our life support system – and is very low; and if you look at the global philanthropic pie you see that 3 per cent of money goes towards the environment with a mere 6 per cent going towards ocean conservation, meaning ocean conservation is critically underfunded. We created an organisation to address those two roadblocks to progress, which just happen to use skills that I developed and honed during my life.
TW: Next year marks the 10-year anniversary of Project Zero. What has been your highlight across this time?
MC: I honestly have a hard time remembering this idea of an actual anniversary because it was such a process, and it still is. Our work is far, far from done, so I feel like it's not a time to celebrate, but rather dig deeper and double down. We're talking about the future of our planet. Nothing is more important.
TW: You recently launched a fundraising campaign to adopt an ocean coordinate. What's coming up for Project Zero?
MC: Stay tuned. Lots is being announcing in the coming weeks. World Oceans Day is coming up on 8 June, so we'd love to encourage everyone to go to our website and adopt their own piece of the Indian, Arctic, Atlantic or Pacific to help us protect and restore the ocean. Together, we can make huge progress. Our ocean coordinates also make great gifts.
"We're talking about the future of our planet. Nothing is more important."