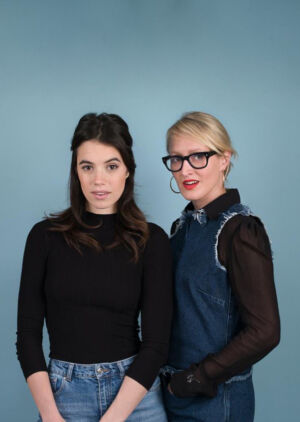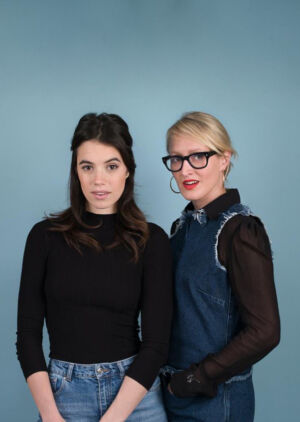 Interview Platform Presents' Gala Gordon and Isabella Macpherson
Interview
Gala Gordon & Isabella Macpherson
11 March 2021
Interview
Gala Gordon & Isabella Macpherson
11 March 2021
British actress Gala Gordon and ArtReview publisher and editor-in-chief turned producer Isabella Macpherson met at a dinner for three-time Oscar winner Oliver Stone. After discovering a mutual fascination with theatre, television and film, and identifying the need for a platform to promote rising stars, particularly female voices, they decided to create their own. Platform Presents is the result – a collaborative community for up-and-coming talent as well as established artists that produces theatre, film and television to showcase and nurture actors, writers and directors. Here they share details on their latest play, Good Grief…
THE WICK: Talk us through a typical Monday.
Isabella Macpherson: Gala and I always have a few productions on at the same time in different stages of development. At the beginning of the week, we recap where we are with each other and what needs to be achieved that week. At the moment, Monday will see us doing a producer catch-up first thing with Amy Gardner from Finite Films, with whom we made our online play, Good Grief, which streams online globally until 15 April.

We'll also be looking at the lie of the land for the 10 other productions – theatre, TV, and film – that we have at various stages of development.
TW: What is Platform Presents up to and how have you adapted to a digital world?
IM: We have co-produced with Amy Gardner of Finite Films the global online premiere of Good Grief, starring Sian Clifford (BAFTA-winning, Emmy and Critics Choice Awards nominated as Claire, Phoebe Waller-Bridge's uptight sister in the global phenomenon Fleabag) and Nikesh Patel (Foaly in Artemis Fowl, directed by Kenneth Branagh). Written by Lorien Haynes and directed by Natalie Abrahami, it's a romantic comedy about grief. Sharp, funny, brutal, irreverent and quintessentially British – created by a predominantly female team.

When the theatre world faltered, with theatres closed and jobs cut, this online filmed production saw the convergence of a new theatre and screen team to create a theatrical format, which streams online and is downloadable worldwide, giving employment to the industry.

We're also in the final few weeks of reading the entries for our Platform Presents Playwright's Prize. We've had 300 entries so far from around the world with 2 weeks left.
Gala Gordon: In terms of one of our screen projects in development, an example is the feature film we're working with Leah Gasson on, an adaptation of her play which won our 2019 Platform Presents Playwright's Prize. We're at the stage of researching directors and attaching one, then will pitch the film, alongside an LA-based producing partner, to networks. We're also in writing rooms for 2 TV shows we're developing alongside writers – which is something we love doing – developing creative, dark and or funny content which is relevant for our time.
TW: What makes you culturally curious? Where do you go for inspiration?
IM: We are incredibly culturally curious and a key place for us to find out about writers, directors, actors, ideas, formats and new ways to tell stories is on television. Gala and I are always exchanging information on what intrigues us in this field. I'm currently watching Euphoria starring Zendaya and Hunter Schafer, created by Sam Levinson. I absolutely loved I Hate Suzie, created by Billie Piper and Lucy Prebble, plus The Queen's Gambit, starring Anya Taylor-Joy and created by Scott Frank and Allan Scott. I'd like to dip into Bridgerton next.
TW: If you had to recommend a play, what would it be?
IM: I would say The Pillowman by Martin McDonagh. It's dark, disturbing, superbly written and incredibly powerful.
Gala Gordon: I would definitely recommend Three Sisters by Anton Chekhov. It is the most extraordinary playwrighting and is a story that is very close to my heart. I was lucky enough to play the role of Irina at the Young Vic, which is when I truly started to unpack Chekhov's pure genius.
"The digital world is advancing so quickly and the opportunity for the arts to pool together and push the boundaries even further is incredibly exciting."
TW: What do you think will be the biggest change in the arts over the next decade?
GG: I think the biggest change is that the arts will shift more online and become more accessible. The digital world is advancing so quickly and the opportunity for the arts to pool together and push the boundaries even further is incredibly exciting.


*Good Grief is available to view worldwide now until 15 April. Standard ticket prices are £15 and concessions cost £10. A 20% match donation will be made to the NHS and Macmillan Cancer Support on all ticket income.