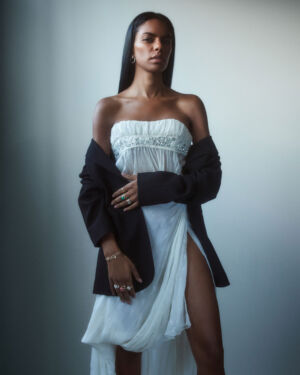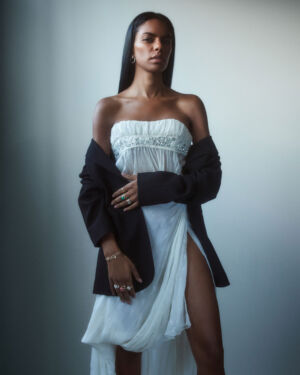 Interview The model behind Malaika: Noëlla Coursaris Musunka
Interview
Noëlla Coursaris Musunka
Photography
Alex Bramall / Hurr
12 March 2021
Interview
Noëlla Coursaris Musunka
Photography
Alex Bramall / Hurr
12 March 2021
Beautiful inside and out, model and philanthropist Noëlla Coursaris Musunka uses her international platform to shine a light on causes close to her heart. Not only is she a fearless spokesperson at world-class forums like the World Economic Forum and in the university halls of Cambridge, Oxford and Harvard, she's a powerful voice in support of girls' education worldwide. She founded Malaika in 2007, a grassroots nonprofit that educates and empowers girls and communities in her home country of the Democratic Republic of the Congo through a school, a community centre and a comprehensive clean water programme. It's just one of many achievements that has seen her previously named as one of the BBC's 100 Most Influential & Inspirational Women of the Year and receive an award at the Nelson Mandela centenary celebration in 2018.
THE WICK: Talk us through a typical Monday.
Noëlla Coursaris Musunka: I have two young children, who are my world. On Mondays (and all school days), I make them breakfast and get them ready for school, pick them up again in the afternoon, help with homework, cook dinner, bathe them and read to them at bedtime. Before they are up and while they're at school, I have a lot of phone calls (and pre-Covid many in-person meetings) with the Malaika team from every corner of the world, as well as many conference calls. I am a full-time volunteer for Malaika, the foundation I founded in 2007. I'm also actively involved in my modelling career and advocacy work.
TW: What makes you culturally curious? Where inspires you?
NCM: Even though I was born in DRC [the Democratic Republic of the Congo], my mother had to send me to live with relatives in Europe after my father passed away when I was five years old. I've been visiting several times a year since I was 18, but I am still learning about my own cultural heritage. So, I love learning about Congolese culture but also the local culture whenever I travel to someplace new. While I love Africa, I really love New York as well, where I lived for many years.
TW: What's the book you would most likely recommend?
NCM: I do a lot of reading with my daughter, so a lot of the books I've been reading lately are kid-appropriate. I recently had the opportunity to reread The Little Prince and I can't stop recommending it. This book is deceptively simple. While it does remind us that we're sometimes too complicated as adults and need to hold onto the openness and curiosity of childhood, it's also so much more. It's about friendship, searching for truth and staying loyal both to yourself and others. I think everyone – children or adults – can find ways to apply these themes in their life.
"I believe that every young woman around the world has a voice that should be heard. Until equality is a reality, we must continue to proactively empower girls around the world."