Spotlight Ceramic Artist Holly Stevenson
Championed by Marcelle Joseph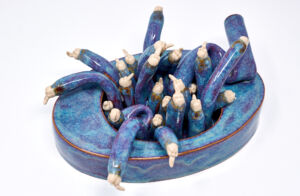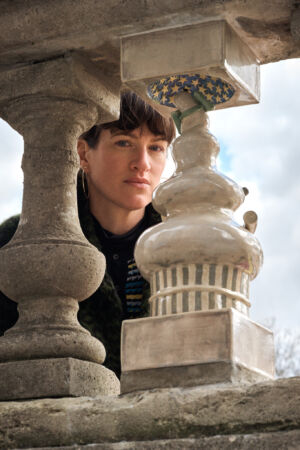 Interview
Holly Stevenson
01 March 2023
Interview
Holly Stevenson
01 March 2023
A group exhibition pairing nine feminist artists working at the advent of feminist theory in the 1970s and 80s with a contemporary artist from a younger generation has opened at Bournemouth art gallery GIANT. 'Body Poetics' is the latest collaboration between this week's champion and curator Marcelle Joseph and ceramic artist Holly Stevenson.

Marcelle Joseph says: "I first met Holly Stevenson in 2020 through my involvement as an advisory panel member of Procreate Project. They secured Arts Council England funding to commission Holly to make a new series of work. I promptly acquired one of those works for my own collection as I love Holly's exploration of psychoanalytic theory through a feminist lens and her mash-up of feminine and masculine signifiers. I also am such a huge fan of ceramic sculpture!"

Many more projects have since followed for the duo. Joseph selected the same work, titled Eyes in the back of her head (2020), as one of the 38 featured artworks to be included in 'Body en Thrall', a 2022 exhibition she co-curated at the Rugby Art Gallery & Museum. She also included Stevenson's work in the group exhibition 'An Ode to Orlando' at Pi Artworks, London the same year as well as featuring her work in GIANT's current exhibition.

Running until May 6, 'Body Poetics' pairs Stevenson with the late great Louise Bourgeois to explore their shared interest in psychoanalysis, bodily symbolism and the physical act of making.

Joseph says: "Bourgeois once said, 'Art is a guarantee of sanity'; Holly vigorously concurs with that statement, remarking 'Feminist art is a guarantee of female sanity'. Holly really breaks apart the classic symbols of the male genius and the hysterical female and all the binaries that have been thrust on us by our patriarchal society, such as femininity vs masculinity and reproduction vs sexuality. It has been my great honour to work with her in my roles as curator, collector and patron."

Stevenson adds: "My art work is driven by my personal experiences, the traumas and the joys, combined with my compulsive need to make art. I am working life out from both an artistic and psychoanalytical standpoint. My ongoing studio project Sigmund Freud's Ashtray brings the psychoanalytic space into the studio where I make ceramic sculpture that re-thinks the vessel as being both a body and as a place that stores meaning. My work comes from the blended experience that is life, life as a mother, a feminist, a woman from a working-class background. This filters through into work that hangs between the figurative and the abstract. I draw daily and sometimes my forms surprise even me."

Stevenson's work is also currently on show in the 'decentering in Ceramics' exhibition at Richard Saltoun gallery in Rome until April 22. She will also be returning to Pi Artworks later this year for a solo show.

About the champion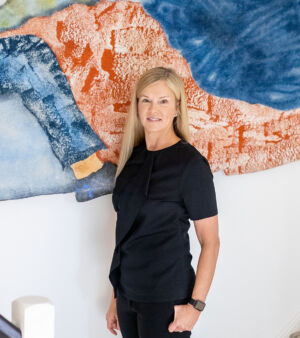 Marcelle Joseph is an independent curator and collector based in London, whose work focuses on gender and the performative construction of identity. She founded her namesake, nomadic curatorial platform in 2011 and has since produced 44 exhibitions in the UK and the rest of Europe, featuring the work of over 250 international artists. In 2022, she also co-curated her first museum exhibition in the US at the Institute of Contemporary Art, Los Angeles, titled 'The Condition of Being Addressable'.
"I love Holly's exploration of psychoanalytic theory through a feminist lens and her mash-up of feminine and masculine signifiers."