Feature Abigail McGinley's Compelling Talent
Championed by Kobi Prempeh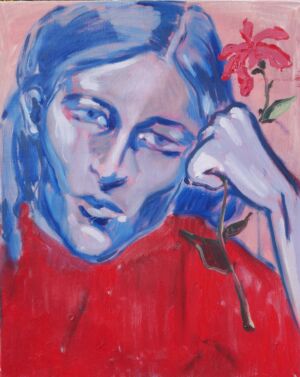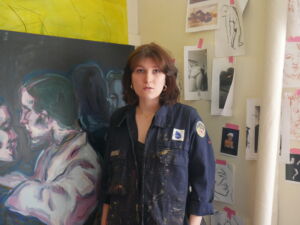 Interview
Abigail McGInley and Kobi Prempeh
19 May 2021
Interview
Abigail McGInley and Kobi Prempeh
19 May 2021
Kobi Prempeh heads up fynn studio, a community-focused curation firm that creates impactful socially relevant projects inspired by the belief that art does not just exist in white cubed spaces but occurs all around us.

He's behind some of the most celebrated exhibitions in the past few years, including "the biggest exhibition about rave culture in the world", according to Google Arts & Culture in 2021, 'Sweet Harmony' at Saatchi Gallery, and the first contemporary art presentation at the Forbidden City in Beijing.

His most recent exhibition, 'Together' at Square Gallery, Battersea, brought together works by Modern Faces Collective, a transatlantic collaboration between six artists –Shaqúelle Whyte, Abigail McGinley, Larry Bush, Lawrence Perry, Tess McMillan and William Alan Harris – all of whom are under the age of 22. Prempeh was introduced to Abigail McGinley by Perry and Whyte. The show ran in late April 2021 and saw paintings on display that McGinley had worked on in her bedroom throughout lockdown.
"If you can imagine, we worked on the show during the restrictions of the cold long lockdown months, so I never got to actually meet Abigail until just before the show opened," Prempeh says. "But through ongoing telephone conversations and sharing about her work, ideas and influences she really inspired me about that purity of creativity, which all too often gets forgotten.

"Watching people engage with her work during the exhibition was spellbinding – her dexterity with brushstrokes provides that sense of heavy emotion and intimacy that captivates and transports audiences to their own memories and collections."

McGinley is currently studying at the Slade School of Fine Art and explores intimate themes of sapphism, the self and interpersonal relationships, through her paintings, layered imagery and symbolic undertones – she cites Edvard Munch and Francesco Clemente as influences.

Each painting is an extension of her personhood as she uses her personal experiences and desires to guide the subject matter of the work itself. She also draws inspiration for imagery directly from Art Nouveau jewellery and furniture, referencing catalogue style books for both posing ideas and the decorative elements within her work.

Prempeh says, "Abigail McGinley is a pure artist. Her talent as a painter compels people to build a relationship with her work: we've all experienced love, and loss. I never 'discovered' Abigail, but through working with her, I often discover something about myself. And I've noticed this is the same for many that get the chance to engage with her work.

"She creates a sense of romance and intimacy, but this comes about through passion, drive and an experience of life and love that fills a canvas."

McGinley will next be creating a series of paintings focusing on romantic intimacy between women. She says: "I'm interested in conveying the intimacy of touch through the bodily medium of oil paint, in fact it's a driving force of the work. I think intimacy is something that runs throughout my work so it will be interesting to push this further and create more ambitious compositions." She will also be involved in a group show headed by fellow Slade graduate Tuesday Kibet later this summer.

About the champion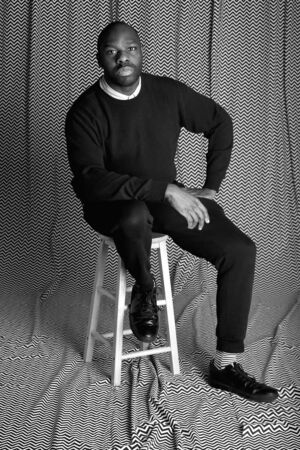 For fynn studio curator Kobi Prempeh, art doesn't just exist in galleries. His community-focused projects include Heroes Walk – an evolving arts initiative that engages community members to nominate and celebrate local carers, volunteers and young people that benefit their local area. You may have also seen his smash-hit international exhibition on rave culture, 'Sweet Harmony'.

"Watching people engage with her work during the exhibition was spellbinding."

Kobi Prempeh