Feature Ceramicist and painter Rafaela de Ascanio
Championed by Lovisa Berntson and India Bhattacharjee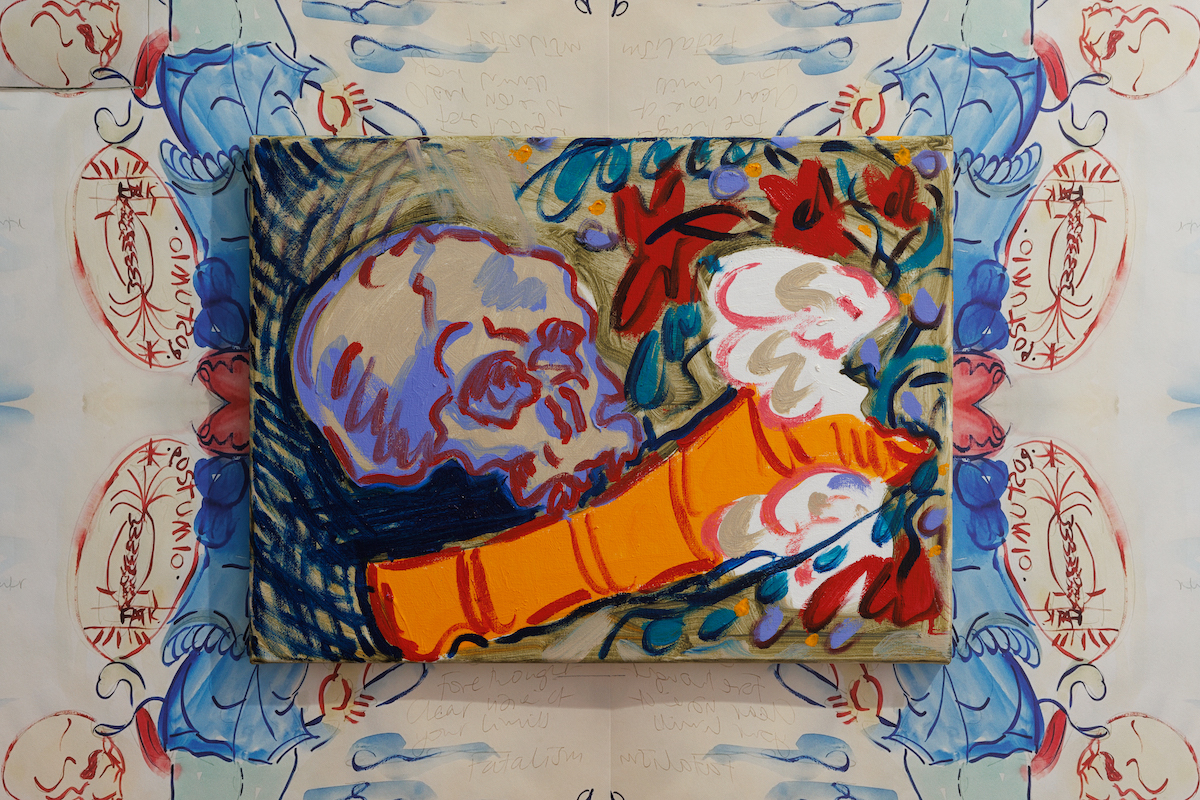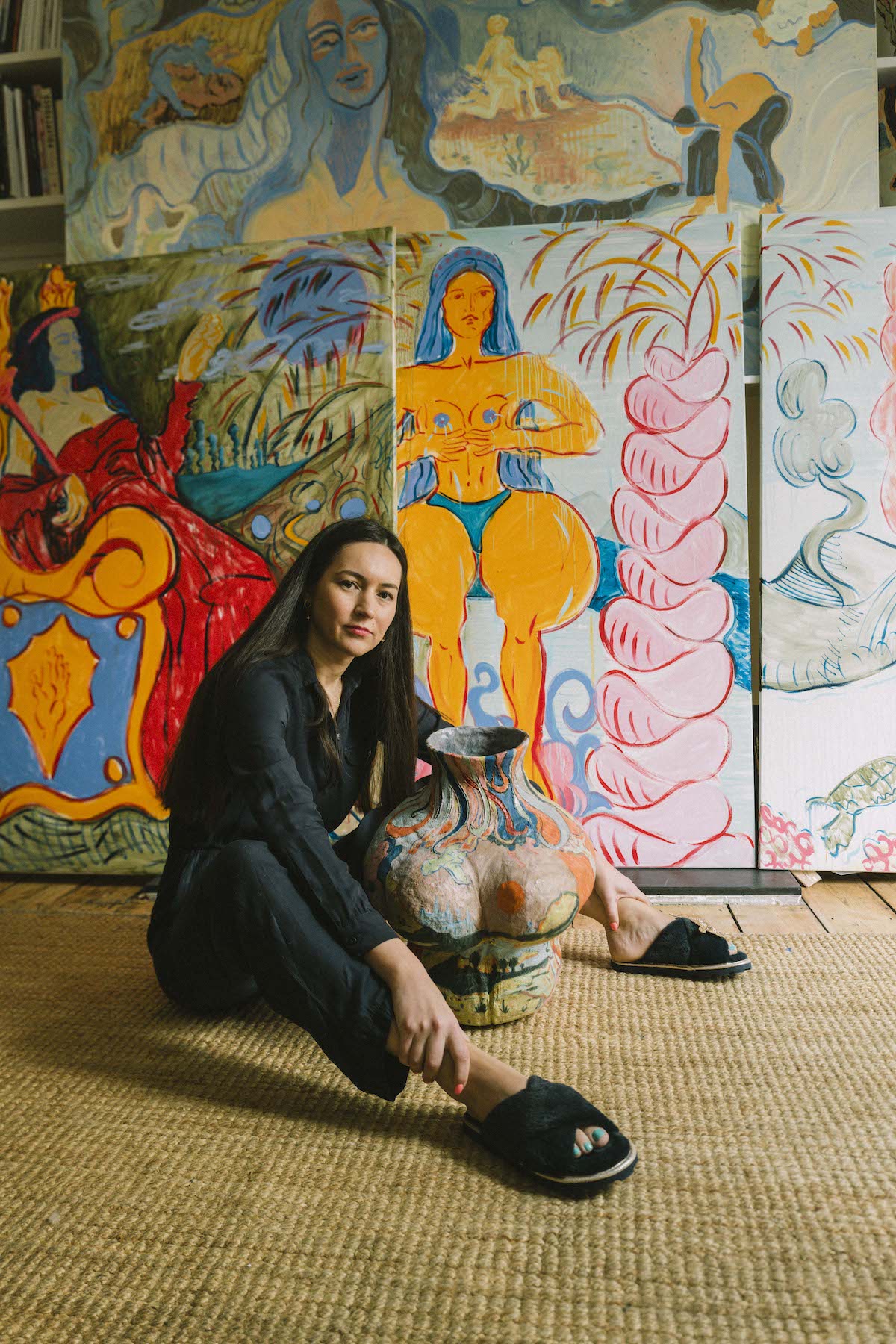 Interview
Rafaela de Ascanio
22 February 2022
Interview
Rafaela de Ascanio
22 February 2022
Colourful and full of rich references, the works by London-based artist Rafaela de Ascanio always offer plenty to explore. After studying Fine Art at Central Saint Martin's, Art History at the Courtauld Institute of Art and Painting at the Turps Banana Painting School, de Ascanio has developed a singular style that involves pulling various mythological and historical tropes and figures into her paintings and ceramics, reinterpreting them through a contemporary lens that plays off the tradition of the mediums and the featured subjects.
"My research lies in discovering imagery of female deities and stories of powerful women. They exist in ancient cultures and I am interested in excavating them and implementing them into contemporary imagery through painting, sculpture and performance rituals," explains de Ascanio.

After seeing a number of her works in shows across London, India Bhattacharjee thought the artist's pieces would be ideal for an upcoming group exhibition that she was curating, The Pump House, with Lovisa Berntson. The two had launched Berntson Bhattacharjee Gallery during the pandemic, with the goal of creating a travelling gallery with a focus on emerging artists, an inclusive curatorial programme and a strong digital presence.

"When we curated The Pump House show, we wanted to bring the outdoor feel to the ground floor, and were looking for sculptures that could uplift the room in an immersive way. Many sculptors are just focused on sculpture, but Rafaela is also focused on painting. We visited her studio — this lovely place in Islington, a small, beautiful room with high ceilings and her kiln in her garden. It was quite a dream, and it already had that immersive experience feel that we were looking for, with beautiful canvases full of colours that were mirrored in the sculptures in the bookcase, and sketches spread out on the floor. We knew we'd found the perfect artist for the exhibition," says Berntson.

That immersive style has been a signature of de Ascanio ever since she hosted her first exhibition in a disused warehouse in East London.

"I often look to create a gesamtkunstwerk where you can enter into an imagined world through objects, atmosphere and activation. In the first show, Duende, my friends helped me rig up lights, candles and even a smoke machine to create a mystical temple setting around a series of tarot paintings. The imagery came from a 15th century deck that hid queer and pagan rituals under a masquerade of classical imagery," explains de Ascanio.

De Ascanio points to this debut along with her recent The Pump House exhibition as the two she is most proud of, noting that the two are connected by similar creative explorations and a focus on engulfing visitors in a sensory experience.

"I returned to this theme in the latest exhibition with Berntson Bhattacharjee Gallery. We wrapped the walls in wallpaper filled with tiny clues about the symbolism in the paintings and sculptures. Lovisa and India brought in textured logs from outside to hold the vessels and I worked with an incredible performer, Berenice Aleth, who responded to the forms and imagery in a dance accompanied by Gregorian chant and Solar sounds. In both exhibitions I felt a sense of immersion, and that the works were communicating as a whole."

While de Ascanio draws on a variety of symbols and tropes, from Renaissance tarot cards to mythological landscapes, her particular interest is in reexamining the representation of women.

Berntson says: "What we love about Rafaela is that she brings to life these strong female characters — goddesses and figures from the past — and does so in a contemporary context that gives them a new voice. She painted these beautiful Norse goddesses based on an image she found in a church — that image was meant to be the depiction of sin, but these figures in the past used to be associated with fertility and hope. It's a fascinating look at how the image of women can change throughout history."

Exploring various mediums is still of great interest to de Ascanio, whose epic canvases are painted with a tropical colour palette, a nod to her early years spent in the Canary Islands.

"At the moment I am working on developing new ceramic techniques and continuing to explore how to layer mediums. I finally got my own kiln so I am now able to explore crystal glazes, lustres and brighter colours. Looking at Ex Voto paintings and votive charms, I have begun a series of paintings where I stitch ceramics onto the canvas, weaving together these three traditional mediums."

With the Pump House show wrapped up, de Ascanio is powering on full steam ahead into the rest of the year, and is currently working on her next project: an exhibition at Reference Point Library at 180 The Strand, curated by Rosie Reed.

"I have begun delving into their unique book and magazine collection and found a particularly interesting publication from the 1960s, called Eros, filled with different textures, fonts, graphics and photography. This and other gems, such as little storybooks by Niki de Saint Phalle, will be the springboard for new work," says de Ascanio.

The focus on books and magazines is, as Berntson notes, an aptly literal translation of a thread that has already proven to run through all of de Ascanio's work.

"She's an artist but also a very strong storyteller. All her works have a strong storyline, and everyone who discovers her work learns something about themselves and about history."

About the champion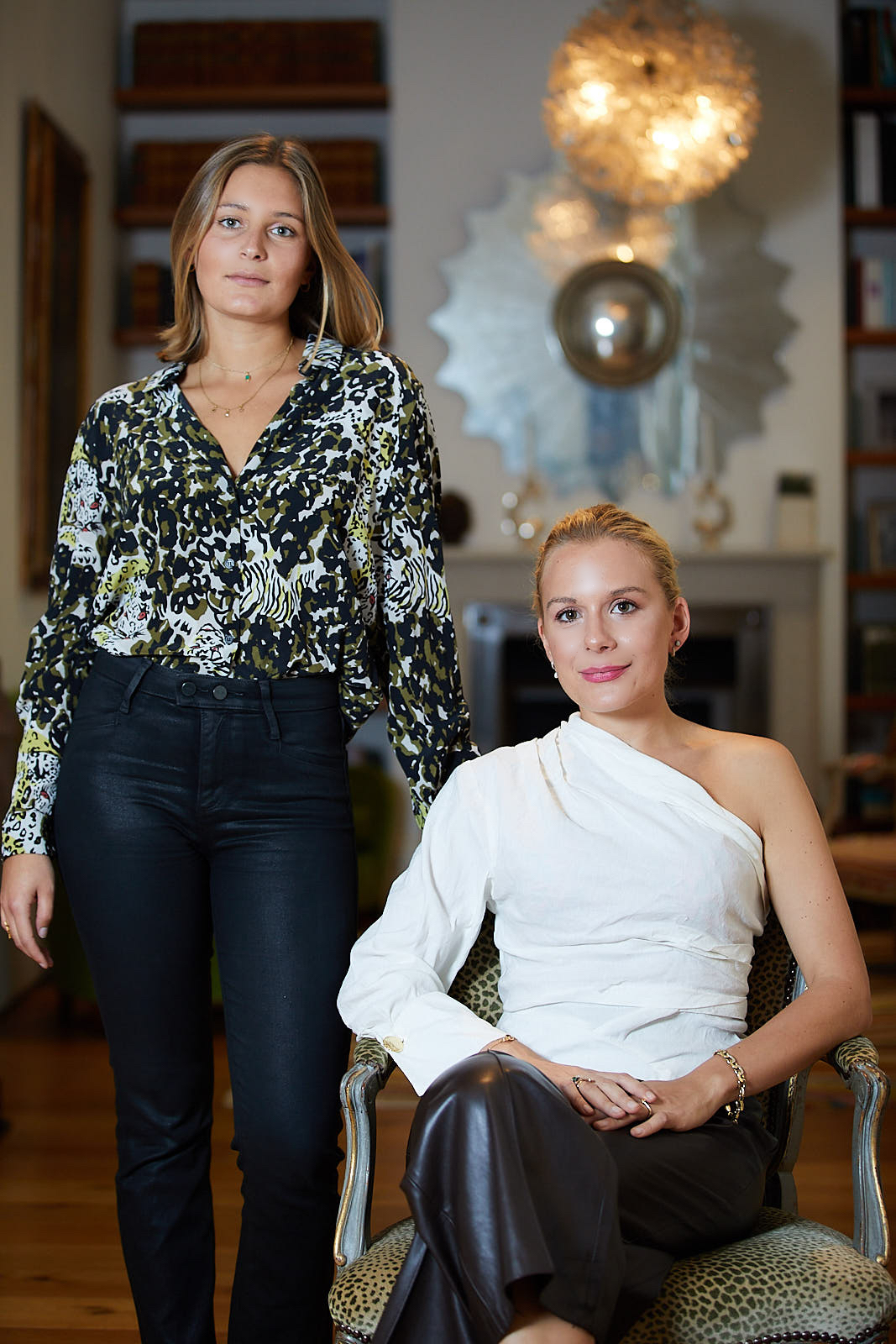 After graduating with a BA in History of Art, India Bhattacharjee worked in the London art world at leading institutions such as Pace London, Sotheby's and The Cultivist. Originally from Sweden, Lovisa Berntson holds a BS in Business and an MA in Fine and Decorative Arts from Sotheby's Institute in London, and has worked in Stockholm and London in business consulting and at a leading contemporary art gallery in New York. Together they launched Berntson Bhattacharjee Gallery during the pandemic with the goal of creating a nomadic and digital-centred gallery space that is committed to nurturing rising talent across Stockholm and London.
"What we love about Rafaela is that she brings to life these strong female characters — goddesses and figures from the past — and does so in a contemporary context that gives them a new voice."