Feature Mental health advocate Andrea Tyrimos
Championed by Jo Baring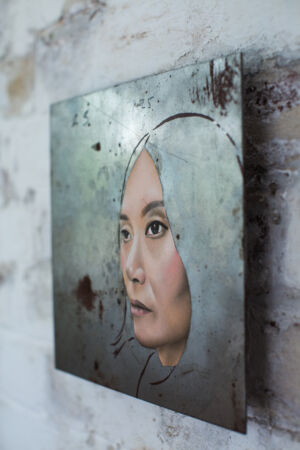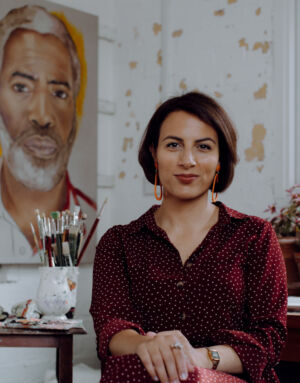 The conversation around mental health has never been louder, or more important. Helping to raise awareness and break down the stigma that still very much exists, contemporary artist Andrea Tyrimos explores human relationships and mental health issues through portrait paintings and installations.

Her Bipolar Picasso project, fuelled by personal experience, features intimate paintings and audio recordings of people who have experience with mental health issues. Alongside each portrait sits an accompanying audio piece, revealing the spoken words and innermost thoughts of the sitter. As well as raising important awareness, the exhibition also caught the attention of art historian and curator Jo Baring, the director of the Ingram Collection of Modern British & Contemporary Art – one of the UK's most significant art collections.

Jo Baring says: "I've always been interested in portraiture and how some artists can imbue their portraits with complex emotion and feelings. Andrea is one of those artists. I first met her when I went to her studio after hearing about her Bipolar Picasso project. I was intrigued by the way that her subjects had clearly opened up to her – allowing her to record them but, more particularly, to paint them in an intimate and vulnerable state. Her paintings are empathetic, but not pitying, they invite the viewer to share an understanding of mental health problems, and how prevalent they are in today's society."

In a time when we need hope more than ever, Tyrimos's portraits aim to uplift. During the Covid-19 lockdown, her painting of NHS doctor 'Sophie' was illuminated on London's Oxford Street as part of a huge display of public art for the #MakeItBlue initiative. Her Lockdown Stories, a solo exhibition at St James's Market Pavilion, in collaboration with MTArt Agency and the Crown Estate, also featured a series of intimate portraits and audio recordings revealing people's thoughts and feelings of gratitude during this time.

Andrea Tyrimos says: "My work is fuelled by personal experience, and I'm inspired by wanting people to feel heard and empowered. It's important for us to try to normalise mental health issues, and through my paintings and installations I want to highlight both the resilience and beauty of those who have experience with this."

Baring adds: "Through her public art works Andrea is also changing the landscape of our city. I am constantly excited by her work and projects and feel so proud to champion her. She is also a young mother, and I think the art world needs to become more open and understanding to the logistical pressures that family life has at certain points in an artist's career. The more open and frank conversations we can have about this, the more young women artists will be able to have long and fulfilling careers."

After a very busy and successful year, which saw her painting 'Sui' collect first prize at the ING Discerning Eye award and become part of ING's prestigious art collection, Tyrimos's work will next be on display in a solo show at ING in London's Moorgate next month. Two more of her paintings have also been selected for this year's ING Discerning Eye exhibition, which will take place at the Mall Galleries, London.
About the champion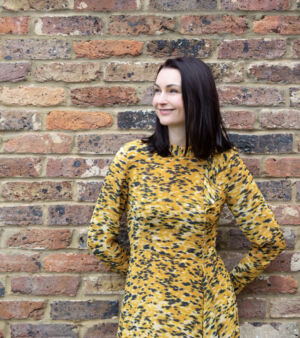 Jo Baring's achievements are vast. The former director of Christie's, and current director of the Ingram Collection of Modern British & Contemporary Art, has shared her extensive knowledge of the commercial art world writing for publications including Apollo and speaking at instructions such as the Royal Academy of Arts. Her podcast series, 'Sculpting Lives', is widely considered to be one of the best arts podcasts. She also launched The Ingram Prize, a leading prize for contemporary artists, in 2016.
"Through her public art works Andrea is changing the landscape of our city."